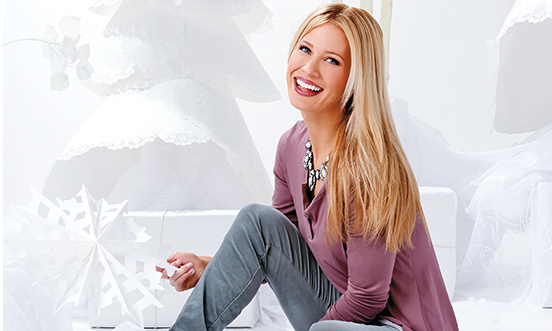 If you're a regular QVC viewer, chances are you've become familiar with Jamie Steinberger. A fixture on our fashion, beauty, and accessory shows, Jamie's mega-watt smile and flaxen hair are in high demand by designers, vendors, and hosts alike. But there's so much more to this well-read animal lover. 
Quick 6 Q&A
InsideQ: How did you get into modeling?
Jamie Steinberger: Over the years, friends and family repeatedly told me I should be a model. I always shrugged it off with a shy smile, never thinking modeling was an actual option for me. During my last year of college, a girlfriend of mine persistently told me I needed to give modeling a try. I walked into an agency and was signed right there on the spot. I was not sure what I was getting into, but it ended up being the best decision I've ever made.  
InsideQ: What's your favorite part of working at the Q?
Jamie: Working in an exciting, fast-paced atmosphere with wonderful people who are driven, passionate, and kind on an everyday basis. I get to represent brands and products that these people have worked tirelessly on. It's a privilege! I feel extremely lucky to be a part of the QVC family.
InsideQ: Which vendors do you represent?
Jamie: The beauty brands I represent are Laura Geller, Doll 10 Beauty, Mally Cosmetics, Peter Thomas Roth Skin Care, Kate Somerville, and supersmile. Fashion vendors I represent are Susan Graver, C. Wonder, Quacker Factory®, and Barefoot Dreams. I also do shows like Shoe Shopping with Jane, Facets of Diamonique® Jewelry, and Affinity® Diamond Jewelry.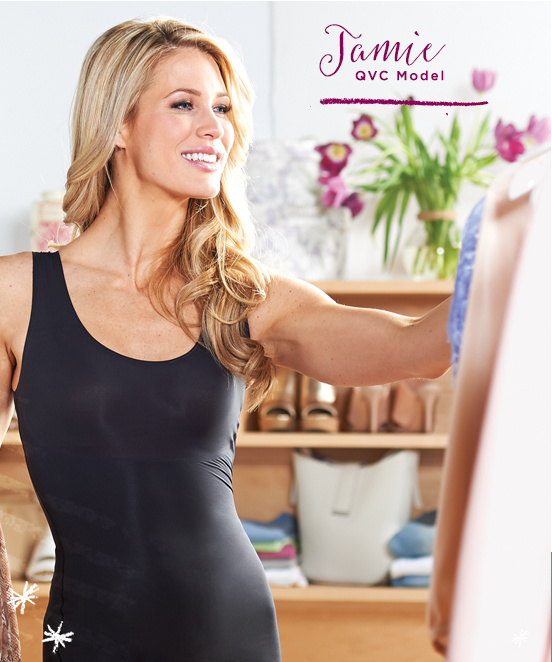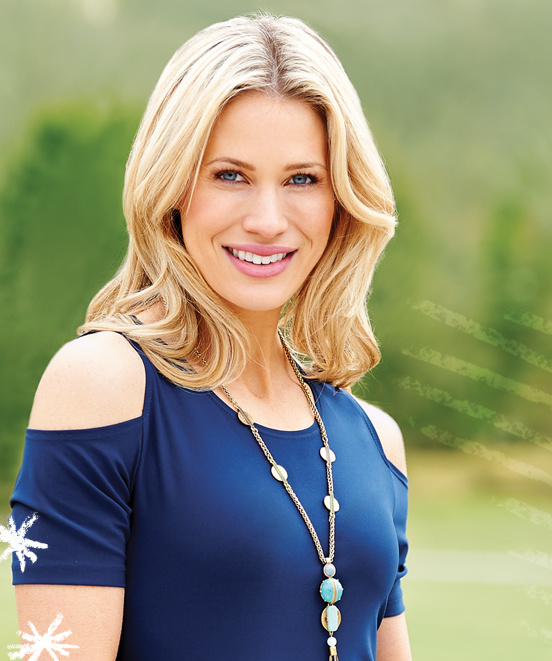 InsideQ: Sounds like the Q keeps you pretty busy! What do you do when you're not modeling?
Jamie: When I'm not modeling you can find me outside hiking among nature or enjoying the smell of the ocean at the beach. In the wintertime you'll find me snowboarding, which has been a passion of mine for years. When I'm not snowboarding off 50-foot cliffs, I have my head buried in a book—there is so much to learn! I enjoy books about science and human behavior, autobiographies about influential people who have made a genuine difference in this world, and psychological thrillers, among many others.
InsideQ: Are you close to your family?
Jamie: Yes, I'm fortunate to have an incredible support system. My mom is my biggest fan and my best friend. We're both only children and my dad passed away several years ago with no extended family, so we're a small, but mighty, family. Having a small family makes me appreciate and value the close relationships I do have. I hold my inner circle close to my heart. 
InsideQ: Do you have any pets?
Jamie: I have a handsome little Boston terrier pup named Blu! He is the love of my life. He has brought so much joy to my life. There is nothing better than a dog's unconditional love.
InsideQ: Thanks, Jamie!