Dooney & Bourke Goes Back 42 Years
Adored by women around the world for its leather handbags, Dooney & Bourke first launched its business selling menswear. Sue Clifton confirms the popular handbag company's beginning. "Throughout the 1970s and early 1980s we were known for creating high-quality suspenders, belts, and ties. Inspired by New England's history of manufacturing leather goods—from mail pouches and saddle bags to early military gear—Peter Dooney, the creative vision behind the brand, created the distinct blend of classic and contemporary styles that have been the hallmark of all our collections."
Another hallmark of the business: employees enjoy the work. "I've been with Dooney & Bourke for more than 30 years, and so have many of my colleagues. When walking through our office, I see people I've known and worked with for 15, 20—even 30 years! I think that's hard to find in other companies."
Something else hard to find in other companies: the original designer still hard at work. "Peter Dooney still designs every bag! He's involved in every aspect, from visiting tanneries and selecting leathers to picking colors and designing new silhouettes. Each bag really represents his sense of timeless style," according to Sue.
Dooney & Bourke's passion for designing versatile, ageless handbags is likely a huge factor in the brand's ability to survive, while others have come and gone. "Women tell me stories about bags they've had for more than 20 years."
"I've been with Dooney & Bourke for more than 30 years, and so have many of my colleagues. I think that's hard to find in other companies."
An Affordable Splurge
Dooney and Bourke's designs are so classic, they're timeless. And they're so durable, they're worth every penny. The December 15 QVC2 Big Deal™ Pebble-Leather Zip-Top Wristlet (A303769) is no exception. Use it in your big bag as a wallet, then grab it and go for quick errands. The card slots and pockets are plentiful!
Sue agrees it's a must-have. "With an exterior outside zip pocket and interior organization, it was made especially for QVC in our pebble leather, which I love. We have six great colors: black, elephant, olive, cranberry, midnight blue, and red."

Sue's job involves trying out the best leather bags in her business, and she's taken a shine to the functionality of the wristlet. "I always pack mine for traveling. I love the compact size that fits all my needs."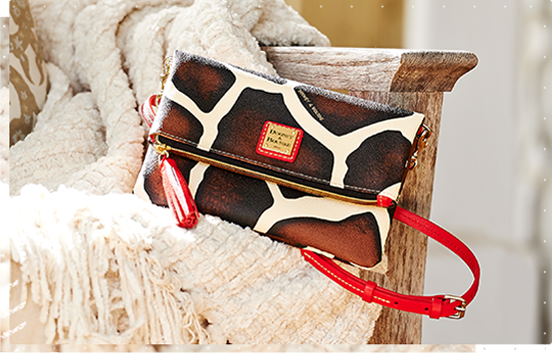 Gifts for All
Whether a wristlet, hobo, satchel, wallet, tote, or crossbody, a Dooney & Bourke piece makes a standout present. "They make a great gift for all ages, especially someone special to you this holiday season. You can add a gift card inside to make it even more special," suggests Sue.
This year, Sue has added more toys to her best-gifts list. "We now have three grandchildren to celebrate. Noah Joel is 2 1/2 and will really enjoy the presents. Miles Cooper is 1 1/2 and can finally open his own presents while Gracie Ann, at 7 months, will be observing the celebration, and I'm sure getting a taste of some Christmas wrapping paper for the first time!"
Enjoy that wrapping paper, Gracie Ann, we'll stick to Dooney & Bourke bags!