Hey, Gurl!
Kim Gravel's southern accent is a sweet as a Georgia peach. But that's no surprise—after all, she was Miss Georgia in 1991. Twenty-seven years later, she's still pageant pretty with intense blue eyes framed in blue liner. And those eyes never wander to her phone or the clock. In our world of hustle and bustle, this busy woman treats you to her full attention.
Fresh from the set where she extolled the virtues of her V-Neck Dress with Bell Sleeves, Kim explains QVC is her happy place. "I love it here. I've been doing TV for a long time: reality, daytime, local programming. I really fit here." She especially loves her at-home audience. "I get to talk to my girls! I'm a girl's girl."
Which is funny, because she's the matriarch of men, except for the next two days. Kim is living in a hotel as she makes more on-air appearances. Her husband, Travis, and sons ten-year-old Beau and eight-year-old Blanton, are at home. She jokes that this is like a little vacation. But there's also a purpose. "If my kids see me doing my passion, they will be passionate about what they love."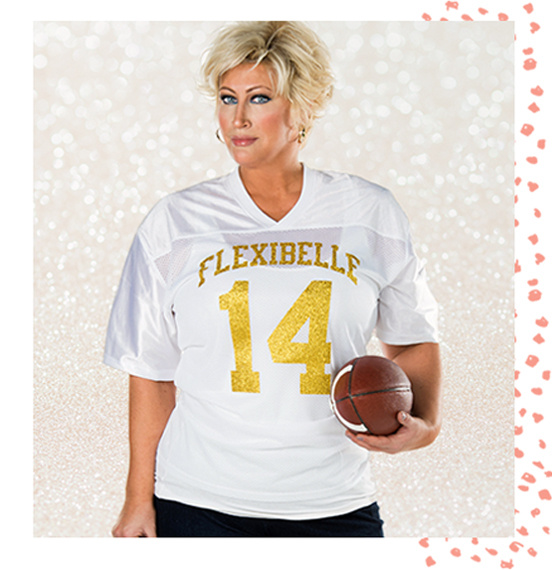 Sharing Her Mission & Mantra
While Kim sells outer beauty in the form of stretchy jeans and fashionable tops, she believes the confidence that comes from looking your best translates to increased inner beauty. "All women are created beautiful. You're already that. You have to believe in your own beauty before you start manifesting it."
This preacher of women's empowerment has found herself in good company at QVC. She ticks off a list of smart and strong women she's met since she started here a little over a year ago: program host Jane Treacy, home-décor designer Catherine Zeta-Jones, Kathy Gendel of Breezies, Angel Smedley from Quacker Factory, and Lori Goldstein. "I love Lori Goldstein as a person. She is so pro-woman. We are polar opposites, but what bonds us as friends is that passion for women."
The Today's Special Value® & Family
On Sunday, February 4, Kim's unveiling her must-see Belle by Kim Gravel Flexibelle Zip Pull-On Cropped Jeans Today's Special Value (our best find of the day). "They are adorable!" In addition to the usual colors—black, dark indigo, light wash, and white—she's also adding pale pink and buttercup choices. "They're colors you would never think of wearing but you should. Spring is so fresh! And it's gotta be comfortable or forget it."
Kim's Today's Special Value is the same day as the big game, and she's making the most of it. Team Gravel includes Kim's sister, Allisyn, and her mom, Jo. "My mom's hot. She's 70 and she's amazing looking." Jo often models Kim's designs and Kim has no qualms about showing her mother's backside on air. "She minds when I show her butt, but I don't care. Listen, she embarrassed me in high school!"
What's Next
Last year, Kim launched her first beauty product, Belle Beauty by Kim Gravel Kisser Fixer Lip Kit. The kit includes a liquid lipstick, lip gloss, and lip liner. Kim's set to add more beauty products this year including new Kisser Fixer shades, concealer, foundation, and a mascara-and-eye kit.
Beyond her aspirations at QVC, Kim's looking forward to shooting a pilot for a new show she's producing. It's called Broadway Behind Bars. Kim will direct inmates at a women's prison in Topeka, Kansas, in a performance of Chicago. "The women will make the sets, wardrobe, do hair and make-up, and they'll star in the production. I visited the prison not too long ago and it was wonderful." Again, Kim was inspired by the women she met. "The stories, oh! There's a 55-year-old grandmother and a 17-year old who shot someone. All of these women will come together."
Clearly, whether she's on the set of Chicago, on-air at Studio Park, or back home in Georgia, it'll be another exciting year for this southern belle.
*The Today's Special Value offer ends at 11:59pm PT on February 4, 2018.

Kickoff Spring in Style
Kim's Today's Special Value Scores!