Jon Tiefenthaler, a third-generation Iowa corn farmer, is better known as Farmer Jon, the name behind Farmer Jon's Popcorn. He's the third generation in the Tiefenthaler family corn business. In fact, Jon lives next door to fields and he tends them with gusto alongside his father, Alan. Because Jon's so busy with the corn, he hired Peter Causyn to be the on-air guest for Farmer Jon's at QVC, and we had a chance to talk with both Jon and Peter about what makes Farmer Jon's Popcorn so good.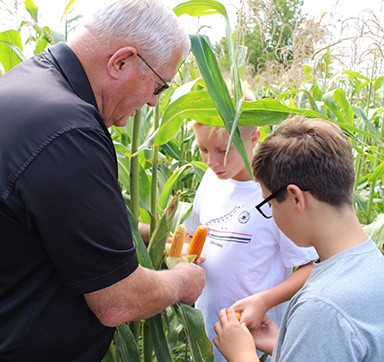 InsideQ: I know it's a priority of yours to be a good steward of the land. For the benefit of non-farmers, what does that mean?
Jon Tiefenthaler: It is important to take care of the land because the land takes care of us. We do many things to maintain soil quality and limit soil erosion. These include rotating crops, buffer strips along creeks, water ways, terraces, and no-till farming. 
InsideQ: The January 10 Today's Special Value® microwave Farmer Jon's (25) 3.5-oz Virtually Hulless Popcorn comes in Kettle Corn, Light Butter, Movie Theater, Extra Butter, and Extreme Butter. Farmer Jon's has quite an assortment of other products—even a popcorn-ball cake! What product would you recommend?
Peter Causyn: Farmer Jon's has over 36 items available on QVC.com. I would recommend our caramel popcorn. It's what we are known for in addition to microwave popcorn. It's Farmer Jon's family recipe and it's amazing! It has the perfect combination of butter and a perfectly selected brown sugar that gives us the sweet buttery finish. Our caramel corn has a lingering taste of créme brûlée. I'm embarrassed to tell you how much of this I eat on a daily basis—once you start you can't stop!
InsideQ: An expert on all things Farmer Jon, we had to ask the obvious. Do you have a favorite flavor?
Peter: Yes, yes, yes! But to be honest, this is like picking a favorite child. If I have to choose, my favorite is the Kettle Corn. It's the perfect combination of sweet and salt. 
InsideQ: Flavor is important, and keeping popcorn out of our teeth is, too.
Peter: Farmer Jon and his family have been growing and experimenting with corn for 75 years. Over the years they have developed a kernel with a very thin outer shell (this is the hull). When the Farmer Jon's kernel pops and turns inside out, it shatters into smaller pieces and the resulting popcorn is virtually hulless. While it's impossible to completely eliminate the hull, the Farmer Jon's kernel significantly reduces it. 
InsideQ: What do you like about working for Farmer Jon's?
Peter: People always ask, "Why are you so happy at work? It's just popcorn!" Each time I remind them, "No, it's the best popcorn I've ever had!" But more importantly than that is just how honest and genuine Farmer Jon and his family are. It's a fun family business that I'm proud to be a part of. 
InsideQ: Jon, do you think your children will continue this family business?
Jon: Raymond and Harrison are the fourth generation. I would be happy to have them in the business, but they are free to choose what they want to do in life. My father gave me the same choice.
InsideQ: What's next for Farmer Jon's?
Jon: More popcorn! It's what I know, live, and breathe. I enjoy the entire process, from growing and processing to selling. People love popcorn and it's fun to be in a business that's heavily associated with good times and happy memories.
InsideQ: Thanks for sharing your stories with us, Jon and Peter.