Keeping fit is a challenge for Kerstin Lindquist. Between her full-time job as a QVC program host and a family of five at home, it can be tough to find the time to work out. Kerstin got into fitness in college as a way to manage her weight through a combination of dance, water polo, and eating right. Early in her career as a news anchor, she even made a job of working out by moonlighting as a part-time spin and yoga instructor.  
Nowadays, Kerstin mostly works out in small increments, as time allows. Although having three small children has changed her priorities a bit, it hasn't deterred her from leading a healthy lifestyle in the name of longevity. "I want to be there for my kids until I'm 100," she declares. Kerstin took time to offer up some helpful fitness and wellness advice to the rest of us. 

Finding the Time
"I had my daughters five months apart." Kerstin adopted Grace, and then gave birth Georgia. "I never wanted to leave them but I couldn't stop working out. For me, working out is a means to manage stress as well as my weight." Kerstin was faced with the problem that many new moms share: how could she maintain a fitness routine that accommodated her new life? "For the last eight years, I do some type of exercise every day," she says. Most days, Kerstin pushes herself to get at least 20 minutes of exercise. She advises giving yourself that same challenge. "Twenty minutes is better than nothing! Get out of that mindset that you have to do more every day. Give yourself permission to do a small amount, because that can help you push yourself more. Even if that means 10-minute intervals throughout the day."
Kerstin even has some style tricks for maintaining an active lifestyle while looking your best. "My main style is athleisure. I like how it looks and fits—plus I don't have to change out of my clothes if I want to squeeze in a workout. Dry shampoo is also a lifesaver if you don't have time to wash your hair after a workout. It's a whole lifestyle."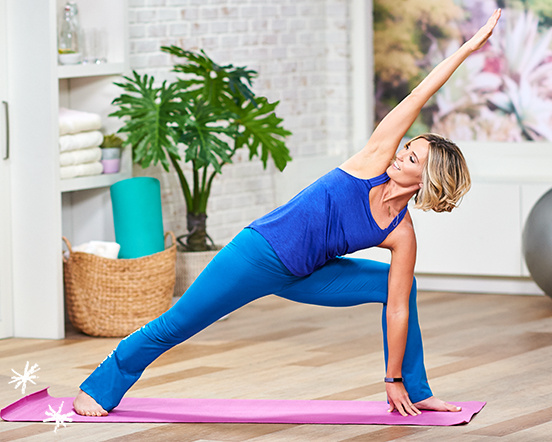 Kerstin's Workouts
Kerstin admits to getting bored if she sticks to one consistent workout, so she suggests switching it up. She begins many days sitting on the stationary bike in her living room for 10 minutes. "You can put a bike anywhere, even if you don't want to work out. Just sip on a cup of coffee and move your muscles." Kerstin is also partial to yoga classes and the Total Gym in her basement. She dedicates 20 to 30 minutes to the Total Gym for strength training as often as she can, time permitting.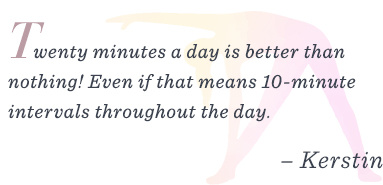 But Kerstin's number-one favorite workout is walking. "I do it with friends or by myself as I listen to podcasts," she says. "It's the best thing you can do. I believe walking builds a connection between the mind and body. Park further away. Take the stairs. Walk around the building instead of sitting in the waiting room." Kerstin also recommends buying a good pair of walking shoes and a Fitbit to record the number of steps you take. 
Kerstin's Top 3 Must-Haves
Wellness
"There are three main components to wellness: sleep, what you eat, and how you move," Kerstin tells us. "Sleep is important. In today's culture, people wear sleep deprivation like a badge of honor, they're hurting themselves in the long run." Diet is another factor of wellness. "How I eat is huge for me because I love food. I am a pescatarian, which means I eat fish but no meat or poultry, but I also like cookies. I like to work out to counteract that."
Kerstin's Fitness Philosophy