The Blonde Bombshells Behind Breezies® Bras and Briefs
Kathy Gendel, the matriarch of the Gendel girls, is impeccable. Wearing a gray, figure-flattering dress with silver studs on the neckline and bell sleeves, her silky blonde hair is parted in the middle. She's coaxing a few static-y strands to lay down and they comply immediately. We're just outside the studio, waiting for her eldest daughter, Kalina. At the moment, Kalina's selling a Breezies® bra on QVC2™.
Not one to waste time, Kathy pulls two bras out of her black leather bag, a sneak peek at her January 12 Breezies Seamless Comfort T-Shirt Bra Today's Special Value® (our best find of the day). The fabric is soft and the style is seamless. In fact, it's Breezies' first seamless-bra Today's Special Value. Kathy's wearing one, a testament to its smooth silhouette. "This is one of my favorites. You're going to love this bra. It's probably one of the most comfortable bras that we've brought to QVC in 23 years."
And then Kalina makes her entrance. Just like her mother, she's blonde, beautiful, and one-fifth of the brains behind Breezies. Kalina's wearing a black lace top that bulges in the back with microphone apparatus. Her earpiece is still in place as we head to a conference room. On the way, we talk about the obvious: mixing family and business. All five Gendels—dad Craig, mom Kathy, and daughters Kalina, Laurissa, and Catherine—head the Breezies brand.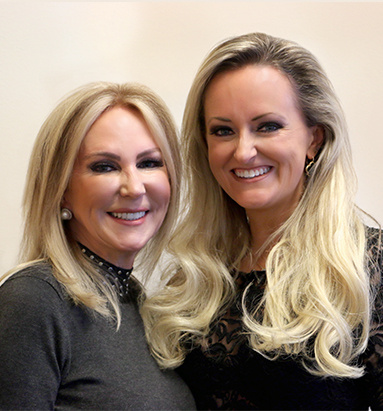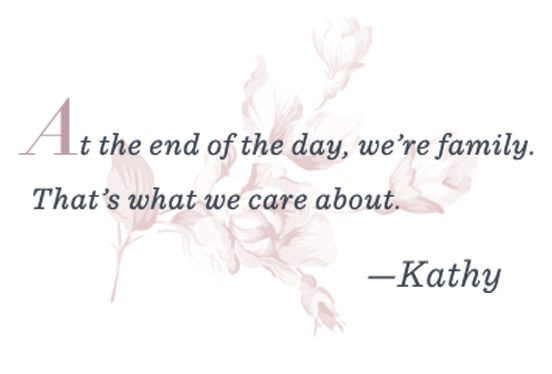 Family is Forever
"Our business is always so dynamic. The things that make it the most challenging make it the most rewarding. What makes it dynamic?" Kalina asks. Kathy chimes in, "Us."
While Kathy and Kalina finish each other's sentences, Laurissa and Catherine are back at the office—a converted horse barn complete with mice and snakes who visit every now and then. Each daughter works in a remodeled horse stall and they take turns doing on-air duties, which include appearing on QVC® at all hours of the day and night—and even steaming the undergarments and dressing the mannequins before the show.
The day-to-day runs smoothly for the most part. Sure there are occasional fights. And talking about bras and panties all day? It's second nature. "When you grow up in it, it's not strange. It's the bra business. Bras and panties are to us the way accounting is to some people. That's our life," says Kalina.
Kathy adds, "Working with family makes it crazy and fun. But we are!" Kalina doesn't miss a beat, "Tell us something we don't know!" Invariably there's drama, both personal and professional. "The lines are not even blurred," Kalina laughs. "There are no boundary lines!"
The Beginning of Breezies
Kathy and her husband, Craig, started Breezies back in 1994. At the time, Craig worked in intimate apparel and Kathy was a fashion director. They wanted to do something together, and when Craig developed UltimAir®, a performance fabric, Breezies was born. But it wasn't easy to find a home. They'd knocked on dozens of doors when luck struck. "We ran into a QVC vice president at the corner of Madison Ave and 34th in Manhattan and she knew Craig. He told her we were trying to get this fabric in the crotch panel of panties and sell them. She said, 'Be in my office Monday.'"
QVC and the Gendels are a good fit. Kathy couldn't convey all the benefits of UltimAir if she sold her undergarments in a brick-and-mortar store, but she and her daughters sing its praises on air. As you might have guessed, Craig prefers to stay out of the limelight. But at first, both he and Kathy worked on QVC's original rotating pie-shaped set. Then they'd drive back home to Connecticut only to plan the next trip to West Chester, Pennsylvania. Kathy says that's when Catherine, then just a kid, would quip, "Oh great, we just won another trip to QVC." One night when Kathy was almost run off the road by a tractor trailer, the family decided to move to Pennsylvania.
Over the years, the Gendels estimate they've designed thousands of intimates and sold millions of bras and panties on QVC. Just back from a trip to Europe to monitor trends, the family is looking to again up the ante on their product offerings in 2018. But Kathy sums it up this way, "At the end of the day, we're family. That's what we care about."
*The Today's Special Value offer ends at 11:59pm PT on January 12, 2018.