How many years has weight loss topped your list of New Year's resolutions? Even if you're too wary of publicly declaring that desire, does a longing to lose lurk in the back of your mind?
Vicki Adams-Troncale, QVC kitchen and food buyer, understands. She says that for years QVC has offered a Nutrisystem weight-loss program as a Today's Special Value® (our best find of the day). The January 7 Nutrisystem Fast Five Marie's "Jump Start" 4-Week Plan Today's Special Value is especially appealing when you want to see numbers drop quickly on that scale. The "Fast Five" part of the plan includes the possibility of dropping five pounds the first week. "Losing five pounds in one week gives you a lot of incentive to continue," Vicki explained.
Marie's Pick
As the name hints, Marie loves Nutrisystem and Fast Five. Marie has been on QVC for years, and it's important to her that she can bring this to our customers. It's probably our most popular program that we've offered through the years," Vicki told us.
Included in the month-long program is the Fast Five package which features seven-days' worth of food and also seven bonus TurboShakes, seven NutriCurb Peanut Butter Chocolate Bars, and 15 days of meals. "I love the Nutrisystem Fast Five because it jumpstarts your weight loss that very first week!" Marie said.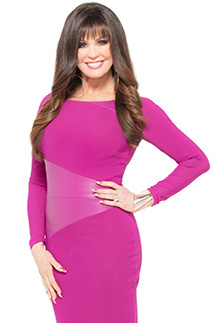 Brand-New Option
To keep producing tasty meals, Nutrisystem constantly improves and innovates their menu in their test kitchen. Vicki spilled the beans on what's new and exciting this time: "This is the first Today's Special Value with a vegetarian option. Customers have been asking for it. It has the same amount of food, and includes Fast Five.
But no matter which option you choose, you can count on this plan. "The nice thing is you know you're getting balanced nutrition, portion control, and the program helps you train your mind for making good choices on the weekend and helps set you up for success." Vicki shared.