From Australia to QVC, Samantha's Designs Are World-Class
It's common for a 21-year-old to feel a little lost in the big world. But not Samantha Wills. In 2004, the Australian-born beauty struck out on her own with the clear-cut goal of turning her hobby into a namesake jewelry brand. Now, 14 years later, Samantha's company has gone global and is arriving at QVC. Samantha and assistant buyer Danielle talked with InsideQ about inspiration, travel, and Samantha's inaugural jewelry line at the Q.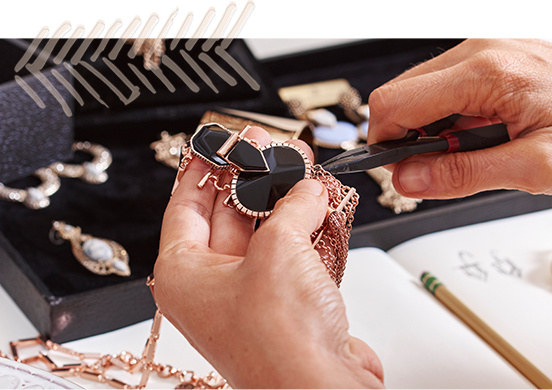 Where There's a Wills There's a Way
InsideQ: Why are you excited to bring this brand to QVC?
Samantha Wills: There is an energy in live television that is just incomparable to any other medium. QVC takes a product and brings a shopping experience to life on the screen—it's a completely unparalleled experience. Viewers look at QVC hosts as friends and invite them into their homes (often at obscure times!). There's a personal connection in the approach, and I'm so excited to be able to bring this touch point to the Samantha Wills brand.
Danielle: Samantha is transparent with behind-the-scenes stories of her journey, inspirations, passions, and struggles. Plus, it all has a common thread of making sure you feel good in your skin and confident in how you look. This is what really stands out as these stories truly connect to QVC and our customers.
InsideQ: How did Samantha Wills jewelry make its way to QVC?
Danielle: Samantha Wills was introduced to us by a vendor who is always on the search for brands and items that are unique and not part of our current assortments. We all agreed that Samantha Wills' bold bohemian style is something new for QVC, and it could cater to many different types of people.
InsideQ: Did your time in Australia influence your design aesthetic?
Samantha: I'm constantly inspired by my surroundings, and am so fortunate to have wings in New York City and roots in coastal Australia. My designs see these beautifully bohemian elements paired with a luxury finish that complements both countries that hold such a special place in my heart.
InsideQ: What inspires your personal style, Samantha?
Samantha: The fusion of both masculine and feminine elements! "Luxe bohemian" is probably the best way to describe it. I love to create a juxtaposition with my look and pair both high-end pieces with street labels—Kate Moss does it best!
Danielle: Individual style is a big part of this brand. Each piece in Samantha's collection can be worn on its own or layered to create a unique personalized look for an everyday outfit or a night out.
InsideQ: Have you been to QVC's Studio Park headquarters yet?
Samantha: Yes! My product team and I had the opportunity to sit at QVC headquarters and take a meeting that I had been dreaming about for nearly seven years. It was truly awe-inspiring. The QVC team has been instrumental in bringing the Samantha Wills brand to life on their platform, and we have been so grateful for their unwavering belief and support.
InsideQ: Thank you, Samantha and Danielle! 
Samantha Wills Jewelry Collection