David Dangle has been the face of the Joan Rivers Classics Collection since Joan's passing in 2014, but he'd been Joan's right-hand man for almost 30 years. Starting as Joan's stylist in 1989 when she premiered The Joan Rivers Show on CBS, his job soon evolved into helping her launch her jewelry business on QVC. They'd been through so much together, it's no wonder he misses his former boss and dear friend: "I wish Joan was talking to you right now instead of me, but I'm honored to continue her legacy on QVC."
On the day we meet, David is dressed in gray trousers, carefully chosen because they fit over his cast. He had surgery to repair his Achilles tendon back in January, and it's a long road to recovery. In the meantime, he makes the best of it, using a scooter to get to the studio, sitting in a chair while presenting on-air, and wearing a dark sock over his cast to minimize the look of it. Despite the cast, he's dapper in his own right, and clearly a believer in the Joan Rivers mantra: "When you look good, you feel good."
Joan's Signature Style
When Joan started her jewelry and clothing business, David recalls the promise she made to her customers. "Joan said: 'They will buy their first piece because they like me, but they're not going to come back for another unless it's good quality.' That's why she had her hands on every product. She had to be proud to put her name on it." As David upholds Joan's dedication to exquisite quality and design, he's especially touched by testimonial callers who thank him for continuing the brand. "It is a labor of love for me. I adored Joan and I take it seriously."
How would David's former boss keep her brand moving forward? In many ways, she still does. "All creative decisions are filtered through Joan's taste." When the first pair of jeans were introduced in the collection last month, David took inspiration from Joan's more casual, off-duty looks. "Joan loved her jeans. It was Joan in Connecticut going to the movie house with her big sunglasses on. She liked them skinny. No rips."
That's exactly how Joan's Classic Ankle-Length Jeans are designed. And that reminds David, "We need to send Melissa a pair of our jeans. I think she'd love them." Melissa Rivers lives in Los Angeles, but she's still involved in the brand. "Melissa is the co-owner of the company. This was her mom's passion."
David says Melissa also wears jewelry from The Joan Rivers Private Collection (a curated selection of reproductions from Joan's personal fine jewelry collection) so she doesn't have to take the original out of the vault. One of the best-selling items in the collection is the Starlet Style 20" Necklace with 3" Extender. David was with Joan when she found the original at a London flea market on one of their many European design-inspiration trips.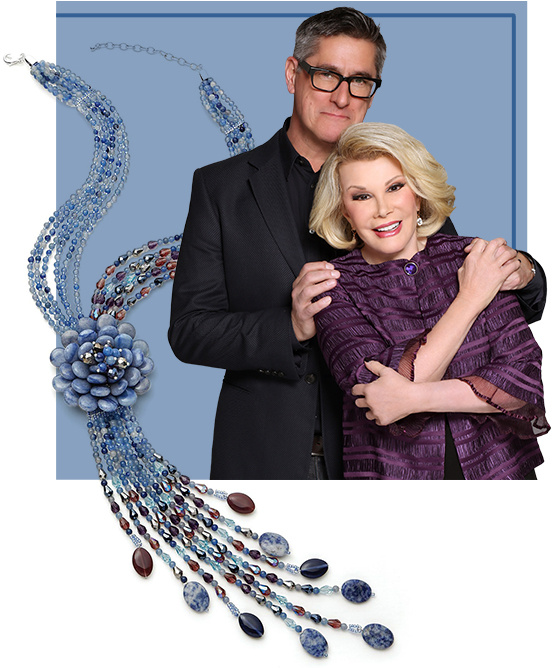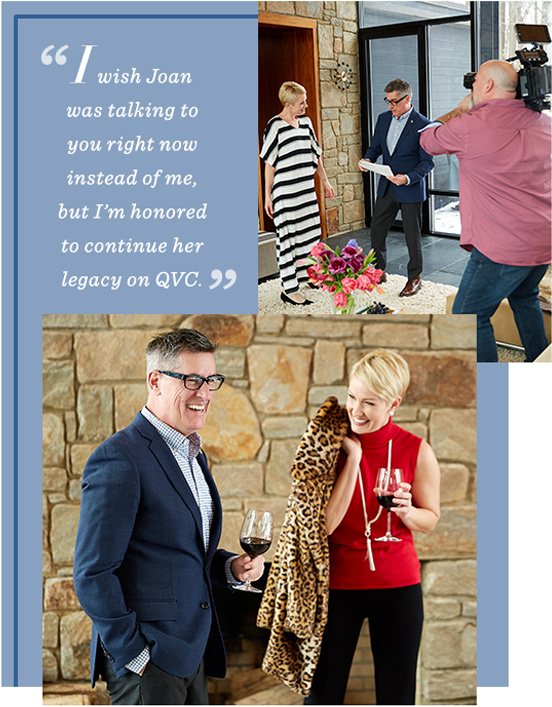 Keeping It Classic
According to David, the base of the business is classic pieces, like the best-selling Wardrobe Builders Easy Chic Turtleneck Tank. But now you might notice something different: more color. "Two or three years ago we only did black and one or two other colors. Now this basic, essential turtleneck tank comes in ten colors, including teaberry, grape, and avocado.
"Fashion is not frozen in time. It moves forward every day," says David, and that's especially true at QVC. "We deliver clothes on a monthly basis. There's a constant flow of new designs. We meet once a week to review our color palette and what's new in our development pipeline." David reminds me, coming up on March 9 is the Today's Special Value® Joan Rivers Lightweight Denim Boyfriend Shirt with Fringe Hem, a very "special" shirt featuring a brand-new cloud wash and raw-edge denim fringe. 
Funny-Bone Joan
Before we wrap up our interview, I ask David to share a funny memory of Joan. He laughs and launches into this tale. "Joan was performing in Las Vegas. I had never seen her concert before and her manager said to come up to the suite before the show. I'd known her maybe six months. We leave the suite and go down a big, long, dark hallway with a maid's cart and she says, 'Grab that pillowcase.' And she put all the little soaps and shampoos in it. I said, 'Did I just raid a maid's cart with Joan Rivers?' That hotel would have given her a truckload of soaps. She was like, 'I don't need any soap or shampoo, but that was fun!' I've never laughed more in my life, and that's a gift."
Shop Joan's Fashion, Beauty & Jewelry
A Message from David
His relationship with Joan and how he's carrying her legacy forward.