Luxurious Fragrances from the Renowned French Perfume House
Since its inception almost 190 years ago, the Guerlain brand has become synonymous with luxury, elegance, and exceptional quality. Known for its iconic fragrance, skin care, and makeup products, it was a fast favorite for QVC shoppers. Ginger Maziekien, Guerlain's national education manager and QVC on-air product specialist, shared Guerlain's history, holiday gift ideas, and her own beauty philosophy. 
---
Up Close with Ginger
InsideQ: What is the history of Guerlain?
Ginger Maziekian: Our founder, Pierre-François Pascal Guerlain, was a French chemist, physician, and soap maker. He opened his first apothecary store on the rue de Rivoli in Paris. In 1853, he created Eau de Cologne Impériale for Empress Eugénie, wife of Emperor Napoleon Bonaparte III, and became the royal family's official perfumer. The bee logo we have on our "bee bottles" was taken from the Bonaparte family crest. They signify power, fertility, and the pollination of life. Each bee bottle has 69 bees on it to signify the 69 provinces that Napoleon III conquered.
InsideQ: How did you get involved in the beauty industry?
Ginger: My mom worked at Macy's and always had cool products on her dressing table. She took great care of herself. Even if we were just going to the grocery store she'd wear lipstick. I took my cue from her. After high school I did some modeling in Milan, Italy, and learned a lot about makeup. After Milan I started at Estée Lauder's makeup counter at the Herald Square Macy's in New York City. I wanted to learn more, so I took on training jobs and eventually found myself on the vendor side. I enjoyed the behind-the-scenes action, like marketing and public relations. I love that makeup lets you change someone's day by showing them the right lipstick. That power is what's kept me in the industry for 29 years.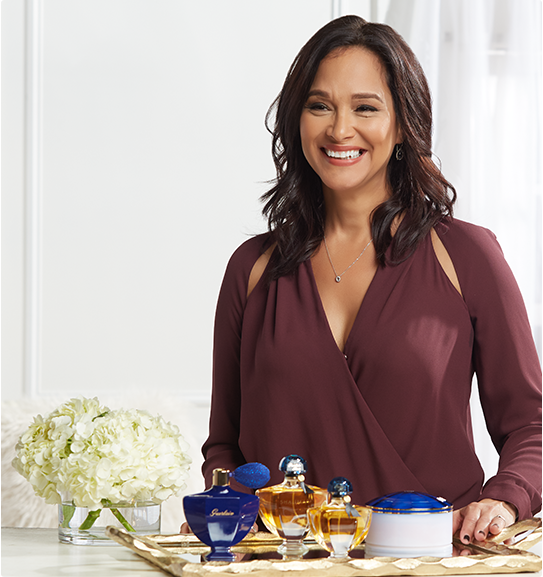 InsideQ: What's your beauty philosophy?
Ginger: Being genuine. I try to read the customer and enhance her natural beauty while toning down the features she may not like. Guerlain really addresses this in the skin-care products which help provide the perfect canvas for our amazing color, and then fragrance as the finishing touch that leaves behind a trace of you in the memory of others. We can provide a solution or enhancement for any age, any woman. We truly have something for everyone.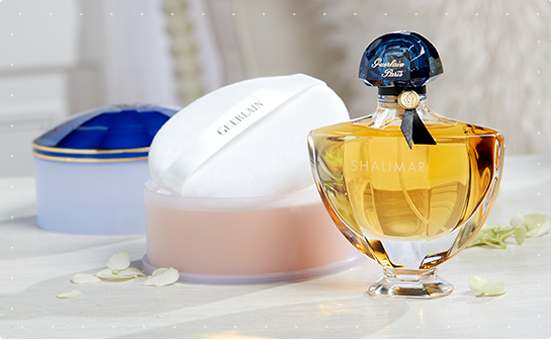 InsideQ: What can you tell us about Shalimar and some new items using that fragrance?
Ginger: Shalimar is one of Guerlain's most iconic scents. It's inspired by the love story between the Shah Jahan of India and Mumtaz Mahal, his Persian princess/wife. Shalimar means "eternal love" in Sanskrit and it symbolizes the eternal bond between them. The new Shalimar Eau de Parfum with Perfumed Dusting Powder (A302289) features the sensual, rich, and feminine EDP paired with the classic dusting powder to enhance and prolong the scent. The powder is milled to an extra-fine texture that provides a decadent and luxurious touch to the skin, especially after the bath. Never dry, it leaves a silky and slightly luminous effect on the skin. Use it all over the body and finish with the EDP.
InsideQ: Have any hot tips for holiday gift giving?
Ginger: I do! First is LipLift lip primer, a signature product that's been around for 30 years. LipLift flies off the shelves so fast it's hard to keep it in stock! It's the perfect add-on to any color purchase to keep lips looking perfect all day, especially for the holiday! Try the new Guerlain KissKiss Lipstick with LipLift Lip Primer (A304697).
InsideQ: What can we look forward to in 2018?
Ginger: We have a new fragrance for the modern woman called Mon Guerlain ("My Guerlain" in English). The bottle is a modern interpretation of a bottle design we called "the quadrilobe," which first came out in 1908. There's a delicate goldtone choker around the bottle's neck and a signature stopper that simultaneously resembles a four-leaf clover, signifying good luck to the wearer. The fragrance has lavender, jasmine, vanilla, and sandalwood. It's fresh, yet warm. We think it's the next Shalimar!
InsideQ: Thanks, Ginger!
"We can provide a solution or enhancement for any age, any woman. We truly have something for everyone."