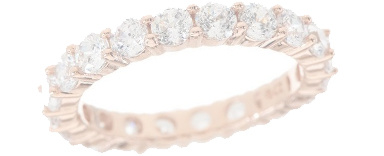 Lucia Lang has been an assistant buyer of Diamonique® simulated diamond jewelry at QVC for just six months, and it didn't take her long to see that Diamonique simulated diamonds are special. "QVC's Diamonique is one of the leading sources of simulated diamonds. The simulated stones are considered internally flawless and colorless, giving the appearance of high-end diamonds at a fraction of the cost! Diamonique simulated stones are set in precious metals and all styles are designed with the same details and finishes that real diamond jewelry would have. It provides a luxurious look at an affordable price." 

Lucia's Faves
Lucia has seen hundreds of pieces, but she whittled her favorites down to three:

Diamonique Sterling Silver or 14K Gold-Plated Sterling Sliver Set of 5 Stud Earrings, Boxed (J351916). "Every girl needs a set of studs in her life! With this set, you get five pairs in a variety of sizes that make it easy to change up your look from the smaller, minimal look at the office to the larger, bold look for a night out!"
Diamonique Sterling Silver Pear-Cut Bridal Ring Set (J351219). "I'm usually into more classic pieces, but this three-piece bridal set is absolutely stunning. I love the pear-cut center simulated stone with the halo for added sparkle. You can also wear the eternity bands on their own, double stacked, or as the whole set of three for a gorgeous statement. I love to wear this when I want to change up my own wedding set or when I'm traveling. The best part is, it's available in sterling silver, 14K yellow gold-clad sterling silver, or 14K rose gold-clad sterling silver!"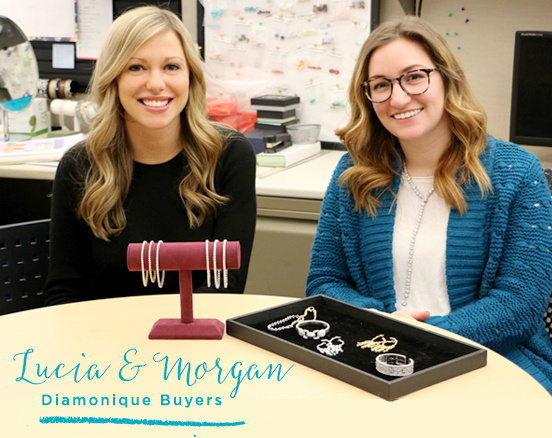 Diamonique Sterling Silver Baguette Circle Necklace (J351244). "This is a newer piece in our collection but a great necklace for every day wear. I love that it can be dressed up or down. We've been seeing circle pendants out in the market as a big trend, and I love that this version is very unique with the beautiful baguette simulated stones. One of the best things about Diamonique jewelry is that the collection really ranges from classic bridal pieces to trendier pieces like this one. And if you want to participate in a trend, you're not spending a fortune on real diamonds to get the gorgeous diamond look!"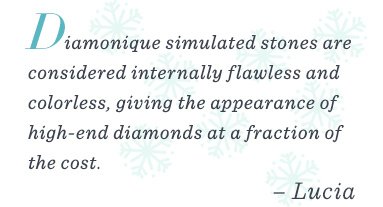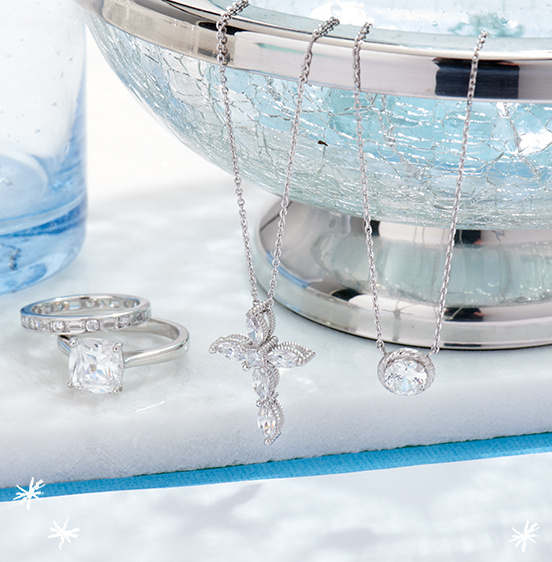 Diamonique + Designers = Layers of Love
Stacking and layering is one of the biggest trends assistant designer jewelry buyer Morgan Hawkins is tracking. She firmly believes you can never have enough rings and bracelets. And you never have to wait to wear them. The vast majority of designer Diamonique jewelry pieces are meant to be enjoyed every day. "We know people aren't getting dressed up in gowns and going to balls," Morgan said. "That's why we like to dress our jewelry models in Susan Graver and Denim & Co.® to show women how they can wear Diamonique jewelry with every-day outfits."
But if you happen to have couture diamond pieces, by all means, mix and match with Diamonique jewelry. Beth Vogel, senior vice president of Judith Ripka, does that herself, and so do her coworkers. "We all layer Diamonique jewelry with couture. No one knows. You can't tell. Diamonique simulated stones are just like a flawless diamond. It's an amazing material. It never loses its simulated brilliance. It's cut the same as a diamond."
In addition to Judith Ripka, other in-demand designers include Peter Thomas Roth, JAI, DeLatori, Robert Lee Morris, and Carolyn Pollack. As you can probably tell by this list, there's a mix of modern and traditional styles. "There's such and wide range in our selection, and plenty of pieces that will coordinate with what you already own," Morgan told us.
A Noteworthy Milestone
Diamonique jewelry is time tested. This year was its 30th anniversary on our airwaves. Host Mary Beth Roe is a big fan, and in a recent on-air appearance she told viewers, "Here's the thing: when you see a woman wearing a solitaire, you're going to say, 'Oh my goodness!' because you're going to think that's a diamond." Even after decades of collecting Diamonique jewelry herself, Mary Beth has a quick answer for the question of "Are you done?" "Oh, no. I tell myself I'm done, then I can't stop myself!"
We understand perfectly!