---
A Model, Weather or Not
The 27-year-old has been modeling for six years and recently quit her part-time job at a flower shop to model full time. Claire's been at QVC for three years. "The team is always very fun. Very kind people to work with." And that helps when she's modeling a warm and cozy sweater in the August heat. "It was the hottest day of the summer. We were all sweating!"
You can bet if she's wearing a sweater in the summer, she's modeling summer clothes in winter. "I'm not someone who enjoys the cold. A make-up artist told me to use Vaseline petroleum jelly wherever I would get cold and red—like my nose—to make a barrier against the wind."
In addition to getting an early look at QVC fashions, QVC products have also caught her eye, particularly Josie Maran and IT Cosmetics®. "The Josie Maran argan oil soaks into your skin. My favorite time to use it is at night. I slather it on and I wake up feeling refreshed and hydrated. It's not like any other product I've used. I'd been eyeing up IT Cosmetics, too. The concealer and the powder foundation cover nicely without being too cakey." She laughs and adds, "This is not a sponsored post!"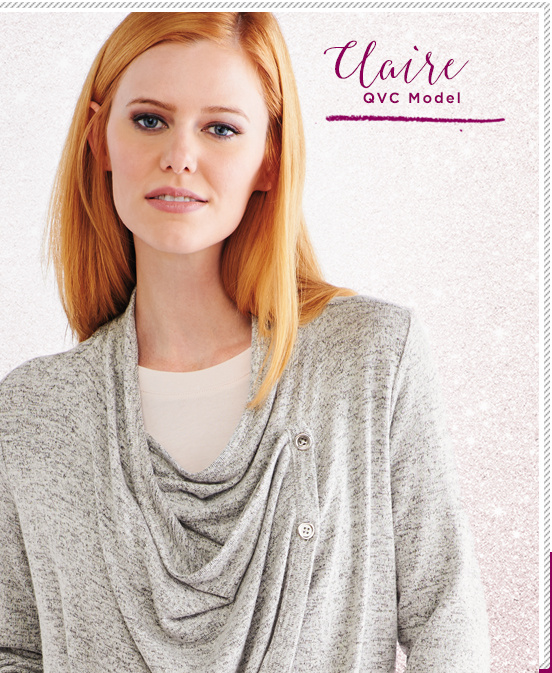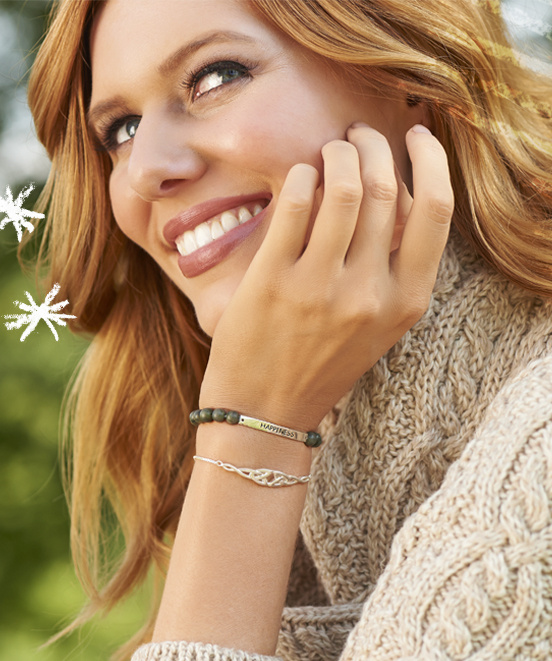 ---
Family Ties
If her fair skin doesn't give it away, Claire's family tree has roots in Ireland. Though she admits her ginger-colored locks didn't come naturally. "My hair isn't red. It's dirty blonde." Claire has two younger sisters: Kristy, 24 and Jenny, 21. Even though Claire is the eldest, she often looks up to her younger sisters. "They are my very favorite people, ever," she enthuses. Claire says she and Kristy look like their dad, Dennis, while Jenny resembles their mom, Eve.
A Lucky Guy
Claire's family may expand in the not-too-distant future. She and her boyfriend, Jeff, are thinking about getting married. "We've talked about it, but we want to get our careers established first." Claire has known Jeff for years. He's the brother of her best friend from high school. Back then she thought, "Eww! He's her annoying older brother!" That sentiment changed quickly after college.
Claire already has an idea about which style wedding gown she wants. She modeled a bunch of dreamy dresses on a recent shoot for a bridal magazine. "It definitely helps, seeing yourself in dresses. I know the style that flatters me. I know the material. I've narrowed it down!" Getting a taste of what the distant future may hold, she also donned maternity wear for a shoot which included an interesting underpinning: a one-piece garment complete with a faux baby bump.
---
This past year, Claire and Jeff moved into a Cape Cod with his sister Ashley and her fiancé, Andrew. Claire enjoyed tending the garden last summer and playing with their new dog, a little dachshund named Hunter. She describes him as "sweet and mischievous."
Happy Camper
Despite being a glamour girl during the work day, when Claire relaxes outdoor activities are at the top of her to-do list. "If I had the choice to either go camping all the time or go to work, of course it would be camping." Camping for Claire is not to be confused with glamping. She was bundled up for her last outing. "Wool sweaters, wool socks, and fleece." She slept in a tent. Her favorite camping meal is eggs with bacon cooked in whiskey for added flavor. Usually Jeff is in charge of food—both outside and inside. "My boyfriend is really the cook. He likes creating soups and crockpot meals."
While Jeff cooks, she strums. Claire's favorite hobby is playing her ukulele. She's self-taught. "I wanted to play guitar but I couldn't handle the six strings. The ukulele has such a cute, quirky sound. I love it." No stranger to string instruments, she played the violin from third grade through high school as a member of her school orchestra.
Proving there are more strings in her fiddle, Claire hopes to do more modeling for QVC, especially on television. "I'm grateful to be able to work with many great people at the Q!"