What is there to say about Brooke Shields? She's done it all. Since beginning her modeling career at 11 months old, Brooke first became a household name as the face for some of fashion's most prestigious labels. She then turned her attention to acting, racking up starring roles on stage, television, and the big screen. Not one to slow down, Brooke is now taking her wealth of knowledge of the fashion world and turning it into a line of apparel inspired by her own keen eye for style. InsideQ got the chance to chat with Brooke about fashion, what inspires her, and more.  
---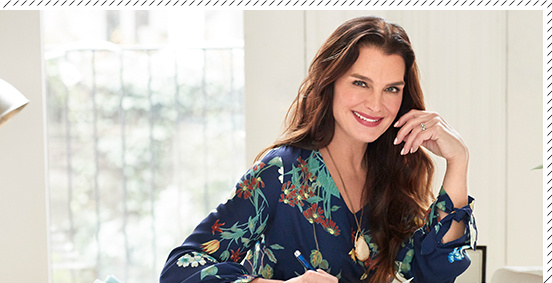 InsideQ: What inspired you to launch your line Timeless™ here at QVC?
Brooke Shields: I thought about designing a line of clothing for a decade. But the problem that I came across until I came to QVC was that people were not really interested in my aesthetic or my vision. What attracted me to QVC is their willingness to have me engaged in the process and have me not just put my face on something and then try to talk about it. I have been a fan of the brand through the idea of having that sort of personal connection with whatever it is you're buying. I was very impressed when I visited [Studio Park] because I realized the magnitude of the operation. But there's also an intimacy at QVC. The primary focus is quality and the customer. And I think that those two things don't always coexist.
InsideQ: How do you hope to develop your customer relationships?
Brooke: I think what's special about the QVC shopping experience is the direct relationship with the customer. It's important for the customer to feel like a part of the process.
InsideQ: How do you want the QVC customer to see you?
Brooke: I hope the QVC customer feels like a friend and that I'm in no way dictating to anybody. It's taken me a very long time to find my own voice about what I wear, how I envision clothing, what I think of fashion. And there's still so much more to learn. So I hope that the exchange is very mutual. That I'm learning from the customer, that I'm imparting to the customer, and that we're having fun in the process.  
InsideQ: What do you see in the future with your relationship with QVC? How do you think it's going to evolve?
Brooke: I have enjoyed the process to such an extent, and have felt the utmost respect for QVC, and I have felt respect from QVC. I've been in the entertainment industry and the fashion industry my entire life, and that is a rarity. So I hope the relationship continues.
InsideQ: How did you decide to call your line Timeless?
Brooke: I was looking for words that describe styles and a sense of fashion that has endured decades and endured over time, the classic pieces that we see that don't seem to go out of style. They may change a little bit, there may be a lapel change or a length or something, but there are pieces that I have noticed that I return to every year for different reasons.
InsideQ: What's one piece from your collection that you couldn't live without?
Brooke: It would be the blazer. There's something about having the perfect blazer. It's so versatile. And that was one of the first pieces that I said I had to have in the collection. I find that if I have a blazer I can go from day to night and I'm pretty safe.
InsideQ: How will your line help women who feel challenged by fashion?
Brooke: We all have insecurities. We all have issues with parts of our body. I wanted a line for women to still be who they are but feel elevated in who they are. I think that my goal is to lessen and minimize the challenges and the insecurities. There's a celebration of our individual bodies, our individuality, our different personalities.
InsideQ: Can you talk a little bit about your family and their influence on your line?
Brooke: I have an eleven-year-old and a fourteen-year-old who have very different styles. They each have a completely different aesthetic. They both criticize my clothing on a daily basis. One of them thinks I'm not cool enough, the other one wants me to wear high heels all the time. I can't win with my kids.
InsideQ: What about your own mother? Was she fashionable?
Brooke: My mother was always incredibly chic. She knew how to put together something and look amazing on a dime as she grew up with nothing. If she didn't have something she made it work. But she knew what looked good on her body type. That's what I learned from her. And that's what I'm trying bring to Timeless.
InsideQ: Thank you, Brooke—and welcome to QVC!
Talking Timeless Fashion
Up Close with Brooke