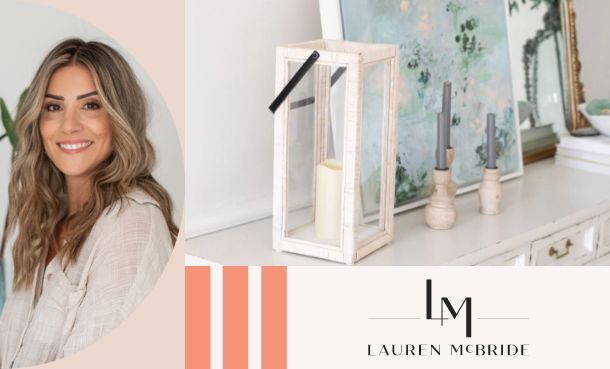 Blogger, influencer & tastemaker Lauren McBride offers a line of fresh, contemporary décor that's inspired by her life on the coast. With unique pieces to effortlessly complement any room in your home, the Lauren McBride collection is filled with beautiful, seaside-inspired elements that are light, airy, and complete with a neutral palette that accompanies any aesthetic. From decorative accents to beachy baskets, faux florals and more, you can refresh your favorite spaces with this stunning collection.
Join social media influencer and lifestyle blogger Lauren McBride on a journey of inspiration and joy as you create the home of your dreams with an array of eye-catching elements. Lauren's line of distinctive décor on QVC.com bring personality and calm to any space.

Swap out the same-old accents for Lauren's range of contemporary décor to give your bedroom and bathroom a fresh update. Adorn vacant white walls with vibrant wall art, or add pops of contrast colors to accent walls.

Transform your favorite chairs and lived-in sofas with simple decorative pillows and comfortable, drapey knit throws. You can even shop coveted home furnishings from Lauren's collection. And be sure to pull it all together with a little ambience from flameless candles and lanterns.

The Lauren McBride collection available at QVC.com is brimming with magic and beauty for every space—including yours.