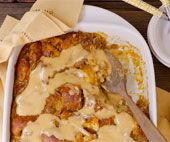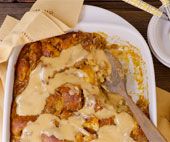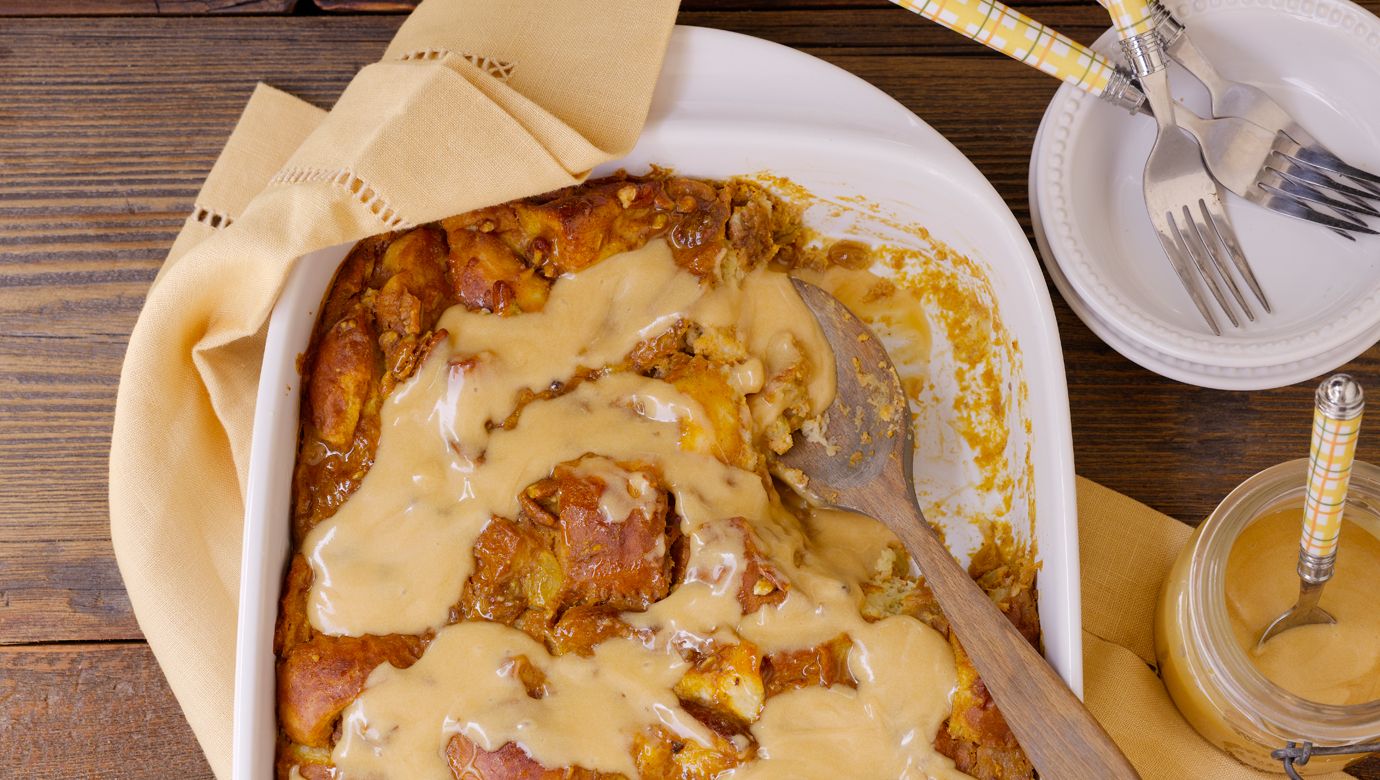 Pumpkin Bread Pudding with Hot Buttered Rum Sauce
David Venable
Pumpkin, pecans, raisins, and spices makes this one of the most delicious bread puddings you'll ever taste. Don't get me started on that rum sauce!
Pudding
1 loaf (about 1 lb) rich egg bread such as challah or brioche, cut into large, 1" cubes (bread can be day-old)
1 (15-oz) can of organic pumpkin purée (such as Farmer's Market) or regular pumpkin purée
1 cup pecans, chopped
1/2 cup golden raisins
2-1/2 cups whole milk
3/4 cup sugar
1/2 cup brown sugar
4 eggs
1 tsp vanilla
2 tsp cinnamon
1 tsp ground ginger
1/2 tsp nutmeg, freshly grated
1/2 tsp ground allspice
1/8 teaspoon salt
Directions
Preheat oven to 350°F.
Whisk milk, pumpkin purée, both sugars, vanilla, eggs, spices, and salt. Add the bread cubes and stir together. Gently fold in the golden raisins and chopped pecans. Pour ingredients into a large rectangular baking pan. Allow bread to soak for 10-30 minutes.
Place pan in oven and bake until toothpick or knife inserted into the center comes out clean, approximately 50 minutes. Bread pudding should be moist, so be careful not to overcook.
To prepare the sauce, melt the butter in a medium saucepan and gently whisk in the heavy cream and brown sugar. Let the mixture just come to a boil. Let cool for 1 minute and add the rum. The rum sauce can be made up to two days ahead of time. Reheat until just warm.
When ready to serve, cut the bread pudding into squares and drizzle the hot buttered rum sauce over the top. Garnish with whipped cream topping if desired.
Sauce
1 stick (4 oz) unsalted butter
1 cup dark brown sugar, packed
1 cup heavy cream
3 Tbsp dark rum
Cook's Notes
Using day-old bread will help the custard be absorbed into each cube.|The rum sauce can be made a day or two ahead of time.|You can assemble this dish the night before you wish to bake it.