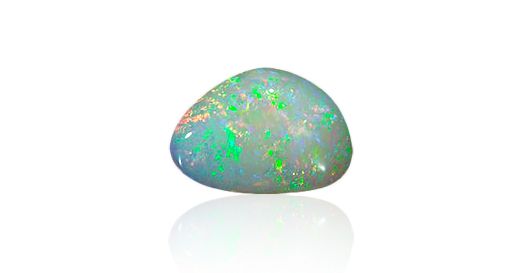 Stone Information & Mining
Opal is known for its unique display of flashing rainbow colors called play-of-color. There are two broad classes of opal: precious and common. Precious opal displays play-of-color, common opal does not. Opal is the product of seasonal rains that drenched dry ground in regions such as Australia's semi-desert "outback." The showers soaked deep into ancient underground rock, carrying dissolved silica (a compound of silicon and oxygen) downward. During dry periods, much of the water evaporated, leaving solid deposits of silica in the cracks and between the layers of underground sedimentary rock. The silica deposits formed opal. Play-of-color occurs in precious opal because it's made up of sub-microscopic spheres stacked in a grid-like pattern—like layers of Ping-Pong balls in a box. As the lightwaves travel between the spheres, the waves diffract, or bend. As they bend, they break up into the colors of the rainbow, called spectral colors. Play-of-color is the result. When Australia's mines began to produce opals commercially in the 1890s, it quickly became the world's primary source for this October birthstone.
Legend & Lore
Because opal has the colors of other gems, the Romans thought it was the most precious and powerful of all. The Bedouins believed that opals contained lightning and fell from the sky during thunderstorms.
Color
Opal hues can range across the spectrum. An opal might display a single color, two or three colors, or all the colors of the rainbow. Opal displays background color in addition to play-of-color. Background color—also called bodycolor—is caused by the suspension of tiny impurities within opal's silica spheres.
Cleaning
The only safe way to clean opal is with warm, soapy water.
This information was excerpted from GIA's Gem Encyclopedia with permission from GIA.