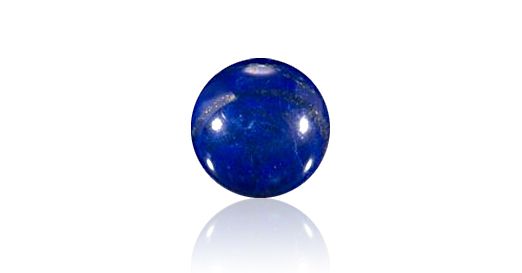 Stone Information & Mining
Lapis lazuli is a rock, which means it's an aggregate of several minerals. This ancient gemstone contains three minerals in varying amounts: lazurite, calcite, and pyrite. Sometimes, it also contains one or more of the following: diopside, amphibole, feldspar, and mica. Lapis frequently contains varying amounts of whitish calcite matrix—the host rock that surrounds the gem—or flecks or veins of glinting yellow pyrite, or both. The gemstone can also have a smoothly uniform bodycolor, free of visible pyrite and calcite.
Variously described as indigo, royal, midnight, or marine blue, lapis lazuli's signature hue is slightly greenish blue to violetish blue, medium to dark in tone, and highly saturated. The combination of different minerals in the aggregate determines the color. For example, lazurite is responsible for producing royal blue lapis, while a mineral called afghanite creates a pale blue shade.
Worldwide, lapis is mined in several areas. The traditional source of the finest lapis lazuli is the same today as it was thousands of years ago—the mountains of Afghanistan. Other major sources are Chile and Lake Baikal in Siberia, Russia. Minor sources are Angola, Canada, Colorado (US), and Pakistan.
Legend & Lore
Historians believe the link between humans and lapis lazuli stretches back more than 6,500 years. The gemstone was treasured by the ancient civilizations of Mesopotamia, Egypt, China, Greece, and Rome. They valued it for its vivid, exquisite color, and prized it as much as they prized other blue gems like sapphire and turquoise.
For thousands of years, lapis has been fashioned to show off its rich, dark color. Typically, lapis used in jewelry has been cut into cabochons, beads, inlays, and tablets. But lapis lazuli's use has never been limited to jewelry alone. It's also a popular carving material. Throughout its history, lapis has been fashioned into practical objects, including game boards, bowls, dagger handles, hair combs, and amulets. Today, lapis is frequently fashioned into freeform and nature-themed sculptures. Some of these carvings become wearable art, others are purely decorative.
Color
Although many people associate lapis with dark blue, it's also found in other shades of blue, and even other hues. Its color can range from deep violet blue and royal blue to light blue to turquoise blue to a greenish blue.
Cleaning
Warm, soapy water is the safest way to clean lapis lazuli. It's best to test a small, inconspicuous area first, because some dye treatments are not stable.
This information was excerpted from the GIA's Gem Encyclopedia with permission from the GIA.