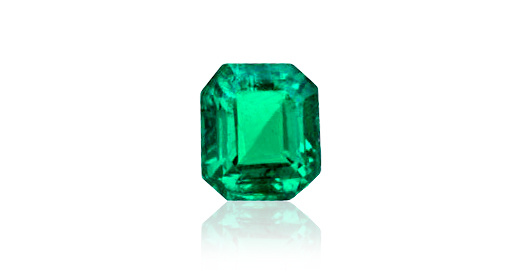 Stone Information
Emerald is the most famous member of the beryl family. There are other green gems, like tourmaline and peridot, but emerald is the one that's always associated with the lushest landscapes and the richest greens. Ireland is the Emerald Isle. Seattle, in the US state of Washington, is the Emerald City. Thailand's most sacred religious icon is called the Emerald Buddha, even though it's carved from green jadeite. The first known emerald mines were in Egypt, dating from at least 330 BC into the 1700s. Cleopatra was known to have a passion for emerald, and used it in her royal adornments. As the gem of spring, emerald is the perfect choice as the birthstone for the month of May. It's also the gem of the twentieth and thirty-fifth wedding anniversaries.
Legend & Lore
Legends endowed the wearer with the ability to foresee the future when emerald was placed under the tongue, as well as to reveal truth and be protected against evil spells. Emerald was once also believed to cure diseases like cholera and malaria. Wearing an emerald was believed to reveal the truth or falseness of a lover's oath as well as make one an eloquent speaker.
Color
Emerald is the green to greenish blue variety of beryl, a mineral species that also includes aquamarine as well as beryls in other colors. Gem experts differ on the degree of green that makes one stone an emerald and another stone a less-expensive green beryl. Some people in the trade tend to give the name emerald to any green beryl colored by chromium. But to most gemologists, gemological laboratories, and colored stone dealers, it is more correct to call a stone green beryl when its color is "too light" for it to be classified as emerald.
Cleaning
Some estimates state that 90 percent or more of emeralds are fracture-filled. Since the great majority of fashioned natural emeralds contain filled fractures, it's risky to clean them ultrasonically or with steam. Ultrasonic vibrations can weaken already-fractured stones, and hot steam can cause oil or unhardened resin to sweat out of fractures. Using warm, soapy water coupled with gentle scrubbing is the safest way to clean emeralds.
This information was excerpted from GIA's Gem Encyclopedia with permission from GIA.