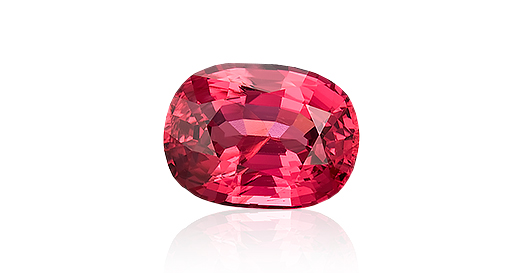 Stone Information
Spinel is a good candidate for the title of "History's Most Underappreciated Gem." Some ancient mines that supplied gems for royal courts from Rome to China produced spinel, but it was usually confused with better-known stones like ruby and sapphire. Intense reds and pinks are caused by traces of chromium. The higher the chromium content, the stronger the red hue. Orange and purple stones owe their color to a mixture of iron and chromium. Violet to blue spinel can be colored by trace amounts of iron, and vibrant blues owe their saturated color to trace amounts of cobalt.
Legend & Lore
In ancient times, the mines of central and southeast Asia yielded exceptionally large spinel crystals. These fine stones became known as Balas rubies, and some of them were the treasured property of kings and emperors, often passing through many hands as spoils of war. As a result, some of the world's most illustrious "rubies" are actually spinel. One of the most famous examples is the so-called "Black Prince's ruby." This historic crimson-red gem is set in England's Imperial State Crown and displayed in the Tower of London. Smoothly polished and roughly octagonal in shape, it was probably mined in the mountains of Afghanistan. It first appeared in the historical records of fourteenth-century Spain, and was owned by a succession of Moorish and Spanish Kings before Edward, Prince of Wales—the "Black Prince"—received the stone in 1367 as payment for a battle victory. Since then, many other English monarchs—including Henry VIII—have cherished the gem. It's outlasted them all, surviving fires, attempted theft, and World War II bombing raids, to become—with the Koh-i-Noor diamond—one of the centerpieces of England's Crown Jewels.
Color
Spinel offers a range of hues, from orange to intense "stoplight" red, vibrant pink, all shades of purple, blue, and violet through bluish green, as well as black.
Cleaning
While ultrasonic cleaners and steam cleaners are usually safe, certain inclusions like fractures could pose a potential problem. It's always safe to clean spinel with warm soapy water.
This information was excerpted from GIA's Gem Encyclopedia with permission from GIA.