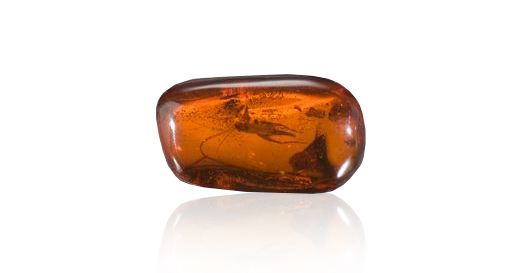 Stone Information & Mining
Amber is an organic gem. Organic gems are the products of living or once-living organisms and biological processes. Amber formed tens of millions of years ago, when sap from ancient trees hardened and fossilized. Amber is sometimes called "gold of the North." Its warm luster is featured in beads, carvings, pendants, and cabochons, as well as decorative items like cups, bowls, snuff boxes, and umbrella handles. A related material, called copal, is also fossilized tree resin, but it's far younger than amber, at less than a million years old. Some types of amber are found in the ground. Other types have been freed and carried by tides, ending up on beaches or near-shore areas. The Baltic coast bordering Germany, Poland, and Russia is still an important source of amber.
Legend & Lore
Scientists and collectors treasure amber that contains suspended animal or plant fragments. These fossilized bits of once-living things were trapped in the hardening amber, creating a fascinating time capsule. Amber is probably best known for its insect and other types of inclusions. Millions of years ago, when amber oozed from countless plants, the substance acted as a sticky trap for ants, bees, termites, and other insects. Flower parts, leaves, and pine needles are also typical amber inclusions, along with gas bubbles. Amber containing larger animals like scorpions, snails, frogs, and lizards can be very valuable—especially if the animal "inclusions" are preserved intact.
Color
Although consumers are most familiar with yellow and golden amber, the gem can be white, yellow, and orange to reddish brown. Rarely, strong fluorescence can give amber a bluish or greenish appearance, which when attractive can be highly valuable.
Cleaning
The only safe way to clean amber is with warm, soapy water. Be sure to use a mild soap.
This information was excerpted from GIA's Gem Encyclopedia with permission from GIA.