Jacqueline Kennedy Zodiac Silk Scarf
In Stock
Sold Out
We're sorry. This item is not available at this time.
Pre Order Possible .
Low Stock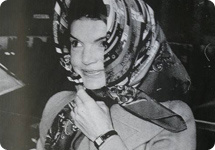 About the Design
This scarf is another piece Jackie took to iconic status. Originally from a famous French design house, it was one of Jackie's favorite looks. Here, she wears the scarf in Paris on a cold and rainy day.
Information provided by Phil Katz.
Description
Astrological allure. Echo the impeccable style of the First Lady with this silk scarf. An elegant addition to any look, it showcases a zodiac calendar print and a handrolled edge. From the Jacqueline Kennedy Collection.
Handrolled edge, zodiac calendar print
Measures approximately 34-1/2"L x 34-1/2"W
100% silk
Dry clean only
Made in China
Important Details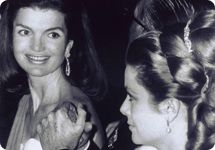 End of an Era
For the past 10 years, we've had the honor & privilege of sharing Jacqueline Kennedy's story with you through the romance of her jewelry & accessories collection. From the start, we always knew that the pieces would be limited in availability & duration. Due to your amazing support & loyalty, we've enjoyed extending the timeline far beyond our original intentions. Now we feel it's time to bring this fabulous chapter to a close. We've rendered all the pieces in her collection that are currently available to us, and we'll continue to offer the line only as long as inventory exists.
Information provided by On-Air Guest Phil Katz.
Reviews & Community QA
Jacqueline Kennedy Zodiac Silk Scarf
38
38
Magnificent!!!!!!!
This is the most beautiful scarf ever, amazing, I love it, the sun, the zodiac, it's beautiful, it's a piece of art, I can't say enough about how much I love this item. I love it. Thank you. Please bring it back, I want it always!!!!!
04-14-14
Beautiful!
I ordered the black and fuschia - both are beautiful but I have the say the black is stunning! Glad they included the guide as these are my only square scarves. Love the zodiac design and got them on clearance, so a bargain! Happy to have them in my stash!
04-03-14
First Class
Was a bit apprehensive when I ordered the scarf because I mainly use pashimas as my accessoriy of choice. This gives me another alternative. The quality is first rate, the design is appealing. This is lovely and the handy folding diagram takes the guesswork out of choosing ways to accessorize your outfit. My Honora pearl studs arrived the same day! I am one very happy QVC customer.
04-01-14
Beautiful!!
The detail on this beautiful scarf is amazing! It even has the shadow on the animals and the cupids, which I did not expect to see! I ordered the blue thinking of springtime. I hope Mr. Katz brings other jewelry and accessories to QVC because I have thoroughly enjoyed his stories over the years and have ordered countless items from him. He is a class act as are his products.
03-31-14
Fuchsia Scarf is lovely
I just received the fuchsia scarf, as I am slowly acquiring all the JBK scarves, being very pleased with the other 2 scarves Phillip has brought to QVC. While not being a fan of the zodiac, I thought the symbols would represent the constellations for me and I could wear it to the planetarium for star shows. It is a first class item and the colors are bright and vivid. As the other reviewer said, the fushia is berry colored with purple and orchid scattered throughout. Just like the other JBK scarves, this was packaged extremely well, in a gift "box" wrapped with celephane, have instructions and a cerification and a guide on ways to tie. I am going to purchase the other 2 color combinations, as the budget allows. I hope the collection brings more items like this to the JBK assortment for us to purchase. If not for Phillip's great explanation's of the items, I doubt I would have purchased them. He adds credibility and shares a good understanding of the JBK items. Thanks!
03-16-14
very pretty and very nice silk scarf
I like this scarf very much. It does not have the same hand as the dot scarf, which I think could be mistaken for a Hermes, but it is beautiful nonetheless. It is bright and cheerful and can be worn with many of the pinks/reds/corals but fuschia, it is not.
12-12-13
Very pretty
I have the blue and fuschia scarves. The colors on each one are very bright and vivid. The blue one is more of a corn-flower or periwinkle, and the fushia is berry colored with purple and orchid scattered throughout. Just lovely. I already have a lot of black and navy scarves, so I didn't order the black, but I am sure it is just as pretty. The texture of the fabric is also nice. I am very pleased with these. This would make a very nice gift, as it is packaged extremely well-- they are in a gift "box" wrapped with celephane, have instructions and a cerification and a guide on ways to tie.
11-26-13
very nice but the blue is not blue
nice design and weight to the scarf - but got the blue and was disappointed that it looked nothing like the color blue in the picture - its more a purple color - keeping it anyway - but did anyone else who got the blue... get purple instead? will order it also in black some day because i do like the scarf - only gave it 3 stars because the color blue did not look like the pretty turquoise color in the item picture - be aware of this if you order the blue.
11-14-13
Lovely-generational & history.
B&W for my fashionable NYC 23-yr. old granddaughter in Fashion Merchandising. Red tones for her 80-yr. old grandmother-Me! We both love this lovely interesting high style Zodiac silk scarf and thank you to the writer who gave us correct pronunciation of Hermes.
11-14-13
Beautiful Zodiac scarf
I have quite a few items from the Jacqueline Kennedy collection. I am a fan of everything I've purchased and love listening to the stories from Mr. Katz. It is the one Q show I will commit to watching. This scarf is something different from the collection, and I really, really like it. I chose the black and gold, but the blue is also very tempting--perhaps later. I wear a lot of black, so this will coordinate well with so much. The quality is excellent, as I would expect. I would highly recommend this.
11-13-13
Classy!
This scarf is beautiful. No, it isn't the silk of an Hermes, but it isn't the price of one either. The look, the feel, and the structure of this scarf are well worth adding this piece to your wardrobe. I got all 3 color choices & will proudly gift one or two. Keeping the black for me!
11-06-13
Gorgeous!
I bought the black and gold. This scarf is stunning! What a beautiful design. It is lightweight so it is easy to wear in any climate.
11-05-13