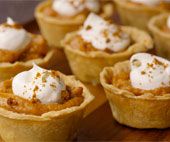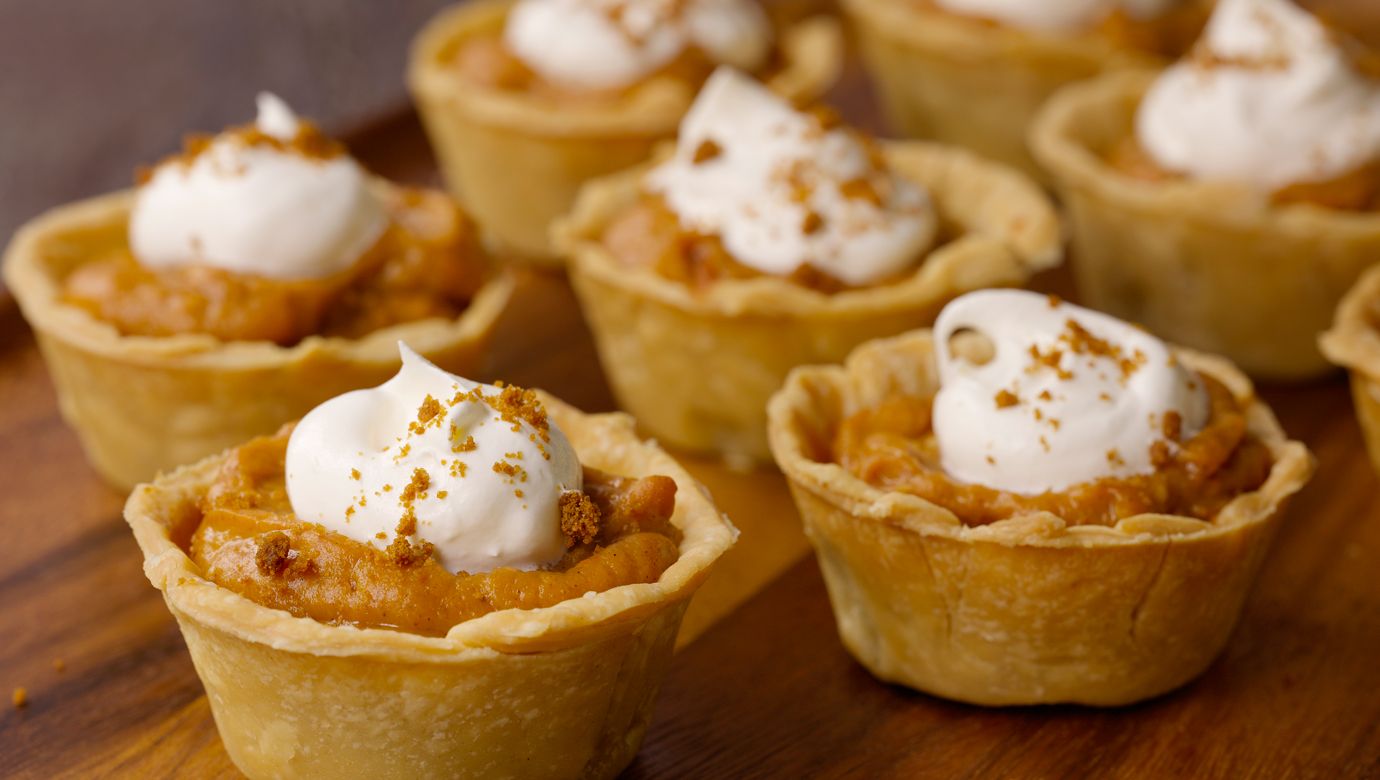 Mini Pumpkin Chiffon Pies
David Venable
This recipe is a lighter, more delicate version of a pumpkin pie, which makes it the perfect for ending a heavy Thanksgiving meal.
Ingredients
1 (3-oz) package cook-and-serve vanilla pudding
1 cup milk
1 (15-oz) can pumpkin purée
1 (8-oz) container whipped topping
1/4 tsp ground cloves
1/4 tsp ground nutmeg
1/2 tsp ground cinnamon
1/2 tsp ground ginger
3 (9") pre-rolled, ready-to-bake pie crusts
12 store-bought gingersnap cookies, crushed (optional garnishing)
Extra whipped topping (optional garnishing)
Directions
To prepare the filling, cook the pudding in a small saucepan, as directed on the package, using 1 cup milk.
Pour the pudding into a medium-size bowl followed by the pumpkin purée and all the spices. Cover the bowl with plastic wrap and refrigerate.
When the pudding is completely cool, fold in the whipped topping, re-cover with plastic wrap, and place back in the refrigerator.
Preheat the oven to 350°F. Lightly spray a 12-cup muffin pan with cooking spray.
To prepare the crust, unroll each pie crust and cut it into four sections. Fill each muffin cup with crust and press against the bottom and sides to set. Trim any excess dough from the edges. Cut pieces of parchment paper or foil and line each pie crust. Then, place pie weights or a bag of dried peas, lentils, beans on top of the crusts for weight. (This will help the crusts keep their shape while baking.)
Bake for 20 minutes, remove the weight, and bake for another 7 minutes. Allow the crusts to cool completely.
To assemble the mini pies, spoon the cooled mixture into the pie shells. Top each pie with whipped topping and crushed gingersnap cookies, if desired.
Cook's Notes
The process used to bake the pie shells is called blind baking. It's an important step because some pie fillings, quiche ingredients, or similar recipes may not take as much time to cook as the crust or as the pie or a tart, so the crust must be baked before the filling is added so it has an even consistency and a golden-brown appearance.