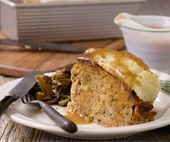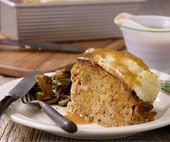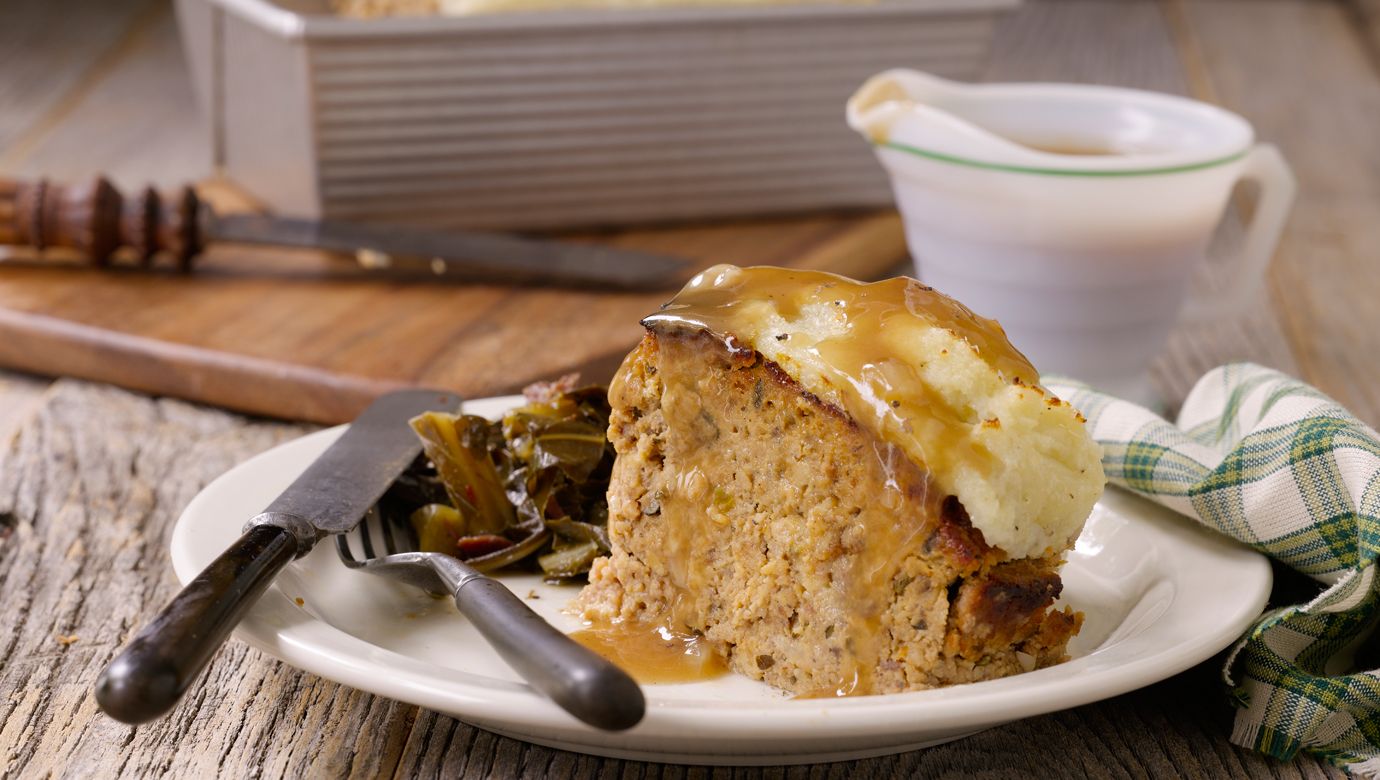 Meat Loaf with Mashed Potato Topping
David Venable
The meat and potatoes…in one dish! You'll love how the soup wakes up this classic dish!
Meat Loaf
2 lbs ground beef
1 medium onion, chopped
1 garlic clove, minced
1/2 envelope dry onion soup mix
2 large eggs
2 slices of day-old white bread, torn into small pieces
2 tsp Worcestershire sauce
1/2 tsp freshly ground black pepper
Directions
Preheat the oven to 350°F.
To make the meat loaf, use your hands to combine the ground beef, onion, garlic, soup mix, eggs, bread, Worcestershire sauce, and pepper in a large bowl. For tender meat loaf, don't over mix. Put the mixture in a 9'' x 5'' x 3'' loaf pan. Bake for 1 hour.
While the meat loaf is baking, make the gravy. To make the gravy, melt the butter in a saucepan over medium heat. Add the onion and sauté until tender, about 5 minutes. Dissolve the cornstarch in 2 Tbsp water in a small dish and then add to the onion. Whisk in the beef broth and cook for 1 minute, until the gravy thickens. Whisk in the salt and pepper. Keep the gravy warm over low heat.
Remove the meat loaf from the oven and carefully drain off the liquid that has accumulated in the pan. Spread the mashed potatoes on top of the meat loaf and sprinkle on the Gruyére. Return the meat loaf to the oven and bake for 20-30 minutes more, or until an instant-read thermometer inserted into the middle reads 165°F. Remove from the oven and let rest for 5-10 minutes before slicing. Serve with the warm gravy.
Gravy
1 Tbsp unsalted butter
1/4 cup onion, diced
1 Tbsp cornstarch
1 cup beef broth
1 tsp salt
1/2 tsp freshly ground black pepper
Potatoes
2-1/2 cups hot mashed potatoes
1 cup Gruyére cheese
Cook's Notes
Be careful not to over knead the meatloaf before baking, otherwise it can become tough.