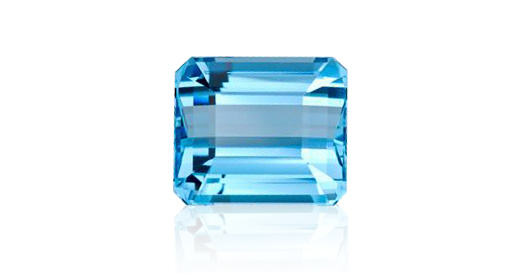 Stone Information
Aquamarine crystals are known to be large in size and relatively clean and well-formed, making them particularly valuable to collectors of mineral specimens. Like many beryls, aquamarine forms large crystals suitable for sizable fashioned gems and carvings.
Legend & Lore
Aquamarine's name comes from the Latin for seawater and it was said to calm waves and keep sailors safe at sea. March's birthstone was also thought to enhance the happiness of marriages. The best gems combine high clarity with limpid transparency and blue to slightly greenish blue hues.
Color
Aquamarine is the green-blue to blue variety of the mineral beryl. (Emerald is the green to bluish green variety of the same mineral.) Its color is usually a light pastel greenish blue.
Cleaning
Warm soapy water is always a safe cleaning method for aquamarine. Cleaning by ultrasonic and steam cleaners is usually safe unless the stone has liquid inclusions or fractures.
This information was excerpted from GIA's Gem Encyclopedia with permission from GIA.