Zumba Fitness Ultimate Workout System with 8 DVDs and 3 CDs
Recommendation Test Anchor, don't delete
Recommendation Test Anchor, don't delete
In Stock
Sold Out
We're sorry.This item is not available at this time.
Pre Order Possible.
Low Stock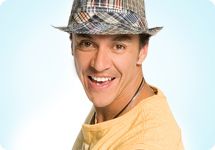 A Note from the Creator
"I designed Zumba with world music and spicy rhythms to make working out feel like a party. It takes the 'work' out of working out to get you moving!"
—Beto Perez
Reviews & Community QA
F09400 - Zumba Fitness Ultimate Workout System with 8 DVDs and 3 CDs
106
106
Fantastic Workout
I purchased this more than a year ago. Didn't really stick to it until recently. So far I have lost 16 pounds in 2.5 months. Can't believe it!! It is such a fun and now addictive workout. I just recently upgraded and purchased the Exhilarate TSV. Everyone should give Zumba a try. It is so much fun and you'll lose weight while you're at it!!!
01-27-13
Disappointed
Very disappointed in the quality of the sound and the graphics. Felt like I was watching a home made video. Expected better quality for the price.
12-08-11
TOTALLY ADDICTED
I waited a very long time to review this, as you need time to practice, practice, practice. I love to dance, am coordinated, but still felt awkward as I tried to do each video. You need to be patient, master one video at a time, and before long you will be looking forward to exercising. I enjoy it so much, I sometimes do it twice a day. It does not come easy, each video is edited, so don't think the instructors are perfect. I don't care for the camera "panning around" the group, showing the "pretty girls faces and torsos", I feel that more time needs to be spent on footwork, or you will go out of sync. I do wear dance sneakers, because regular sneakers grab the floor too much, and don't allow easy movement of your feet. I absolutely am addicted to Zumba, but remember, it doesn't come easy.........BE PATIENT!!
10-02-11
LOVE IT!
I purchased this after leaving a smaller version of the set in a hotel room and realizing how much I missed it. I'm so glad QVC offers a larger set with more dvd's and some cd's too. The extra dvd's are great because they are only 20-25 minutes long and perfect to do when you're pressed for time. You'll lose inches and get a great aerobic workout without realizing that you're exercising because it's so much fun to do. If you're thinking about trying Zumba, this is the one to get! It offers more classic dancing and no longer available through Zumba. Thank you, OVC!
09-10-11
Definitely try it!
I ordered this about a month ago and I am in love. I have never liked working out but I love doing Zumba! It's so much fun that the nearly hour long Cardio disc flies by without me checking the time constantly, like I do with other workouts. I feel like every workout is beneficial--even the 20 minute express workout works up a sweat. Some of the moves are difficult to master at first, but just keep at it. I have no dance experience and after doing the videos a few times I finally figured them out. As for results, I started noticing real changes in the shape of my body after only a week. I have been doing Zumba 5-6 days a week (minus a week and half vacation right after I started Zumba) and I think I am addicted. Things are lifting and tightening and I can't wait to see what my body looks like in another 2 weeks. I definitely think it's worth a try, but those with back problems might want to be careful, as there is a lot of twisting.
09-10-11
A Little To Difficult For Beginners
I had great hopes for the Zumba CD's . . .especially in terms of the calories burned per hour. However, for a beginner, they were a little too difficult. I had to watch and re-watch each segment multipe times to try and learn the steps. . .so much so that it took a great deal of time to get through each segment. Perhaps if I were a little more coordinated and fit, my experience would have been better. Younger people and those with dance experience would probably love them, but they just didn't work for me.
09-01-11
very nice
This worked great, was easy to follow and I am not even very coordinated. I unfortunately had to return it, because of personal reasons. I had read some bad reviews, but I was very happy with it and when money is more fluid, I would definitely buy it again!!!!
08-25-11
Fun!!
I received this product 3 days ago, and have been using it ever since. Being that I do have some dance experience, it was somewhat easy to follow, but I can see how it would be difficult for someone who doesn't. Some of the dvd's are very fast, and can be hard for some people to keep up. I definitely SWEAT, which I don't normally do, and I enjoy doing the workout in the privacy of my own home. Looking forward to the results!!
08-22-11
Good workout
I bought this DVD set because I don't always have the time to go to the gym Zumba classes. Although not as tough a workout as the class is, Cardio party is pretty close. The steps are not hard to learn. I do think I'll splurge on some dance shoes however. Too bad QVC doesn't carry Zumba apparell.
08-13-11
I GIVE THIS PRODUCT 10 STARS!!!!
I received Zumba 7 days ago. As soon as I opened it I went right for the Flat Abs DVD. I did not even watch the starter video to learn the moves, I was anxious to try it. The instructor was so detailed that I got the hang of it immediately. I am still not perfect like they are but I have already lost inches, keeping in mind I have been doing this workout faithfully everyday since I got it. THANKS QVC for having on air, you should have more shows with this product.
08-12-11
Love this set!
New to Zumba...consider myself a "de-conditioned" beginner, but able to keep up with the Express 20 minute workout. It is challenging, but can be done....and can't help but smile while doing it! I fully expect to see some progress with this system, simply because I love to do it!!!
08-12-11
Great workout!
I have taken Zumba classes at my local gym but the classes got so crowded I decided to buy this set and start doing this at home. Yes, it moves fast but you can move to your own pace til you get aerobic enough to catch up with Tanya, Beto and the group. I like this set because there are a lot of DVDs so there are a lot of different workouts to choose from. I've only had this a week or so but I think (hope?) it will be something I turn to again and again. Zumba is fun and a great workout but if you're not in super shape, take your time, go through the basics DVD a couple of times to understand the steps and then go for it!
08-08-11