Emeril by T-Fal 3.3L Stainless Steel Deep Fryer with Oil Filtration
In Stock
Sold Out
We're sorry. This item is not available at this time.
Pre Order Possible .
Low Stock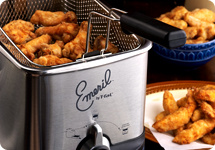 Similar to Items You Viewed
Reviews & Community QA
Emeril by T-Fal 3.3L Stainless Steel Deep Fryer with Oil Filtration
154
154
In the garbage
Used this two times and on the second use, it stopped heating in the middle of cooking hash browns. I had the same issue others had so I threw it away in the garbage and went and bought a fry daddy. So much easier to use and it works.
01-25-15
LOVE IT !
before I buy something.. I will review it for days to see just which one to bu.. well THIS IS A WINNER !!! and I LOVE LOVE LOVE how it filters and stores the oil !! Easy clean up also...
01-18-15
You Will Love This!
I ordered this fryer for my son. It looked amazing during the presentation. My son has attended culinary school and only wants the "best" of everything in the kitchen. He told me how much he loves it and how it cooks. If I can please him, I guarantee you will be happy with it and it's performance.
01-15-15
good deep fryer
My husband uses this often. It is simple to use and clean up is really easy. The assembly was no problem. All directions were easy to understand.
01-08-15
Very efficient fryer
This is the best fryer ever. The filtration makes it very practical and saves a lot of time in clean up. It's great for storage and easy to use. I purchased this last year and it is still going strong.
01-04-15
VERY DISAPPOINTED
I purchased this fryer in March 2014. At the time I didn't mind spending the $100.00+ dollars because it's made by Emeril/TFAL. Three months after purchasing it the heating element went up in it. Was very upset, but hey, things happen. Got on line and contacted the manufacturer. They replaced the heating element but it took 8 weeks to get it because they are made in France??? Got the new heating element and was back in business! Tonight, I turn the fryer on, immerse my basket of fries after the timer went off saying that the correct temperature was reached and BAM! Heating element has gone up again! Don't know whether to replace the element or throw it away. DO NOT BUY THIS PRODUCT, it's not worth the money.
12-05-14
Great Buy
I love this fryer. I've had the original T-Fal and a few others, but this one has them all beat. It is so easy to clean and I love the drain system-no mess, no heavy lifting. I waited for something like this to come along and my husband watches QVC for new things to make my life easier. Way to go QVC!
12-02-14
I totally love it!
This is a wonderful deep fryer that saves you money because of the oil filtration system. It's a no brainer. Just follow the instructions and you will have a beautiful meal. I love chicken wings , so now I am able to use my organic wings which always come out perfect! You can re use your oil up to 12 times. You can have great fries, chicken, onion rings, donuts etc any time in a matter of minutes. Cleanup is a breeze! Just do it!
11-23-14
Best Purchase Ever
I didn't know how well this would work but I have been pleasantly blown away. I use this to fry fish or chicken and it is simply the best.
11-22-14
Great Deep Fryer
This fryer does what it says it will do. Glad I bought it. Love the oil filtration system.
11-17-14
Love Love Love
Best Fryer ever!!! So good for so many things!!! Love the filtration system, works amazing!! Thank You Emeril!! Love You & your products!
11-13-14
I LOVE this Deep Fryer!
I have purchased quite a few deep fryers over the years, but none that compare to this. I absolutely love it and clean up is a breeze! I love the filter system as well. Really saves money on purchasing oil. I would highly recommend this deep fryer. Most definitely 5 stars!
11-10-14