Spanx In Power Super Power Panties
In Stock
Sold Out
We're sorry. This item is not available at this time.
Pre Order Possible .
Low Stock
Description
Make these amazing panties part of your power suit. Super sleek and sporting a power panel in front, they tame your tummy, thighs, and rear, while never revealing your panty lines. They're a must for strong, stylish women everywhere. From Spanx(R) Hosiery.
A, B, C, D, E, F, G
85% nylon/15% spandex/elastane, exclusive of trim
Hand wash, line dry
Made in USA
Important Details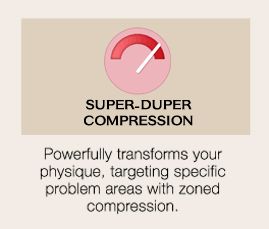 Super-Duper Compression Chart
Spanx® silhouettes are designed with various degrees of compression, each offering the ultimate in comfort and body-shaping support at that level. Super-Duper Compression (total transformation) powerfully transforms, comfortably targeting specific problem areas with zoned compression garments.
Reviews & Community QA
Spanx In Power Super Power Panties
30
30
Not As Good As Previous Spanx
I have bought many pairs of Spanx...I live in them!!! But the seams in these just did not hold up! They held me in and supported me in all the right places as always...but the seams (especially in back) were a real issue. On both pairs of these I ordered. Hope you can fix that!!
06-10-13
Nope! Don't waste $!
I am 5'3" and weighs 120lbs, flat tummy, age 40. TMI but I want to give u an idea of this product. This product did not work for my small frame. I wear lots of maxi dresses in the summer and like most women, we need that flawless look. Jersey dresses tend to show everything, hence the reason I bought this. It reaches my belly button and sinks into my skin. I got size A. Because it does not go all the way up under my bust, it is unflattering. The picture shows it is higher on model, but it is not. It cuts into my legs as well. I prefer the old spanx, the fabric is thicker. Since I needed it, I did not return it.
06-07-13
Problems with the seams
The seams ripped after you wear it for 2 or 3 times.
05-26-13
First Pair
I was so looking forward to receive these. The waist band rolls down, they feel tight but do not hold me in like I had hoped. Wish I had read the reviews frist.
04-07-13
Not a good purchase
This item is under sized and very uncomfortable to wear all day. Way too tight. I dont think the quality is as good as other spanxs I have.
04-04-13
Not the Same As Original Spanx
I have at least 6 pairs of the original spanx what happened? the quality an fit are not the same, i am sorry, I was an original believer,,,,,,,,,,,,HELP!
08-20-12
more seam issues
In one way or another these REALLY NEED to be re-designed to prevent seam issues from occurring. IF POSSIBLE to get THIS same strong SUPPORT using less seams or even better W/NO SEAMS to split.
08-12-12
Big disappointment
I have several pair of Spanx, as well as some of the imitations...These are NOT super duper, in the least...the crotch started to rip away from the leg after ONE wearing!!! And, while the silkiness is nice, they do not deliver the control that I was looking for...also, the waist band does roll down, just as some of the other reviewers have mentioned.
06-15-12
WHAT WOULD I DO WITHOUT MY SPANX?!!!
This is my second pair of spanx, I have nude, and came back for the black!! Love these!! Now mind you they are a bit snug when you put them on, you have to wiggle your way into them. I'm 5'1 and about 125lbs. I ordered the size according to my height and weight, and WOW, they take about 5lbs. off me! They are very well made! Once you get them on and put your clothes over you can really tell how slim they make you look, at least thats what they did for me. It flattens out your tummy, and lift your behind!! What more could you ask for?!! Even my daughter noticed! She asked me if I lost weight!!! If you want to look slimmer, I would recommend these!!!
04-06-12
Way too small
My measurements are right in the middle of the size chart for the size I ordered. I couldn't even begin to get these to the top of my legs, let alone completely on. They are going back.
03-21-12
great buy
These spanx fit real tight i have to pull to get them on but once they are they fit comfortably, My pants seem to fit a little better with them on. Will be buying spanx for my upper half next.
02-19-12
Not as good as the original design
I LOVED the original design, but Sarah Blakesly, please go back to the drawing board and make a better power panites, or go back to your original. I do like the support and the silky material, however, these are not one piece as the original design. This is my second pair of this design, and I have had the seam pull apart on both. I just tonight had to stitch up the seem for a second time. I have always purchased one size larger, so it is not that I am wearing too small a size. Also, I do not tug on them to pull them on, and now epecially since I am aware of the seam pulling apart, I am taking extra care. I would have rated these only a 2, however, I have loved them in the past and hope Sarah reads this as I am sure I am not the only one complaining.
01-22-12