GPX 9" LCD Portable DVD Player with Swivel Screen, & 7-pc. Access.
Watch Here, There, Anywhere!
In Stock
Sold Out
We're sorry. This item is not available at this time.
Pre Order Possible .
Low Stock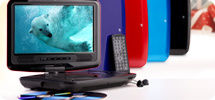 Description
Go time is showtime! Add your favorite entertainment to those long road trips, flights, or waiting room delays--with the GPX 9" diagonal LCD portable DVD player. It's a great gift for the whole family!
What makes the PD951 LCD portable DVD player special? The 9" diagonal TFT LCD swivel display is large enough to deliver a remarkable viewing experience for all. The 180-degree clockwise swivel and the convertible tablet design guarantees everyone has a great seat at the movies. The included carrying case converts to a car headrest harness for hands-free use.
And, if you want to keep the kids entertained and enjoy some quiet, the headphone splitter, along with two sets of earbuds, lets the kids listen to their DVD in privacy.
Where can I take it? With a built-in four-hour rechargeable lithium-polymer battery, you can watch it wherever you go. You can even play it on your TV thanks to the included A/V cable. Plus, with a car charger and a plug-in wall power adapter, you can charge it at home or on the go.
Can it show more than movies? With a host of useful inputs and outputs, the PD951 portable DVD player takes entertainment to the next level. With RCA output, hooking up a video camera to view home movies, or connecting a gaming console is a cinch. Plus, with the USB 2.0 port and the SD memory card slot, viewing family photos and slide shows is a breeze.
What's in the box? PD951 portable DVD player, remote control with CR2025 battery, A/V cable, wall power adapter, car charger, carrying case, two sets of earbuds, headphone splitter, and user's guide.
From GPX.
Includes PD951 portable DVD player, remote control with CR2025 battery, A/V cable, wall power adapter, car charger, carrying case, two sets of earbuds, headphone splitter, and user's guide
9" diagonal TFT LCD swivel display with 640x234 native resolution, 16:9 aspect ratio; swivels clockwise 180 degrees and converts into tablet design
Less than 25ms response time
Plays DVD, DVD+/-R/RW, CD, CD-R/-RW, JPEG CD
Built-in stereo speakers
Digital volume control
NTSC video system
Built-in four-hour rechargeable lithium-polymer battery
Multilingual onscreen display
SD memory card slot
USB 2.0 port
3.5mm A/V output
Stereo headphone jack
Closed, measures approximately 9-3/4"L x 7-1/3"H x 1-3/4"Deep, weighs 1.95 lbs
UL listed AC adapter; 90-day Limited Manufacturer's Warranty
Made in China
Reviews & Community QA
GPX 9" LCD Portable DVD Player with Swivel Screen, & 7-pc. Access.
114
114
Don't like it
I purchased this GPX dvd player on 12/19/12, but didn't try to use it until last night, 5/4/13. I should have done so earlier because then, I could send it back. When I inserted a disc, the only thing it did was tell me there was "NO DISC", over and over again. The GPX website has no help whatsoever. Save your money.
05-05-13
Limited Volume
I purchased this for my grandchildren so that they can look at DVD's while riding in the car. It's a very good DVD player but the volume is very low. If they have to view the DVD from the front of the car, they will not be able to understand the words because the volume is very low. Other than that, it works for me as well as for them.
05-02-13
Great Value
I bought this for my husband who is a truck driver and sometimes he has downtime and is stuck in his truck for hours for a loadg or unloading time. He just goes back to of the sleeper and watches his favorite DVD'S. States the sound is not as loud as he would want it to be. he will be adding small speakers to it. He is happy that he can watch his favorite DVD's.
04-29-13
needs work
I purchased for myself to sit outside with. Picture was great, but sound faded in and out. Ear plugs did not solve problem. I liked the features,just couldn't hear the dialogue.
04-21-13
Great Product
All extras included great product for the money sound is good happy with purchase
04-08-13
Perfect in every way
I bought this for my grandaughter's 6th Birthday.It's PERFECT in every way.All the extras included saved me money.It arrived on time.The bag included works as a DVD holder and the first day we went to the park and she had it hanging on the back of my car seat.sound is good.I added a small plug'n speaker and now it's too loud..lol..Buy this if your looking for the best,and enjoy the savings while your at it.PERFECT in evey way.
04-05-13
Suits My Needs-Perfect for the DVD-Toting Traveler
Based upon your needs, this will either be the perfect product for you....or possibly not. It is perfect for what I needed, which was simply to watch DVDs from wherever I was at without needing an internet connection. I have the movies I want to watch on DVD (I don't download TV shows, however I can do that if I want to on my laptop) - I needed a simple player to watch my movies on from the sofa, a spare bedroom, the car, wherever. I also use it to play my workout videos in my workout area in which there is no TV. I have found the sound and picture quality to be what you would expect from a lightweight, portable DVD player in this price range - fine for my needs, no complaints. I have been impressed with the battery life. If you follow the instructions and FULLY CHARGE the battery, then unplug and use as needed, I found the battery to last several hours - I did several workouts and watched a few movies before I needed to recharge. Then, I did as instructed, let battery exhaust completely and fully recharged. Overall, I am very happy with this purchase which does what I require: play DVDs. I have put my camera's memory card into it just to see how that feature worked and that was fine. Not sure I'll use that feature much. If you're looking for something small, lightweight and easy to use to take on vacation, or just have in areas of your house that don't have a TV, this is perfect. Don't expect theatre sound or picture quality, but I think for the price, the sound and picture quality are quite good. For the hip teenagers and young adults, stick with iPads or the other devices on which they can download their latest and greatest fare, but for those who are just looking for something easy to tote to watch their movies on, this is great. The case and accessories are very nice, compact, makes it easy to transport. Overall, for those that own or rent DVDs (how old school!) and like to spend their time waiting at dance lessons, DRs appts and more catching up on their Downton Abbey or Great Courses DVDs, or those that travel for business and like to take workout DVDs with them, this is the answer!!!!!!
02-20-13
RETURNED IT BUT CUSTOMER SERVICE WAS GREAT!
Bought this on December 21 in the blue for my 27 month old granddaughter and daughter for Christmas as they were at my home for the Christmas week. They were excited about using it when they got back at their home in Ohio. Unfortunately, the month went by and it was only used a couple of times before the sound malfunctioned. She had to send it back to me so I could return it in the original packing with the paperwork. Since it arrived after January 31 I had to send it back after the "deadline." I immediately phoned customer service, they were very accommodating, and was given permission to return it as "defective." The represetative allowed me to use the easy return label at no cost. So now I'm watching for my refund to be applied this week.
02-11-13
Very Disappointed
1st product didn't work sent back. QVC quick to send replacement but that was also sent back within 12 hours of receipt. Player worked once, sound poor and then the screen went totally dark. Sent back for a full refund. Offer was good with the accessories but actual player turned out not to be. Bought for a gift so this was a huge disappointment.
02-10-13
best DVD player i ever purchased
i love the swivel screen and clarity of the screen as well it makes movies look so real and i like the fact that it has a card slot for memory cards so i can look at pictures i hook up a pair of speakers and the sound blows me away kudos GPX keep up the good work
02-08-13
Didn't meet our needs
Purchased this as a replacement for an older portable DVD unit (Toshiba, not purchased from QVC). As a portable player we didn't have any problems for the short time we used this player. My son, however likes to connect a portable DVD player to the TV in his playroom for larger screen viewing. Our existing portable DVD player does this extremely well, however this unit does not. I had to purchase a $15 adapter in order to connect it to the TV and we couldn't get the sound to project from the TV (it was coming out of the unit), so the sound quality was very poor. If you like to connect your portable player to a TV (we do this at home and when traveling), this player is not for you. Otherwise it seemed to work fine.
02-05-13
Great for kids
I bought one of these in blue for my daughter's birthday and she likes it a lot. She is 9 and can take it in the car, in the yard, wherever she wants. For her it sounds and looks good. I gave it only 4 stars because the player is loud with the DVD spinning inside while playing.
02-02-13