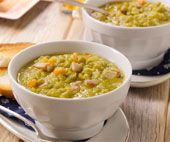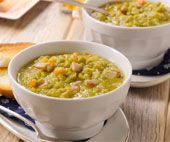 Split Pea & Ham Soup
David Venable
Split pea soup is perfect for the cold winter months. This hearty classic also freezes well for future meals.
Ingredients
1/8 cup oil
1 cup onions, diced
1 cup celery, diced
1 cup carrots, diced
1 cup leeks, diced
1-1/2 cups cooked ham, diced
2 (16-oz) packages green split peas
15 cups chicken stock
2 bay leaves
1/4 tsp dried thyme
Sourdough bread (optional, for serving)
Directions
Heat oil over medium heat in a large soup pot. Add the onions, celery, carrots, and leeks and sauté until soft.
Add ham, split peas, stock, and herbs. Bring to a simmer and continue to simmer for 1 hour or until the split peas are soft.
Serve hot with a generous slice of sourdough bread, if desired.
Cook's Notes
When freezing soup, it's best to cool the soup down completely and leave a little head space in each freezer-safe container to allow for expansion. To ensure the soup tastes its absolute best and retains all its flavor, try to use it to use within 3 months of freezing.