Joan Rivers Great Hair Day Fill In Powder Duo and Bonus Great Brow Day
Recommendation Test Anchor, don't delete
Recommendation Test Anchor, don't delete
In Stock
Sold Out
We're sorry.This item is not available at this time.
Pre Order Possible.
Low Stock
Recommendation Test Anchor, don't delete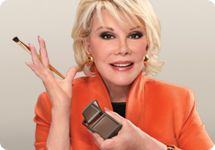 Have a Great Hair Day, Every Day
Reviews & Community QA
Joan Rivers Great Hair Day Fill In Powder Duo and Bonus Great Brow Day
is rated out of
5
by
177
.
Rated

5

out of

5
by
Pace Palma
from
The best solution to perfect hair...
I love Great Hair Day and will not be without it. please bring back this special order at the same price. I am so happy to have found this and thank Joan everyday for bringing it to QVC I stopped dying my hair two years ago and allowed the Silver/Grey to grow out and was pleasantly surprised at the combination I got and how much healthier my hair is now....but I didn't like that my scalp was pink as most others do get with white/silver/grey hair....so when I found this in Salt and Pepper I gave it a try and WOW!!!! What a difference it made in giving my hair volume and amazing contrast...it looks just beautiful!! Please bring this back in the duo offer and price...it's just another way Joan Rivers stays close to we ladies...she has touched us all and keeps doing so with all her clothes, accessories and beauty items...miss her but it's nice to feel that she is still close by by using her products.
Date published: 2017-09-25
Rated

5

out of

5
by
AvivaSheckett
from
The BEST deal EVER!
1. Bring back the DUO and Bonus offer! Can't be beat! 2. Change the compact to ROUND instead of square. A lot of product THAT I'M PAYING FOR BUT CAN'T USE is getting wasted in the corners. To Melissa Rivers and Product Designers: THINK CUSTOMER SERVICE. QVC people are GREAT.
Date published: 2015-10-02
Rated

5

out of

5
by
BJH2701
from
Love The Light Brown
Please make the light brown color of the brow pack into the larger compact of the Great Hair Day. The light brown now available is a darker brown and too dark for me.
Date published: 2015-08-09
Rated

1

out of

5
by
Ludichrisallen
from
Terrible, useless product
I wish I could say ANYTHING good about this product. First of all, the very first time I used the included brush, the eyebrow end fell off! It didn't even make it through the first application! Second, the colors are just flat and unnatural looking. I don't know who they might work for, but no one with...hair. Wait! I can say something positive about this product: the compact that it comes with is very nice looking and I appreciated the large mirror. If you're looking for an excellent root touch up powder that doubles as an eyebrow fill-in, I can enthusiastically recommend Tarte Amazonian Clay Brow powder. The color is perfectly natural. The dual ended brush is FANTASTIC for root touch ups and brows. Very high quality brush, in fact. The color lasts ALL DAY and even looks great in photos. I have tried so many products for my thinning brows and graying hair, and this one is by far the best. The picture below is of the mousse (which I have not tried), not the powder, but if it's anywhere near as great as the powder, it's a winner. Please don't waste your money on the Joan Rivers product. It's a big FAIL, I'm sorry to say.
Date published: 2015-07-16
Rated

4

out of

5
by
tena4700
from
Best product for thinning hair
This is the best I have found for thinning hair. It goes on with ease....doesn't have to dry. does not come off on pillow, or if you should sweat. Washes out easily. The blonde is dark, but hair is frosted so looks natural, my natural is dark brown, and it matches the roots... no shine.....not crazy about the brow powder, it's a much a lighter golden brown than the hair power....and the brush is very soft so it leaves a big swipe. Don't think I will get it again...at least in that color. If not for the brow brush and color, I would have given it 5 stars....I would not give it as a gift, because it just isn't something I would get for someone else....
Date published: 2015-03-06
Rated

5

out of

5
by
mamma g3
from
love it!
great product been using this for a few years great for in between touch ups hope qvc continues to carry this love it!
Date published: 2015-02-21
Rated

4

out of

5
by
CG
from
Looks great, but...
The hair fill in powder and brow powder are great. Color is perfect and the brushes that come with them are right as far as applying the product, but every one of them was broken when I opened the boxes! Each metal tip had fallen off the plastic wand. I had to glue them all back together. After they dried and were usable' the bristles started falling out of the hair powder ones! If I had purchased this set locally I would have returned it for new brushes. I didn't want to go through the hassle of shipping it back so I'll just keep using it until all the bristles are gone. Reluctant to ever reorder. Sorry, Joan. I'm disappointed because it's a good product.
Date published: 2015-02-20
Rated

4

out of

5
by
nikka
from
Hair powder/brush is great, brow brush is a joke!
Received A333663 as bonus w/recent TSV A260309. Loved the blonde color of brow powder & PERFECT brow brush that came with it. Ordered this set thinking it was the same brow powder, color & brush just more brow powder vs a small circle as in A333663. Wrong! This set has a small 1.25" square of different color powder, (more reddish even though it says blonde) & this brow brush is awful=soft & flimsy. Powder everywhere! I feel A333663 has the perfect brush w/compact bristles that draw a crisp, detailed brow fill/edge. Why a different style of brush in this set? Joan Rivers Co.: If cost is the problem, remove spoolie end, (we can use a toothbrush to brush/shape our brows), and replace with stiff angled brush from A333663. This current soft brush creates a powder mess in your brow area & on face. Sadly, I will be returning this set. *** Also, please get your colors consistent within your product line!
Date published: 2015-01-27