Butterball XXL Digital 22 lb. Indoor Electric Turkey Fryer by Masterbuilt
In Stock
Sold Out
We're sorry. This item is not available at this time.
Pre Order Possible .
Low Stock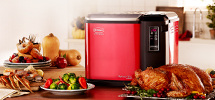 Description
This may be the first year you don't have leftovers! Thanksgiving dinner just got a whole lot tastier--and easier, too--thanks to the Butterball Digital XXL 22-lb Indoor Electric Turkey Fryer. Equipped with a built-in digital timer and variable temperature control, this convenient countertop fryer takes the guesswork out of preparing your bird. You'll make turkey so juicy with perfect crispy skin, everyone will gobble it up! And, since no oven is needed, you can place all your sides and desserts in the oven earlier, and finish your whole meal in less time--perfect when cooking for a crowd.
Spending all day in the kitchen doesn't need to be your tradition any longer. This top-of-the-line XXL fryer is able to cook up to a 22-lb turkey in less than an hour, so you can enjoy more time with your nearest and dearest. It also uses one-third less cooking oil than a conventional turkey fryer. Not only does this help make your meal more cost-effective and lighter tasting, it makes cleanup a breeze. A built-in drain valve empties the oil, and the removable inner pot has a porcelain coating for easy washing.
And it's not just for the holidays. Because this is an indoor fryer, you can use it in any weather, any time of year. So, go ahead--treat yourself and your loved ones to their best holiday turkey ever--and many more fabulous feasts to come!
From Butterball and Masterbuilt.
Includes indoor electric turkey fryer; aluminum cooking basket with drain clip; a DVD with 44 recipes; and a $5 mail-in rebate offer when you also purchase one Butterball frozen or fresh whole turkey
14 lb-18 lb turkey is recommended for cooking, however, you can deep-fry up to a 22-lb turkey in this unit; do not exceed 22 lbs
1650 watts
Variable temperature control to 375 degrees
Built-in digital timer
Stainless steel outer shell
Removable porcelain-coated inner pot for easy cleaning
Built-in drain valve
Fill fryer to max line with water to steam or boil
Do not use olive oil or any other oils with low smoke point for frying
For indoor use
Measures approximately 18-1/2"W x 15-3/4"Deep x 14-3/4"H, weighs 19 lbs 4oz; Cord 34-1/2"L
CSA listed; 90-day Limited Manufacturer's Warranty
Imported
Reviews & Community QA
Rated

4.1

out of

5

 by

494

reviewers.
Rated

5

out of

5
 by
SilverH
Oh my!. I did a fresh chicken this weekend
I wanted to test this out before trying to do a turkey for Thanksgiving for my Mom... I purchased a fresh chicken, stuffed under the skin garlic, some lemon grass, and cajun spices. It took a bit to figure out I needed to see the "H" with the temperature to get it to heat up. Took another reviewers suggestion and I placed it on my small patio. Also went to Costco and got the peanut oil, I thought I'm never gonna use all this oil., well, I'm glad I bought it now. I left the chicken in for 24 min. for 6 pounds, I thought it wouldn't hurt to be safe. I had a bit more than min. for the oil. It smelled so good. I let it sit lifted up in the pan along the side to drip. probably 15. min. Then brought it in, put the chicken on a bamboo cutting board that has a groove cut around it. Juices were still running out. It went over the groove onto the counter while I was eating. The meat was really hot yet...I had to let it still cool. It was so moist. I let the fryer cool over night, I used my Chemed with stainless steel strainer to strain the oil and place back in the container. I used a nylon brush on the aluminum tray to clean under the rim. Clean up was easy. I had an empty large yogurt container I put the seasoning that came off with a paper towel from the pan. I'm so stoked, about Thanksgiving, I'm going to be making Turkey...for my Mom. FYI - I patted the chicken down with paper towels, inside an out. I also lowered him in very slowly, I noticed if I tried to rush there was more spatter. I used a pair of silicon mitts I had to lower him in with. If your going to use this for thanksgiving, I would practice. Try different things under the skin... inject seasoning. I found some on You tube... I'm very pleased. Clean up, wasn't bad. Just a process. Don't be in a rush..
10-25-15
Rated

5

out of

5
 by
Luci Van Pelt
LOVE THIS!!!
Never would have imagined to Fry a Turkey inside... We absolutely LOVE THIS... Clean up is super easy too!!!
05-17-16
Rated

5

out of

5
 by
MommaLottie
Love it, love ir, love it
I bought this to steam my homemade tamales in. Worked fantastic. It took about 20 minutes for the water to boil, and then 90 minutes to steam the tamales. I can steam 3-4 dozen tamales at a time. I can cook 2 batches of tamales before putting more water in. I am planning on cooking baby back ribs for my grandsons graduation party.
05-05-16
Rated

5

out of

5
 by
Louise73
Happy In Ga
Purchased this for Thanksgiving last year and my husband wanted to test it out so we ended up frying chicken pork chops and ribs and they turned out beautiful love love love it
04-30-16
Rated

5

out of

5
 by
gobbler
great purchase ive made in a long time!
great value,works like a champ cooks evenly steams great,would buy another if the wife would let me lol
03-31-16
Rated

5

out of

5
 by
adamj804
Another Great Product From Masterbuilt
I purchased this fryer in October of 2015 and used it twice over the holidays. It worked as designed. The instructions are not as easy to follow as I would have liked as far as setting the timer and running the unit. The recipes that it came with look good. I purchased this fryer to mainly fry turkeys during the holidays. I was able to reuse the peanut oil from Thanksgiving for the our Christmas turkey. Everyone that came over said it was the best turkey that they had ever had. I was impressed by how moist the white meat was. I usually will pass on the white meat with exception of a turkey sandwich, but the breast was so moist, I didn't mind having some on my Thanksgiving plate this year. The unit does have a VERY short cord (they say for safety) and it does take a while to heat up (an hour almost). I would be hesitant to use this inside my house due to the oil smell that would linger. The weather was clear both times, so I sat it on my deck near the electrical outlet and had no trouble. Clean up was a breeze, the spout for capturing the used oil is genius. i would say clean up took about 30 minutes total and will get easier with each use. I put all of the parts that I could in the dishwasher. I look forward to pulling it out again in November and will post a follow up review should my views on this fryer change.
03-30-16
Rated

4

out of

5
 by
Jai8
Highlight of the Holidays
My husband and I fried our family turkey for the 2nd time in this fryer, to everyone's delight. My only negative is trying to understand the timer with regard to when the oil is heated to the proper temp. Since we only use this once, annually, we were equally stumped this year. But the skin was crisp, meat was juicy, and we hope to use it this summer for a family chicken and later a fish fry, as well.
03-26-16
Rated

4

out of

5
 by
mdunn1121
Great Size!
Bought this fryer over a year ago and really like the size, I have a good size family and being able to fry a big turkey came in handy. As far as the function it's easy to use and works really well I had a lot of compliments on the turkey last thanksgiving. Overall it's a good product and worth the money, if I had anything negative to say I wish it would heat up a little faster other than that it's great.
03-12-16