Sharp Library Quiet 10,000 BTU Portable Air Conditioner
In Stock
Sold Out
We're sorry. This item is not available at this time.
Pre Order Possible .
Low Stock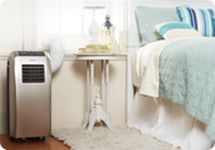 Calm, Cool, and Collected
Get this library-quiet, portable air conditioner up and running.
Description
Easy, breezy, and quiet! This portable air conditioner with fan and dehumidifier functions allows you to escape heat and humidity in peace. Its sleek, compact design is an attractive fit for any room in your home, and because it cools quietly, it's especially perfect for your bedroom. Wherever you choose to use this easy-to-move unit, the remote control allows you to adjust the temperature from a comfortable resting place.
Beat the heat. With 10,000 BTUs of cooling capacity, this mobile, space-saving unit offers a cost-effective way to nicely chill any area up to 410 square feet! Plus, the powerful air conditioner has three fan speeds and a 24-hour on/off timer with sleep mode for efficient temperature control.
Keep a comfortable climate. Ideal for the humid weather, the unit's built-in dehumidifier removes up to 60 pints of moisture per day. Its window adaptor kit with flexible exhaust hose lets you vent the moisture outside, without letting rain and insects inside.
Powerful and portable, this library-quiet air conditioner puts a calming chill in the air almost anywhere!
From Sharp.
Includes air conditioner, window adaptor kit with flexible exhaust hose, and remote control with 2 AAA batteries
10,000 BTU cooling capacity
Cools an area up to 410 square feet
Dehumidifier function: removes up to 60 pints of moisture per day
Compatible only with sliding window or double-hung window; not compatible with casement window
64" maximum window width
LCD display
Three fan speeds
24 hour on/off timer with sleep mode
Slide out side-mounted washable filter
Measurements: Air conditioner 31"H x 13"W x 13"D, weights 54 lbs; Cord 6'L; Exhaust hose 4'L
UL listed; 1-year Limited Manufacturer's Warranty
Cannot ship to Canada or P.O. Boxes
Made in China
Reviews & Community QA
Sharp Library Quiet 10,000 BTU Portable Air Conditioner
268
268
Great Airconditioner
this is the second Sharp Portable air conditioner I have bought., I use them in the bedrooms, the Sharp brand is by far the best. we tried others, and they were noisy, plus did not cool enough. this one gets out Master bedroom down to 64 degrees if we want it that cold, it is so quiet. I would never buy ant other brand than the Sharp Quiet, they have different BTU available.
07-19-13
Excellent portable Air Conditioner
We purchased this last year because there were some construction problems in our home that happened that affected the A/C distribution in our master bedroom & the bedroom stayed remarkedly hotter than the rest of the house, even with the ceiling fan & a box fan. Fortunately saw it on QVC one afternoon decided to give it a try. Easy to assemble once we got it & it immediately was cooling. We are still using it as needed. Works wonderful so grateful we found it & have recommended it to a few people that needed it. We could move it very easily to another room if we needed to, but as I said, we only need it for our bedroom. Thank goodness for this product!!!!!!!!! I can only suggest to those who had problems with getting it to work-------just try looking at the directions carefully again,, maybe you accidently missed a step. Oh & by the way, we live in central Georgia & it is HOT & HUMID here
07-14-13
Incredible Air Conditioner
I have only had this air conditioner for a little over a week and already am so very impressed. It worked perfectly right out of the box with no problems so far with continuous 24 hour 61 degree running stints on multiple days. I am able to move it to any room with no problem thanks to the addition of a 25' dryer vent hose. So very glad I made this purchase!
07-07-13
Very disappointed
Bought this in June 2012. Used for one summer as air conditioner. Tried to used again in July 2013 and it doesn't work. Only blows warm air. One would think this unit should last more than one season given the cost. Now I'm going to go out and buy a window unit like I should have done in the first place. Also, the description says that the unit is "quiet"... Strongly disagree...
07-07-13
DON'T WASTE YOUR MONEY!! WORST PURCHASE EVER!
I bought this last June 2012 and finally put it together again this year to use. This unit stopped cooling. No cold air coming out. This was a big purchase for me and now I have to either spend more money getting it fix or just throw it out. Most likely throw it out and get a window unit like the one in my son's room which is less expensive and still works. I don't usually write a review, but just want to warn buyers that this is not worth the money.
07-05-13
Great relief from the heat!
Works great to cool a small space, we are using it in our office/den and it is such a lifesaver in the humid summer of New England. I would not describe it as library quiet, but it is by no means loud. I think it is a great value and works great for summer
07-02-13
what a nightmare!!!
leaked all over a 2nd floor bedroom - carpet/padding; 2 bookcases; nighttable; desk and dresser had to be put in the trash! Waiting on status of hardwood floor.....
07-01-13
Avoid This Item!!! Bad Quality
I had purchased this item one year ago--Yes, just passed the warranty. I used the item for approximately 1 month last year. brought it out this year and no cold Air. Now I have to call to have it serviced--no warranty left. And for the price of this item that is unacceptable. Be warned.. save your money, look elsewehere. Note to QVC, please look into this item-Not up to QVC standards. Thank you
06-30-13
Quit After One Season - DO NOT BUY
Of course, it stopped blowing cold air after 13 months, only blows warm air now and warranty is just over. I have two other portables that I have had for 3 years and 4 years respectively and they are still working wonderfully. In hindsight, this one never worked as well as those others. This SHARP was a terrible, terrible waste of money!
06-30-13
GLAD I took a chance on SHARP
It was a crazy installing it to my sliding window, but the overall results it cools my third floor bedroom and even reaches into my kids room. No more hot summers in my bedroom.
06-29-13
Very good product
Easy to set up and install, quiet and keeps our room at constant temperature. I like this product.
06-27-13
Blows warm air only
Horrible- purchase. Used maybe 10 times for 4 or 6 hours each time -- went to use it this past week -- blows only warm air. Don't waste your money on a Sharp product! I'd rate it a 0 if that was an option.
06-26-13