Prepology 4 qt. Microwave Pressure Cooker with Recipes
In Stock
Sold Out
We're sorry. This item is not available at this time.
Pre Order Possible .
Low Stock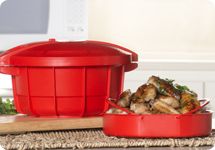 Flavorful Food at Microwave Speed
Click the links below to learn more.
Description
Enjoy flavorful meals fast with this convenient Prepology(R) pressure cooker. A novel update to traditional pressure cookers, this model makes homemade meals right in your microwave for the ultimate in convenience. It's pressure cooking made fast and easy--and without compromise.
Can't take the heat? Stop cooking with the oven! This microwave pressure cooker is perfect for making meals when it's hot--or whenever you want to be freed from the stove. It eliminates fuss and muss from preparing everything from ribs to poached pears--47 recipes are included in the manual to inspire you.
It works fast--way faster than traditional cooking. Since this pressure cooker goes in the microwave, it quickly reaches the designated temperature. Heat is evenly and quickly distributed, and unlike conventional microwave cooking, stirring is not required. You'll also appreciate the added convenience of the steamer basket. It helps save time and energy by letting you cook several foods at once--add food that requires less time later in the cooking process. The steamer basket lets you layer foods but keep them separate. Use the steamer basket to reheat leftovers without drying them out, too.
You'll get rave reviews. Unlike other microwaved meals, this cooker prepares flavorful fare--results are as tender, tasty, and juicy as food from a traditional pressure cooker. And, this cooker retains more moisture and nutrients than traditional cooking--while saving time and energy! Treat yourself to meals made easier--and treat your family to great food fast!
From Prepology(R) Kitchenware.
Includes 4-quart microwave pressure cooker; steamer basket insert with steamer plate; and manual with 47 recipes
Primary safety device releases excess pressure; secondary backup pressure-releasing device helps assure safer usage
Visual pressure indicator visibly shows when unit is under pressure; when at level zero, unit is safe to open
Mesh filter protects safety device from clogging
Gasket offset detector ensures lid is properly closed
BPA-free plastic construction
Dishwasher- and microwave-safe
Recipes developed using a 900W microwave; check your wattage prior to use and adjust cooking times
Measures 4-3/4"H" x 10"Diam; fits in microwaves with interior dimensions 11-17/20"L x 11-17/20"W x 6-3/10"H (above tray) or larger
Made in India
Reviews & Community QA
K34167 - Prepology 4 qt. Microwave Pressure Cooker with Recipes
284
284
LIFESAVER!!!
This product is a true lifesaver. So many times I would forget to take food out of the freezer or it's not defrosted in time. Not only is the pressure cooker unique in that everything is thrown in together... But the food is cooked perfectly with amazing flavor. You won't be sorry if you purchase one!
05-31-12
Skeptical!
I was very skeptical at first, but decided to give it a try. Even as my whole chicken was in the microwave I was thinking the cooker was going to explode or the chicken would be rubbery, but I was totally shocked when the chicken came out perfectly cooked, Mosit, tender and juicy. And it made an excellant broth. Then I made chicken thighs using a recipe in the book. They came out perfectly cooked as well. YOU MUST HAVE THE REQIRED LIQUID IN THE COOKER! Also, the lid is a little hard to open the first time, but it does get easier after a few times. I love it!!!
05-29-12
Performs as advertised!
I will say my husband and I were a bit wary when we saw this being demonstrated, but as the saying goes "the proof is in the taste". For us, our first meal we made was the Chicken Cacciatore and it was a success. The chicken pieces were cooked through and the vegetables were cooked perfectly. We plan to put this cooker through it's paces to dispell the negative reviews we've read. Next up is the Red Wine Risotto and then we will make the Chocolate Rice Pudding to see if the proof is in the pudding! I read the one concern about the cooking only getting to 6 pounds of pressure, but I believe the other point of this item was overlooked - you're using a microwave to help you cook in addition to the cooker. All in all - we give this item 2 thumbs up!
05-19-12
Girdie
I love this pressure cooker. You need to do some experimenting to get the cooking times down right for the different things you use it for. Everyone will like the the color it leaves in the foods and the short time it takes to cook. If you follow the directions and let it cool properly before you open it there won't be a problem. I own two of them.
04-01-12
HEAVEN MADE - LOVE IT!!!
I bought one of the "AS IS" cookers. The gasket was not perfect. It looks all stretched and beat up, but it still works just fine. If you read the instructions FIRST and put enough water in the cooker & don't OVERFILL it, your results will be great. I LOVE mine and wouldn't trade it for anything. The instructions could be a little clearer about putting in the gasket, but it's pretty obvious that you make sure it's inside the little white tabs or buttons by the handles. Another reviewer was absolutely correct when suggesting to cook for 5 minutes, stop and check the food. The reason is Microwave Ovens vary tremendously even if they list same wattage. Age and other factors add to discrepancies in time given in recipes. Don't be afraid to try it. You know your microwave and can adjust accordingly. I just cooked dry lima beans in 25 minutes! (soaked first). Thick & Delicious! Enjoy...
03-11-12
Strange disappointment
I have returned this product. It may be just coincidental, but after the first and only time I used it, my microwave, only about a year old, would no longer heat. It was working fine previously and even cooked the meal I had in the product, but in attempting shortly thereafter to heat water for hot tea, the heating element no longer works. Strange!!!!! Now, must buy a new microwave because it's cheaper than having this one repaired.
03-07-12
BEST PURCHASE EVER
i bought this for my dad the cook about a year ago. there is nothing he can't make in it and have it come out great. anyone that has had trouble this item must be doing something wrong.my father loves it so much he cant use it enough.
03-07-12
Does take some experimenting but well worth it
This is my second...I use it to steam/cook artichokes in 10min, my old stand-by, is bone/skinless chicken thighs, partially covered with a soy-vey type of sauce, 4-6 thighs are done in 13min...let the sauce rest till it thickens on it's own, and voila' .
02-29-12
NO WAY!
Thinking that this would be really fast....NOT! My food came out hard, very tough. Tried cooking different meats, still came out tough, adjusted the cooking time, didn't work....last time I used it my chicken burned on the bottom of the cooker and would not come off no matter how long I soaked it in water, I couldn't even scrape it off............so after getting fed up with the cooker I threw it out in my recycle can. I love QVC, but this was a big waste of my money, If you've had sucess with this...I'm happy for you, if you haven't bought it yet.....DON'T
02-22-12
Why feature this item??
As in a previous review, one customer mentioned "Why repeat this item if the low reviews out number the 5-Star ratings. It is obvioud that this produce is not a quality item and should not be re-featured
02-22-12
AWESOME!!!!!!!!!!!!!!!!!!!!
This is a great product.I liked it so much I bought another 1 for my mother. She to loves it. The people who give this a negative review are just brain dead or on drugs or maybe both.
02-08-12
we love r pressure cooker
yes it is somewhat trial and error but everything we have made turned out excellent. we've made chicken ribs and even porcupine balls. we just can't say enough about it.
02-08-12