MyPillow Custom Fit Standard Pillow
In Stock
Sold Out
We're sorry. This item is not available at this time.
Pre Order Possible .
Low Stock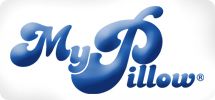 Description
Designed with you in mind, this custom fit MyPillow is made with a patented, three-piece, interlocking foam. It conforms to your needs, regardless of your sleep position, and supports your head and neck for maximum comfort. And when it's time for a cleaning, simply throw it in the washing machine!
Patented, three-piece, interlocking foam design
Cover not included; standard pillowcase can be used
Measures 18-1/2" x 25-1/2"
Pillow: 100% polyurethane foam
Tick: 100% cotton
Machine wash, tumble dry
10-year Limited Manufacturer's Warranty
Made in USA
Reviews & Community QA
MyPillow Custom Fit Standard Pillow
834
834
Bye, Bye neck pain
I hesitated to buy this product, because of the mixed reviews. I was in such pain from neck and shoulder abuse that I chucked caution to the wind and did so anyway. Glad I did. At first I thought it was a hoax, how could this pillow be different? I fluffed it in the dryer before using as suggested and settled in for my first night on the pillow. It works, I bought two, one for me the other for my husband. We both sleep better and the neck and shoulder pain I was experiencing is much improved. His snoring is better. We hate traveling without our pillows now. We are like little kids and have to take our own pillows along. Ignore the nasty comment and get this for yourself. Do as suggested when you first get it, and if you don't like how it feels, wash and dry it. Don't know how you could regret it.
04-12-15
Love It!
I bought this pillow for my husband for Christmas but I stole it from him! I kept asking him if he liked it and he said it was OK and I said, well, if it's just OK, you can keep your old pillow because I love it! I have always been a down pillow lover for over 30 years but this is so much better! It is so light and small (a good thing) and is so very comfortable. I used it for a week and then went back to my down pillow to make sure I still like the MyPillow, and yup, it was a keeper! Definitely worth the money...oh, and my Mom and Dad have these and love them, too! For those saying the pillow is hot....wrong...I confess to being menopausal with hot flashes and I don't find it to be hot at all! So happy I took this from my husband!
02-18-15
TOTAL DISAPPOINTMENT
I saw the ads and demos for this many times, so when it was a TSV, I decided to treat myself and get one. Big mistake! At first it seemed good. But that only lasted a few weeks. Now it's past the return period, and I am very FRUSTRATED with this pillow. First, it is not a "queen" size as described. It is very small. It does not have enough stuffing inside; it's very skimpy. It's actually keeping me awake at night as I'm trying to realign it and readjust it. It goes FLAT in no time wherever you place your head, and the contents push toward the opposite end of the pillow. Then you start to feel the individual little pieces of stuffing on your face, and that's very uncomfortable and actually hard!!! Now I'm developing a stiff neck most nights with this stupid pillow! This was a total waste of money; I can get a more comfortable pillow at a department store for one quarter of the price of a "My Pillow." Warning: Don't waste your money on this product!!!!
02-12-15
Sleep
I have had too many surgeries, so I toss and turn all night. Finally I got the pillow and they stay the way I smooch them. Sleep like a baby♥♥♥♥
02-08-15
There is NO PILLOW like MYPILLOW...TOTAL COMFORT!!
I have watched "MyPillow" on air for a few years. Yeah right, a good nights sleep with it?I have good pillows at home, memory foam, down alternative, gel and they work for me. Until I received my "MyPillow." As I said, "THERE IS NO PILLOW LIKE MYPILLOW." I have owned it and used it for about 3 weeks. Incredible comfort and sleep. As Mike says, the pillow forms for you, for a good night sleep. I am breathing well throughout the night with the form I adjust "MyPillow" to for a good nights sleep! There is NO GOING BACK TO MY OTHER PILLOWS with tossing, turning, adjusting...forget it!!! Decided to order a second "MyPillow" for a back up. I am very happy with this particular "MyPillow" which is the medium choice. Personally, most women will choose the medium and most men will choose the heavy. I am 100% happy with my 2 "MyPillow" purchases. Thank you QVC for the Outstanding USA Product!!!
02-05-15
Terrific
I am a 63 year old retired RN. I always searched for the perfect pillow since I was in my mid teens. I finally found the pillow for me that helps with my sore neck and tight shoulders where I carry all my stress. My cat, Lucy, also loves "my pillow" and hops on it every morning! Thanks so much for the great price and easy-pay which really helped me out. I have been a loyal QVC customer since around 1990. ....
01-23-15
Worst Pillow Ever!
This is absolutely the worst pillow I have ever slept on. I tried it two different nights and both nights I had to switch back to my old pillow because it caused my neck to hurt.
01-23-15
I Love "My Pillow"!!
I was really reluctant to make this purchase after reading some of the, let's just say, "passionate" negative reviews. I am so glad I decided to take a chance on this pillow. I love it!! After putting it in the dryer as instructed it looked like it would never be comfortable to sleep on. Once I got it to conform to my head and neck, I was able to fall asleep quickly and for several hours before waking. Due to medical issues, sleeping more than a couple hours at a time is a luxury. I do not wake with headaches nearly as often as before I got this pillow. I think more people would like this pillow if they gave it more of a chance. I fluff it up before sleep, then because the fill is in small pieces, you can get the support exactly where you need it. I also love that it can be washed so often without worrying that it will fall apart like the mass market pillows out there. I say if you have problems sleeping and your pillow isn't helping, give "My Pillow" a try, you may just love it too! By the way, the pillow I received has no smell and is not noisy when you are lying on it as others have complained about. I would only gift this pillow to a family member who I know it would help.
01-19-15
worst purchased ever
Can't believe I wasted over fifty bucks on such an inferior product. Did not perform as advertised. Too lumpy and noisy, sounded like snap, crackle and pop. Kept me awake and I can't afford to lose sleep at my age . I've bought better pillows at a discount store. Can't believe QVC is continuing to sell this product.
01-19-15
A "Zero" not a "Hero" 4 Me
I purchased these pillows (2 as a set), as a TSV in December. They were the medium. I was so hopeful that these would work for my husband even if they weren't right for me. My husband didn't like them either (sorry). I personally did not experience the support as demonstrated on television and I just don't find them comfortable. Trust me, I have tried everything recommended to like these pillows. I've washed, placed them in the dryer and been hopeful. No luck. I've tried 1 and then 2. I've plumped, fluffed and tried conforming them to my head, just like the model, Angela does during the demonstrations. (I watched this product for months b4 deciding to purchase). For me, these are simply uncomfortable and I can't sleep a full night using them. They seem to cave-in. I truly want to support products made here in the U.S. and I'm so touched by this gentleman and anyone who creates products here in the U.S. and provides jobs for our fellow Americans. That is so awesome! Kudos to him!!! Even if these aren't for me, he's still a "Hero" in my book. Sorry they just didn't work for me and I must return them. I'm happy to read that many do love this product. Thank You QVC for your quality standards.
01-18-15
Excellent!!
I was a but skeptical about buying these pillows after reading other reviews of others. The pillow were on the flex payment and I would only loose a small percentage if the pillows were not that great. So I purchased 2, one in firm and one in medium. We got them home and followed directions of putting it dryer and they are awesome!! No more neck pain. Worth the money and worth the chance. Glad I did!! Take a chance and see for yourself. You WON'T be disappointed!! Thank for QVC for the payment plan. I could buy two!!
01-17-15
Returned
Tried to make it useful, but it wasn't at all what I expected. Couldn't justify the price and the comfort was like my other pillows. Sorry, really wanted it to be like the presentation but it wasn't....returned it.
01-16-15