Montel Williams Living Well 5StainlessSteel Pressure Cooker w/ Cookbook
In Stock
Sold Out
We're sorry. This item is not available at this time.
Pre Order Possible .
Low Stock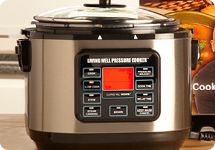 Click the links below to learn more about this pressure cooker.
Description
Comfort food, made quick and healthier! This five-in-one cooking essential from Montel Williams makes you a master at preparing mouthwatering, easy meals that are good for you, too.
Enjoy better fast food. Using fast, flavor-infusing technology, this pressure cooker combines high heat and pressure to shorten cooking times. Meals are ready so quickly, you'll be less tempted to hit the drive-thru. And because flavor and nutrients are locked in, you're less likely to rely on salt, oils, and seasonings. It makes eating healthier easier.
Five-in-one convenience. This unit doesn't just pressure cook. It browns, slow cooks, stews, and steams--all healthier methods of preparing meals. And because this unit has variable steam pressure and cooking times, you can prepare a variety of foods, even more challenging dishes like fish and shellfish, with ease. At the completion of every cooking cycle, the cooker automatically shifts to Keep Warm mode, which keeps meals warm until you're ready to eat.
Help is here. Montel offers recipes galore in the included 200-page cookbook and eating plan. And, he goes in-depth on how to use the cooker in the included DVD. You'll be inspired to cook creatively, eat better, and enjoy a healthier lifestyle.
From Montel Williams.
Includes 5-quart pressure cooker, cookbook with over 100 recipes, steam basket, glass lid, wire rack, spoon, measuring cup, and 15-minute instructional DVD
Multiple cooking options: pressure cooking, browning, slow cooking, stewing, and steaming
Fully automated temperature and timer control
Keep-warm function
Push-button controls
Dishwasher-safe nonstick removable inner pot
Measures 11-1/2"H x 11-1/2"Diam
UL listed; 60-day Limited Manufacturer's Warranty
Made in China
Reviews & Community QA
Montel Williams Living Well 5StainlessSteel Pressure Cooker w/ Cookbook
255
255
Over a year old and still going strong.
I LOVE my Montel Williams Pressure Cooker! I have never had a moments trouble with it and I've been using it for over a year now. If I had gone by some of these negative ratings I wouldn't have bought it but I took a chance and am so glad I did. You just can't believe how good the food that comes out of it is; in such a short period of time...every bit as flavorful as a slow cooker meal. The cookbook that comes with it has some tasty recipes and the step by step instructions on each recipe explaining which buttons to push and when make it fool proof. It just couldn't be easier.
06-01-13
DON'T BUY!!!
Spent 200$ on this stupid thing. Works great for the first few times, then it just doesn't build pressure anymore. Cleaned all the lid parts, checked EVERYTHING, just plain doens't work. Makes your meal burn on bottom since no pressure just gets real hot now. DO NOT BUY THIS. I'm sure Emeril on HSN would never have had this problem.
06-01-13
Sorry I bought
I used this pressure cooker only a few times because the pressure takes forever to build up & didn't build up at all the last time I used it.All it did was make a mess as steam leaked all over my counter.
05-29-13
Disappointed
I purchased this in March 2012 and LOVED it. Used at least once a week and more during the winter... Went to use it last week and the pressure would NOT build up... tried to use it last night and took several trys to get the pressure up. I know I have used it alot but for the money it should last longer. Will keep it for just the slow cooking part now. :(
05-17-13
Montel Williams Pressure Cooker
My Mother always used a pressure cooker in the 1950's and 1960's with excellent results. She taught me how to safely use the pressure cooker. I have not used a pressure cooker in years and wanted to make red beans and rice, but not with all the hours of cooking necessary. So, I happened to look on QVC and low and behold the Montel Williams Living Well Stainless Steel Pressure Cooker with cookbook and DVD. I thought the price was right after doing some online research. I was thrilled to receive the pressure cooker and to see what features it has. I immediately made the red beans and rice (there was a recipe in the cookbook) and then some great turkey breast and vegetables. Healthy cooking, great features that lets you brown, stew, pressure cook and with such great ease. I look forward to using this utensil for many years and am very happy with the purchase. The price was excellent and product beautiful as well
05-12-13
Discontinued, warranty worthless, no parts avail.
My mother bought me this, almost a year ago. I love love loved it, until we lost a little rubber washer, that is essential for this item. So we used the replacement one included. In the directions it states to replace these at 6 months anyways. So if you are to do this, you CANNOT BUY REPLACEMENT PARTS TO DO THIS OR THE LARGE RUBBER GASKET. CUSTOMER SERVICE WITH THE MAKERS WAS A JOKE, NO HELP AS THEY STATE THIS ISN'T MADE ANYMORE. IT IS DISCONTINUED FOR over 2 years! Most companies would still have parts, but this one does NOT! so now its useless! Again it worked great but now it's a waste of $120! What a shame, this is my 2nd pressure cooker, I should have stuck with the cooks essentials one, I loved as well but was too small for us.
05-01-13
WORST product ever...
After purchasing this pressure cooker approximately a year ago I thought about returning it and should have. Placed a small roast inside with beef stock and spices to cook. At the end of the cooking time the lid would not open. My son came home and tried to open the lid, but could not. There is water on the stove top, moisture under the clear plastic piece on the from where the display is and a small rump roast with a couple of cups of stock inside. The number to call the company is no longer in service.
03-10-13
doesn't last
good food, but purchased in spring 2012 and used once a month and by February 2013 did not work. Save your money. Don't judge by 1st outcome.
03-09-13
Don't waste your time or money
This is the first time i have ever written a review in 20 years.I debated about this one but ordered it last year and have only used it 3 times I can not get the lid on or off. My son has to do it for me and make sure he is there to take it off. I would never buy it again.
03-03-13
Great purchase
I initially purchased this for the pressure cooker benefits, but since have used it for browning and cooking meat, and slow cooking. It is easy to use and cleans well. Usually when I buy a product and there's a cook or instruction book, it is useless, but this book is very informative and has great easy recipes that my family loves. I live on a small income and was very happy with the split payments, otherwise, I wouldn't have been able to afford such a luxury.
03-01-13
Worst Product ever DOES NOT WORK
DO NOT WASTE YOUR MONEY ON THIS PRESSURE COOKER it. takes forever to try to get the pressure up.Then when you hear some steam The water comes out the side and into the panel in the front, The lid will not stay down, I even tryed to put something on the top to try to keep it down.That still did not work The timer would not work either,The book fell apart the first time I opened it up.Could not send it back because it was over the 30 day return policy,,
02-22-13
Awesome addition to my kitchen!
I really love this product it has saved me time on many dishes. Very easy to use and food always tastes great! Would recommend this product to everyone.
02-10-13