Masterbuilt Smokehouse 3 Rack Electric Smoker with Cover
In Stock
Sold Out
We're sorry. This item is not available at this time.
Pre Order Possible .
Low Stock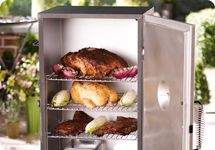 See What's Cookin'
Learn more about the Masterbuilt Smokehouse 3-Rack Electric Smoker:
Description
Savor the slow-cooked flavor. Bring genuine Southern smokehouse taste to your home with the affordable, easy-to-use Masterbuilt triple-rack electric smoker.
Smokin' good. With 1500 watts of cooking power, all your meats, poultry, seafood, veggies, and more--can be prepared to perfection. This versatile user-friendly smoker has a built-in thermostat, letting you control the exact temperature you want to bring your favorite foods to their flavorful best.
Three smoking racks let three different foods absorb the deep flavor of wood burning chips (not included) at the same time: that's room enough to prepare everything that's on your menu! The removable water bowl keeps food moist and tender while cooking.
Everything you need for any meal. This smoker comes with the key accessory to handle all you more delicate culinary jobs. The included silicone-coated fiberglass mesh mat is ideal for smoking vegetables, fish, and even making jerky.
The double-lined interior keeps the flavor in and the cold air out--even in cooler temperatures. And unlike gas grills and barbecues, there's no propane or charcoal to deal with. And thanks to a removable drip tray, cleanup is a breeze.
Year-round enjoyment. From summer barbecues to fall tailgate parties to holiday dinners--the Masterbuilt Smokehouse lets you serve your family in delicious style.
From Masterbuilt.
Includes electric smoker, removable water bowl, removable drip tray, removable wood chip tray, silicone mesh smoking mat, and cover
1500 watts
Built-in thermostat with variable temperature control
Approximate temperature range from 100F to 400F
Three chrome-coated racks for a total cooking surface of 500 sq inches
Works with a standard 110V outlet
Outdoor use only; cover during inclement weather
Assembly required; duration will depend on the individual
CSA listed; 90-day Limited Manufacturer's Warranty
Measures approximately 16-3/4"W x 40"H x 15"Deep
Made in China
Reviews & Community QA
Masterbuilt Smokehouse 3 Rack Electric Smoker with Cover
232
232
Love My Masterbuilt Smokehouse Smoker
This is the 2nd. Masterbuilt Smoker for me the first one was a little different. It works great! Gave my sister the 1st one and she brags on it too. The 1st was a 4 rack smoker and this one is a 3 rack. The smoker have my neighbors coming to my patio when I use it. LOL! They all want to know what's smelling so delicious?! Some neighbors bring over beer and we sit and discuss the smoker, All I can say is I love my Masterbuilt! Anything I smoke comes out juicy and delicious, ask my neighbors...
04-27-14
My husband LOVED it!
I ordered this as a gift to my husband who is a very hard person to purchase gifts for. It was a hit and he LOVED the gift! Thank you easy pay!
04-23-14
Smoken' hot
We have used this smoker every weekend since we got it in February. Pork loins, ribs, whole chickens, chicken breasts, venison tenderloins and venison shoulders as well as beef brisket. Because there is only two of us, we cook on the weekend to have meals during the week. What a savings on buying meat in bulk and on electricity not using my stove or buying charcoal. Love that you just put the food in and leave it alone for it to work it's magic. Worth every penny. Thanks QVC and Masterbuilt!!!!!
04-22-14
Easy and great food.
Almost had a year and love it. Smoked a ham and turkey breast for Easter. So much easier than using an oven and frees up the oven for baking. Easy to use. Pre-warm, clean the grills and such outside, season the food and prepare for the feast! Don't have to worry about drying out your food either....
04-21-14
Wonderful product and Company
We purchased this smoker almost 2 yrs. ago. Have had many, many delicious meals! Recently we had to order a part for it. The customer service is great! They immediately ordered the part for it, placed it under warranty and are shipping it for free. Did not cost us a single cent. How many companies would do that? Can't wait to start smoking again. Thank you Masterbuilt!!!!
04-15-14
Works good...
if you have the same size extension cords that they use on the air to demonstrate this smoker. If you notice they use a monster size cord to run to each smoker so there is no loss of amps to keep the smoker up to temp.
04-13-14
Worst purchase from QVC ever
I have used it about 6 times in the last year and was going to use it 4/10/14 and I noticed the thermometer was stuck at 300 degrees and it did not go done from last use last fall.
04-10-14
LOVE THIS!
Bought for husband and he loves it! Takes a bit to clean up afterwards but the food is amazing so it is worth it.
04-08-14
Great purchase
I got this for my husband and he has used it every weekend since. We love it !!!
03-30-14
Thought it was a smoker
Don't let the demo they show deceive you ... I have had for over a year and never get all the smoke they show when demoing it in qvc ... Disappointed big time
03-30-14
Smoking rites
I recommend this smoker for smoking 19/20lb piglet.I installed a hook at top of the smoker and hung the piglet upside down by tieing it's feet together and set the temp at 350 degrees for about 3 1/2 hours. I did brine the piglet overnight,came out prefect, crisp skin and tender favored meat. I suggest that Websterbuilt Smokehouse look in to building a smoker capable of handling small piglets or lamb and such. When I smoked my piglet it was very well received and requested at every family cookout.
03-16-14
Love it
we bought this to use in our sandwich shop we owned as a small family shop this was just the right size for my son to do our Pulled pork and tri tip we also have done smoked salmon in it our next thing is to do Jerky we really do love it
03-12-14