LightStim For Wrinkles LED Light Device for Full Face Wrinkles
In Stock
Sold Out
We're sorry. This item is not available at this time.
Pre Order Possible .
Low Stock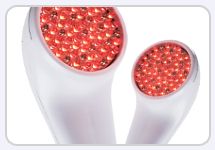 Learn More
Add a 3-year SquareTrade Service Contract to your order and protect your LightStim from accidental damage during use.
Watch a video to see LightStim president and co-developer Joniann Marchese show you how to use it and share expected results.
This item comes with a 90-day return option, a special offer only available for select products that QVC specifically identifies as being eligible on QVC.com. All other terms of QVC's standard return policy apply.
Description
What is it: LightStim for Wrinkles is a handheld, non-invasive medical device that's FDA cleared for the treatment of full facial wrinkles. It delivers warm, gentle LED light that penetrates the top epidermal layer of skin and can enhance collagen and elastin production, helping improve the appearance of facial wrinkles for a more youthful-looking appearance. LightStim Collagen Peptide Serum is designed to work in conjunction with LightStim for Wrinkles.
Who is it for: Those with lines and wrinkles on the face that want help achieving a more youthful-looking appearance.
Why is it different: It goes beyond what topical skin care can do for your skin, and can be used in the comfort of your own home.
In a clinical study, the visible reduction in the appearance of facial wrinkle severity improved in all participants after eight weeks of use. In a follow-up three months after the clinical study ended, all participants maintained the improvement they achieved during the eight-week study period.
How do I use it: First thing after your receive your device, take a picture of the areas you would like to target so you can track your progress. Cleanse and dry your skin, and put on the included goggles if you wish. Place the light so that it gently touches your skin and hold it in that location for three minutes. Then, move it to the next targeted location and hold it there for three more minutes. Continue this until you have addressed all desired areas.
Twice daily, apply Collagen Peptide Serum liberally over clean, dry skin. Massage into face, neck, and decollete and let dry. Can be used alone or combined with your current skin care products. Avoid contact with eyes.
For best results, do this for at least five days a week. After eight weeks, take a comparison picture to see your progress.
From LightStim.
QVC will accept returns up to 90 days from the date of purchase.
Includes LightStim device, 9-volt AC/DC adapter, 0.33-fl-oz Collagen Peptide Serum, and goggles
FDA-cleared
Measures 2-1/2"H x 8-1/2"L x 3"W
UL listed adapter; 2-year Limited Manufacturer's Warranty
Adapter/goggles imported
Reviews & Community QA
LightStim For Wrinkles LED Light Device for Full Face Wrinkles
356
356
Stick With It!
I've patiently waited to write a review until I had the chance to use it for a full 8 weeks and I promised myself if it didn't work, I'd send it back for my refund! Well, I stuck with it, I used it no less than 5x per week, and I have to admit that I see RESULTS! So, let me be real. Does it do the work of a filler or botox? No, but it has lessened fine lines and wrinkles around my eyes and forehead. My cheeks look plumper and healthier. So, I'm super happy! I took before and after pictures and one of the biggest changes is the texture/color of my skin. I suffer from large pores and facial redness, and although I know my pore size won't change, I can honestly say they appear smaller. I've also been able to get away with just using a tinted moisturizer because my face doesn't need full coverage anymore. I know that I don't have to continue using it every night, but it's very rare that I let a night go without using it. I've come to actually enjoy the process. The only thing I don't use is the serum. I tried it and didn't care for it, but I do use my favorite serum with the light. I will also admit that using the light every night has caused me to have a better nighttime routine so I'm sure that plays a role in the look of my skin. I no longer look at washing up at the end of the night as a chore, bur rather an "experience". Silly, I know, but it's true, and my skin is loving it!
11-14-14
Preview Your Review
I've had this for two years and used without issue, more recently I've left it out of my routine because between the NuFace, the Tria Blue Light therapy, and other items I felt something had to give...so, I stopped and I regretted it when I started to develop brow furrows. I am going back to using Light Stim and not looking back. It works it just takes time.
09-19-14
Worked for me
I have had the LightStim for a while. At first I didn't notice anything. After about a month or so, I slowly starting seeing a difference. I wish I would take time to use everyday like I did initially but .......... Just be patient and I think you will see a difference too.
09-08-14
CAN'T BELIEVE I BOUGHT THIS..........
and waited too long to try it, so now I can't return it. This did absolutely nothing for me. I used it every night and feel like I wasted not only my time, but my money too. Of course, losing the money is my fault. If you are going to try this, use it right away so you won't be stuck with it like I am. This taught me an expensive lesson.
08-15-14
Wonderful Service from LightStim
After a few years of using at least five times a week, my LightStim developed a problem with the cord. I called the company and they immediately sent out a new cord at no cost to me. I told them I purchased it from QVC...that was all it took...no other questions asked.
08-08-14
Extremely Disappointed in this product
I purchased this during the time the 90-day return policy was in effect. I used the device per the instructions and simply noticed nothing. I am in my early 40s so I have minimal wrinkles at this point. I bought this for myself as a replacement for my old Facefx (which I accidentally dropped on a tile floor). I was excited about the Lightstim because of the large size of the treatment area. I couldn't wait to use it, because of the positive experience I had in the past with the (LED) Facefx. But it simply did nothing. Thankfully, I was able to return it for reimbursement. I really do not understand how this product works for some and does nothing for others. There were no cord issues at all with my device. It turned on perfectly .... it simply did not do what it claimed when it came to me. For others in their early 40s ... this might not be the product for you. It certainly was not for me. (Still love QVC and their awesome return policies. I am so grateful for their excellent customer service.)
07-27-14
Such Hype....
I have been using this device every other night since Feb; it is now July. I can't see any difference in my crows feet. Maybe collegene reproduction process responds differently in different people; or maybe this device simply falls short of what it claims to do.
07-09-14
Softens Lines, Increases Serum Penetration
The full size is a bit heavier than the mini yet not significantly larger light area. I prefer the mini as it is easier to hold. No, this did not erase my wrinkles nor is it ever going to erase them. I do believe it has SOFTENED the nasal labio fold and marionette lines, they appear diminished. Yet they are still there. I also feel it helps serums penetrate deeper into the skin, which may also bump up benefits of skin care products. It is time consuming, but easy enough if you have a favorite one hour tv show to watch while using it. This is expensive and has its purpose. I would not recommend it to anyone that is expecting lines to disappear as they would with filler injections... If you can't really afford it, don't purchase it as I think you would be disappointed. If you can, and plan to use it - you will enjoy the SUBTLE benefits of improving your skin care products for a more softened line appearance. Overall, if I lost it or it broke, I would not repurchase it.
06-07-14
if it doesnt work its because of the cord
Had this for almost 2 years just stopped working..called 949 502 4088 answered immediately..told problem they never asked anything after told them bought from QVC. Sent me cord and works great. Don't give up great company to deal with.
06-02-14
Didn't work for me
I certainly gave this a fair trial - every night for almost 2 months. The only things I noticed were my age spots got darker and my bank account got lighter. Also, had a reaction to the Algenist products the unit came with - skin dried out overnight and became cakey. A friend asked if someone had hit me. Took several days for area to heal up. I have to admit it did feel good, so will hang onto unit for sore muscles.
05-31-14
Didn't work for me
I have a few wrinkles from squinting on my forehead and no change for me. Tried to return but after the 30 day policy
05-02-14
have used for 3 years- it works
I don't understand any negative reviews on this awesome device. I have been using this device for 3 years now and have noticed wonderful results. I am in my late 40's and since using this devise a few times a week have noticed a softening of some deep wrinkles I had around my mouth. I wouldn't want to be without this device. I haven't had to purchase any special creams or serums for it to work well. I love the results. Give it a try. You won't be disappointed. You need to use daily for the first 8 weeks and then just a couple times a week after that for maintenance.
04-28-14