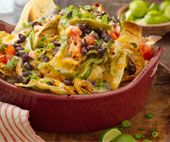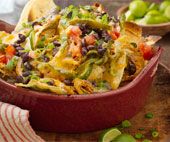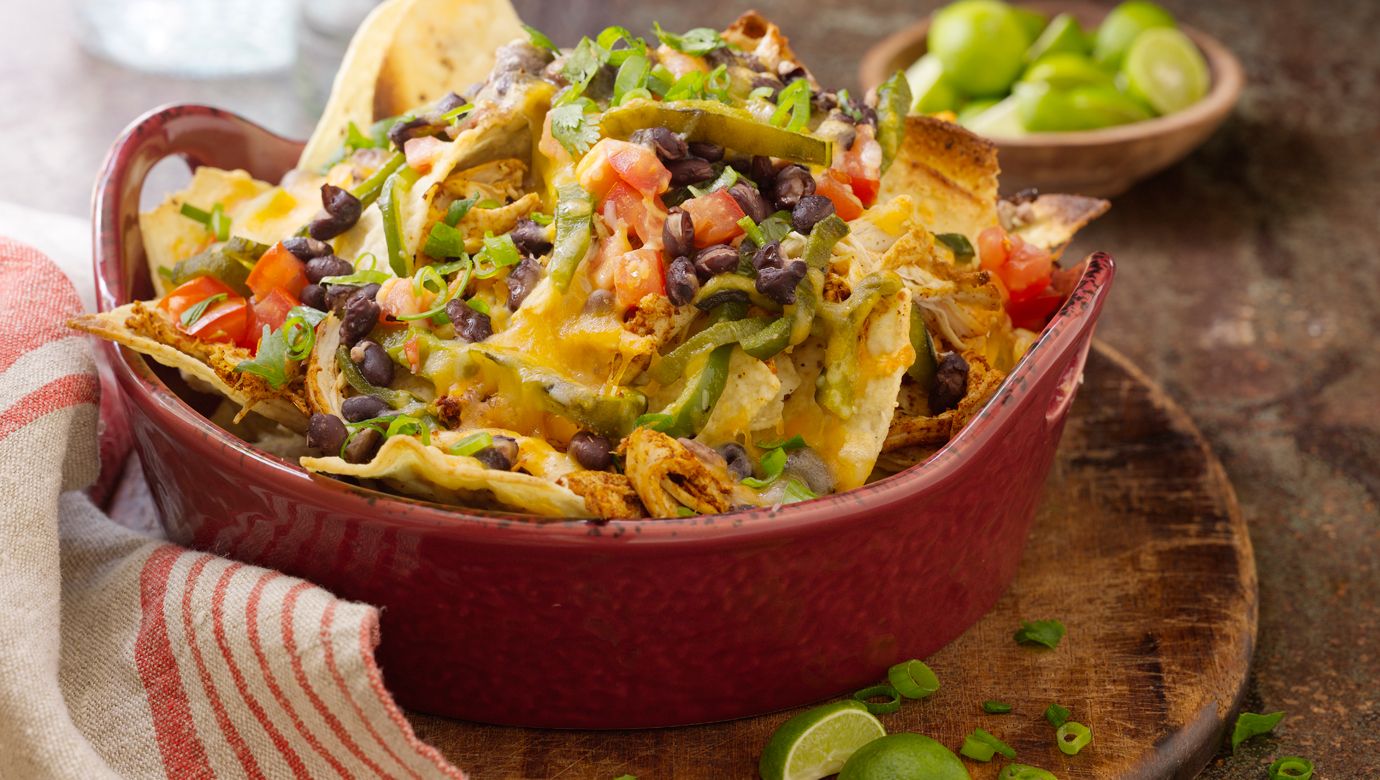 Chicken Nachos
David Venable
I like toppings on my nachos! Pile them on, foodies. You'll love this recipe...especially the smoky flavor of the roasted poblano peppers.
Ingredients
2 tsp chili powder
2 tsp ground cumin
1 tsp garlic powder
1 tsp kosher salt
2 cups cooked chicken breast, shredded
1 (13.5-oz) bag tortilla chips
2 poblano peppers, roasted and chopped (see below)
2 medium tomatoes, seeded and diced
1 (15-oz) can black beans, rinsed and drained
1 (8-oz) package Mexican cheese blend, shredded
4-5 scallions, minced
3/4 cup fresh cilantro, chopped
Directions
Preheat the oven to 375°F.
Stir together the chili powder, cumin, garlic powder, and salt in a small bowl. Add the chicken and toss evenly to coat.
Heat a grill pan until hot. Roast the poblano peppers until well-charred, and then place them in plastic bag to steam for 2-3 minutes. Remove the skin, chop, and set aside.
Spread the tortilla chips in an even layer on a large baking sheet. Evenly top the chips with the chicken, followed by the peppers, tomatoes, and black beans. Finish with the cheese and scallions. Bake for 8-10 minutes, until the cheese is melted and bubbly and the nachos are heated through. Remove from the oven and top with the cilantro. Using a wide spatula, transfer the nachos to a serving plate.
Cook's Notes
Once the peppers are charred, place them in a bowl covered with saran wrap or store them in a plastic bag. This allows them to steam using the residual heat and moisture, which in turn loosens the black charred skin.