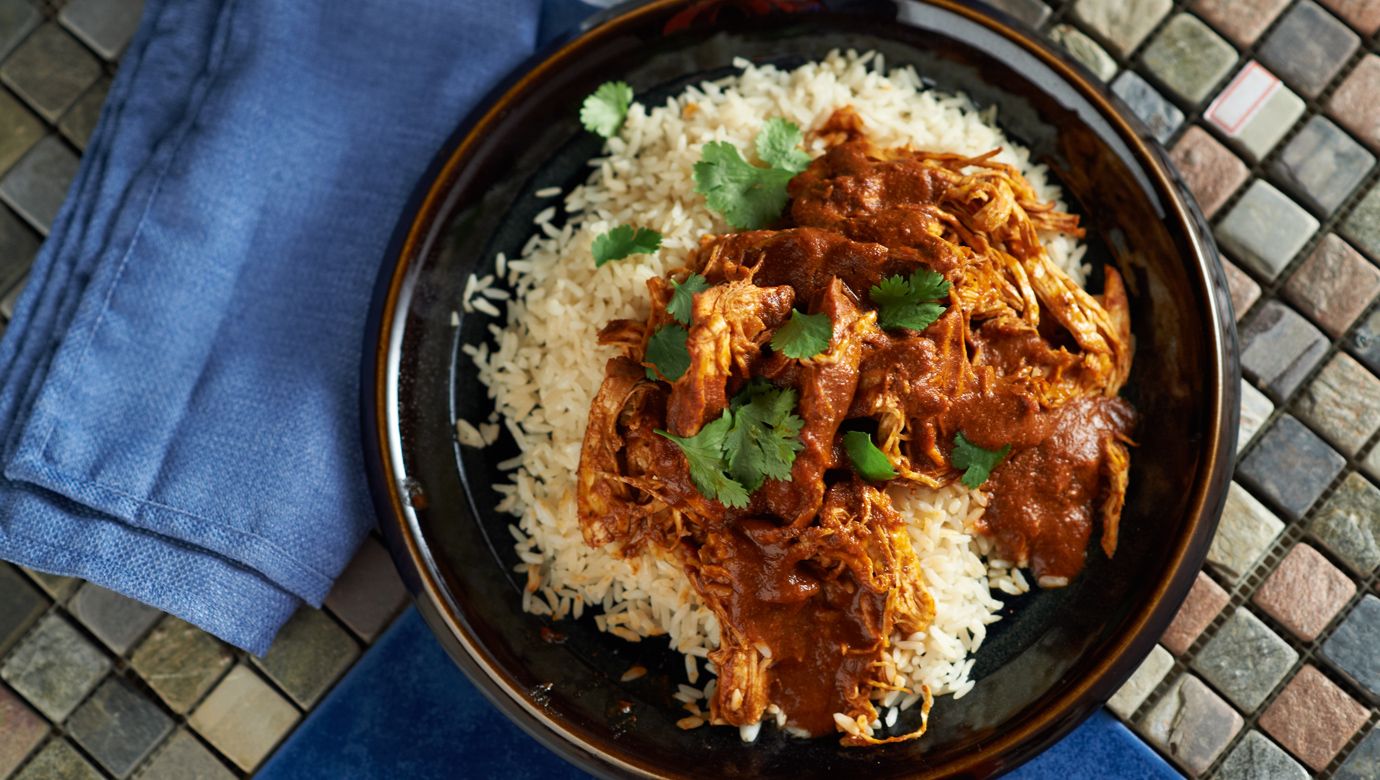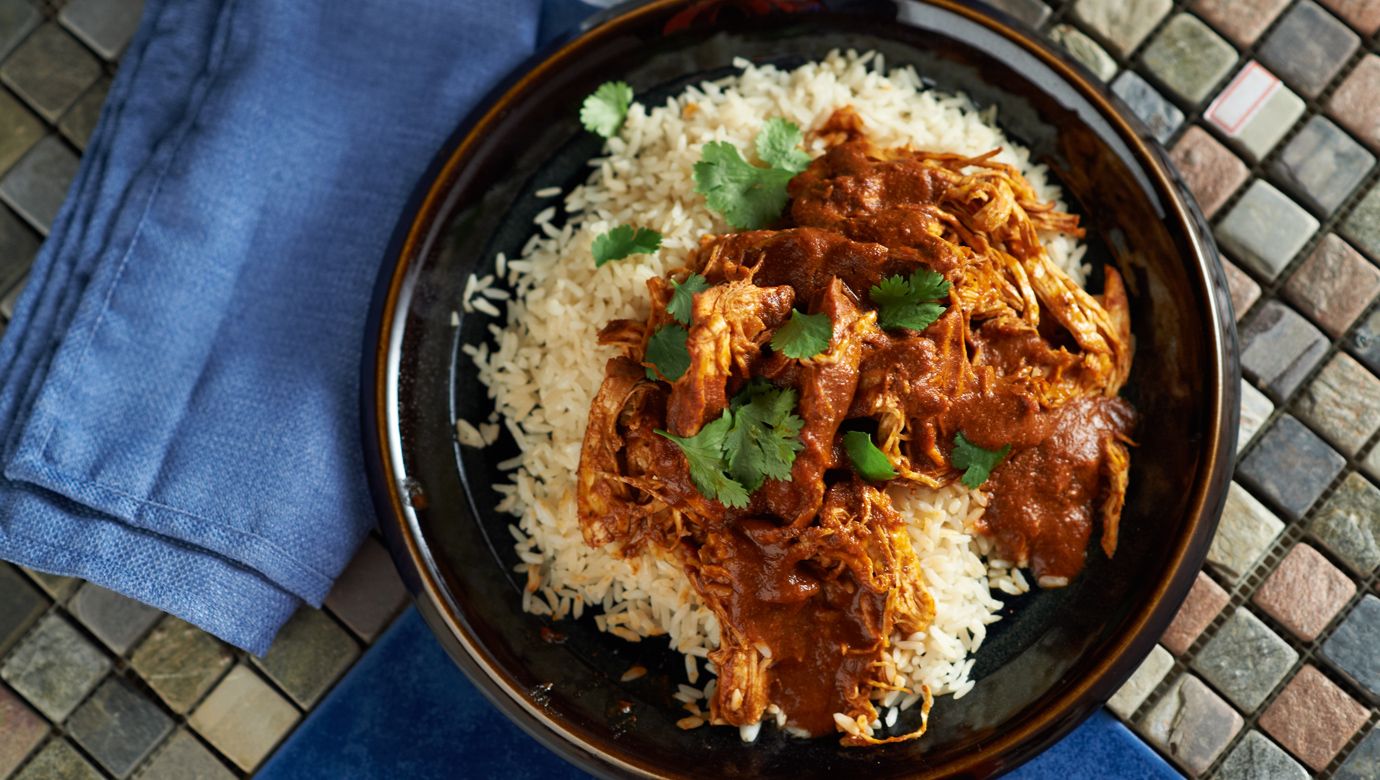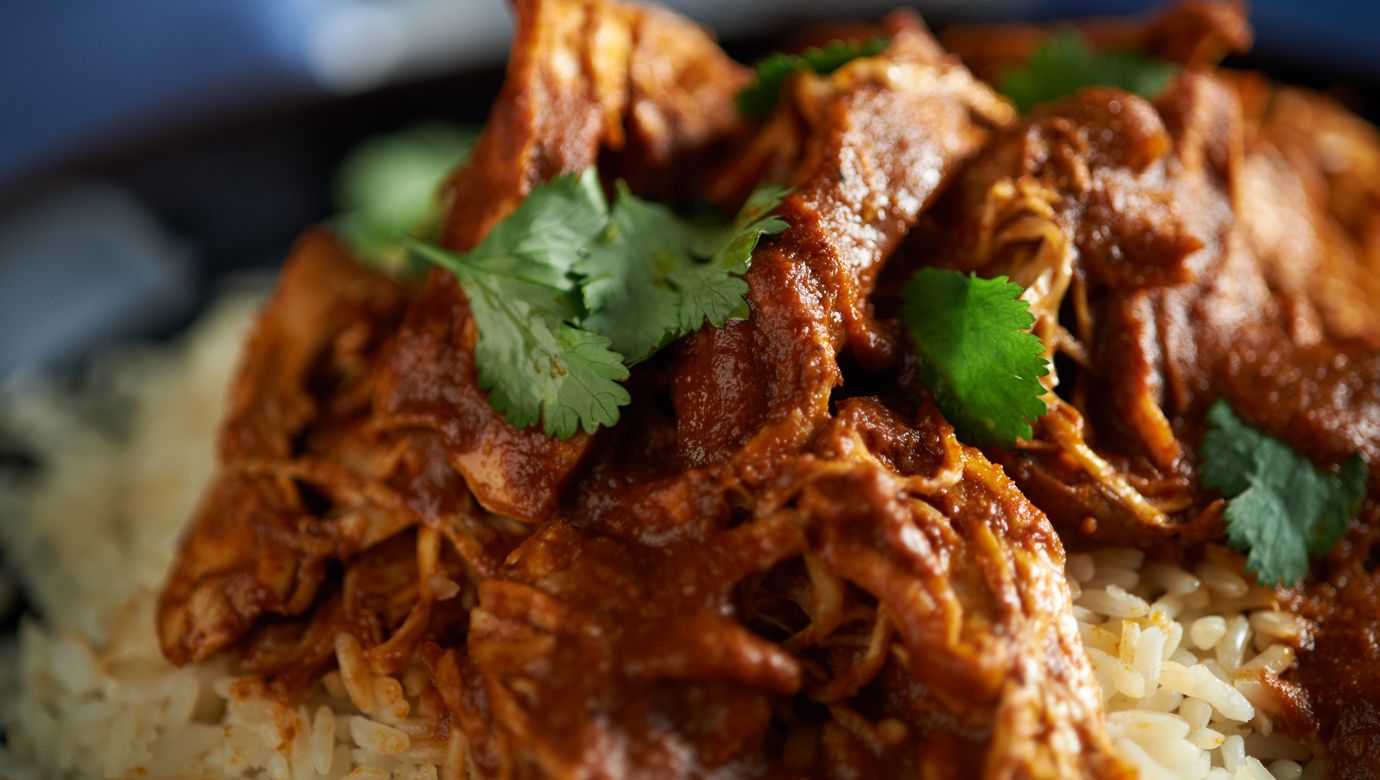 Chicken Mole
David Venable
Often, the Mexican recipes we make are actually Tex-Mex, but this Chicken Mole recipe is very traditional and couldn't be tastier.
Ingredients
3 dried ancho chili peppers, stemmed & seeded
1 dried guajillo chili pepper, stemmed & seeded
4 Tbsp oil
1 Tbsp whole blanched almonds
1 Tbsp raisins
1 Tbsp raw pumpkin seeds
1/2 of 1 corn tortilla, cut into 4 pieces
2 tsp garlic, chopped
1/3 cup onion, diced
1 cup canned diced tomatoes
1/8 tsp anise extract
1/4 tsp ground cumin
1/4 tsp ground coriander
1/2 tsp ground black pepper
1 tsp salt
Pinch of cloves
3-1/2 cups chicken stock
1-1/4 oz Mexican chocolate, chopped
6 (6-8-oz) chicken breast
Additional salt and pepper, for seasoning
cilantro, chopped, for garnish
Directions
Place the peppers in a bowl with hot water and let them sit for 1 hour. Drain and set the soaked peppers aside.
Preheat the oven to 350°F.
Combine 1 Tbsp oil, sesame seeds, almonds, raisins, pumpkin seeds, and corn tortilla pieces in a small bowl. Spread the mixture on a baking sheet and toast in the oven until golden brown, about 15 minutes.
Heat 1 Tbsp oil in a 2- or 3-qt saucepan over medium heat. Add the garlic and onions and sauté until they begin to soften. Add the tomatoes to the pan and let simmer for 2–3 minutes.
Next, add the drained peppers, toasted mixture, anise extract, cumin, coriander, black pepper, salt, cloves, and 3 cups chicken stock to the pan and simmer for 1 hour.
Puree the mixture in a blender, in batches, adding the chocolate as you blend. Push the sauce through a fine mesh sieve or a piece of cheesecloth into a bowl.
Season the chicken breasts with additional salt and pepper. Heat the remaining 2 Tbsp oil in a large sauté pan over medium-high heat, and then place the chicken in the pan. Brown on both sides and place them in a 9'' x 13'' baking dish.
Deglaze the sauté pan with 1/2 cup remaining chicken stock and add to the finished sauce. Pour the sauce over the browned chicken breasts, cover the baking dish, and braise in the oven for 45 minutes.
Remove the cover and then braise for an additional 15 minutes. Using two forks, shred the chicken breasts and toss with sauce. Serve over steamed rice and garnish with cilantro.