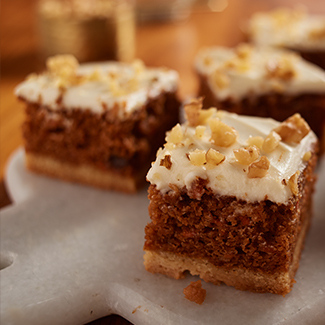 Carrot Cake Cookie Bars with Cream Cheese Frosting
David Venable
Contrasting layers really set cookie bars apart! Thanks to store-bought cookie dough and a box of cake mix, you get all of that goodness with less of the work.
Prep Time: 20 minutes
Serves: 20
Ingredients
1 (16.5-oz) tube sugar cookie dough
1 box carrot cake mix (with pouch of carrots and raisins)
1/2 cup unsalted butter, softened
2 eggs
8 oz cream cheese, softened
1 cup powdered sugar
1/2 tsp vanilla
1/3 cup chopped walnuts (optional)
Preparation
Preheat oven to 350°F.
Press the cookie dough into a 9" x 13" baking dish, covering the bottom of the dish. If desired, you can cut the dough into discs (as if you're making cookies) before placing them in the baking dish to help ensure even coverage. Just press the discs together to form the crust. Chill in the refrigerator for 15 minutes.
Soak the pouch of carrots and raisins from the cake mix box in 1-1/4 cups hot water, according to the directions on the box.
Using a stand mixer with a paddle attachment, cream the butter. Add the eggs, cake mix, and soaked carrots and raisins and mix until combined. Pour the carrot cake batter into the baking dish, spreading evenly over the cookie crust. Bake for 45–50 minutes, or until a toothpick poked in the center comes out clean. Allow to cool completely before frosting.
For the frosting, using a stand mixer with a paddle attachment, beat the cream cheese until it's smooth and fluffy. Add the powdered sugar and vanilla and mix until combined.
Once the carrot cake has cooled, loosen around the edges with a knife or spatula. Place a baking sheet over the baking dish and invert to get the cake out in one piece. Next, gently flip back over so the cookie layer is on the bottom and the carrot cake is on the top. Spread the frosting over the entire top of the carrot cake with a spatula. Sprinkle the chopped nuts (if desired) over the frosting. Cut into 20 squares.