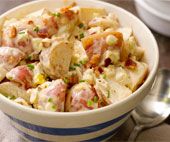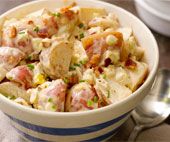 Barbecue Potato Salad
David Venable
We took two of my favorite things--bacon and barbeque sauce--and added them to a red skin potato salad. You'll find this staple at every one of my backyard barbecues!
Ingredients
4 lbs new potatoes, quartered
1/2 lb smoked bacon (optional garnish)
1-1/3 cups mayonnaise
2-1/2 Tbsp Dijon mustard
3 Tbsp barbecue sauce
1 hardboiled egg, diced
2 celery stalks, diced
1/2 red onion, minced
1/2 tsp dried thyme
Salt and freshly ground pepper
Fresh chives, chopped (optional garnish)
Directions
Cover the potatoes with water and bring them to a boil in a large stockpot over high heat. Cook until the potatoes are tender, about 30 minutes; drain.
While the potatoes are cooking, render the bacon until crisp in a large skillet over medium-high heat, about 5 minutes. Drain the bacon on several paper towels and break into small, bite-size pieces. Set aside.
Mix the mayonnaise, mustard, barbecue sauce, and hardboiled egg in a large bowl. Slowly add the potatoes to the dressing and let them absorb the liquid, about 15 minutes. Add the celery, red onion, thyme, salt, and pepper and refrigerate until well chilled. Just before serving, garnish with the bacon and chives, if desired.
Cook's Notes
Making this potato salad the night before will allow the potatoes to absorb all the wonderful flavors.|Substitute a 1/4 cup or sour cream for some of the mayonnaise to add some extra tang to the dressing.