Get a $20 QVC eGift Card when you use your QCard® to buy the V24200 Shark Rotator Speed Powered Lift-Away 3-in-1 Vacuum.** Ends 8/27 at 11:59pm PT.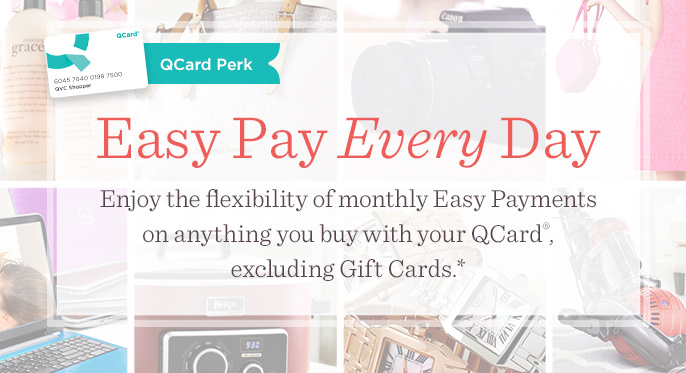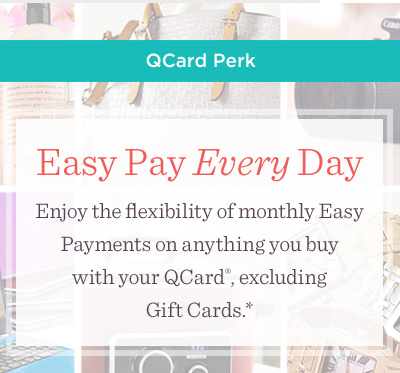 Now you can select this option at checkout and spread your payments over three monthly installments billed to your QCard. All items. All the time. No minimum purchase. No extra charge. Excludes Gift Cards.
*Purchases subject to credit approval. Cannot be combined with other Easy Pay options.
1 See rates and fees.
2 Unauthorized charges does not include charges by a person to whom you have given authority to use your account or card, and you will be liable for all use by such person.
**Purchases subject to credit approval. This QVC eGift Card offer is valid only for purchases of V24200 Shark Rotator Speed Powered Lift-Away 3-in-1 Vacuum made on a QCard between August 24, 2016 and August 27, 2016 at 11:59 pm PT (the "Promotional Period") while supplies last. QVC will send the $20 QVC eGift Card to qualifying QCard holders by email within 6-8 weeks after product shipment but may delay issuance of a promotional QVC eGift Card in its discretion in order to investigate or protect itself from fraud, or if it suspects a violation of the terms and conditions related to this offer. If QVC determines that any merchandise was purchased pursuant to a transaction that violated the terms of this offer, then QVC will be entitled to void the promotional QVC eGift Card issued in connection with such purchase without notice. A valid email address is required in order to receive the QVC eGift Card. The QVC eGift Card will be delivered to the customer's email address on file with QVC. Customers without an email address on file with QVC should create an account on QVC.com or call QVC Customer Service at 1-800-345-1515. Your QCard account must remain open, in good standing, and not be delinquent at the time the QVC eGift Card is sent. Offer is limited to one $20 QVC eGift Card per QCard account during the Promotional Period. Qualifying purchases that are canceled or returned prior to delivery of the QVC eGift Card will void this offer. All promotional QVC eGift Cards are issued on QVC's behalf through CashStar and are subject to the QVC eGift Card Terms and Conditions appearing on CashStar's website at https://qvc.cashstar.com/about/terms_and_conditions. Offer is not transferable and cannot be combined with any other offer. QVC reserves the right to suspend or change the offer at any time without notice. This offer is sponsored by QVC, Inc. and not Synchrony Bank.