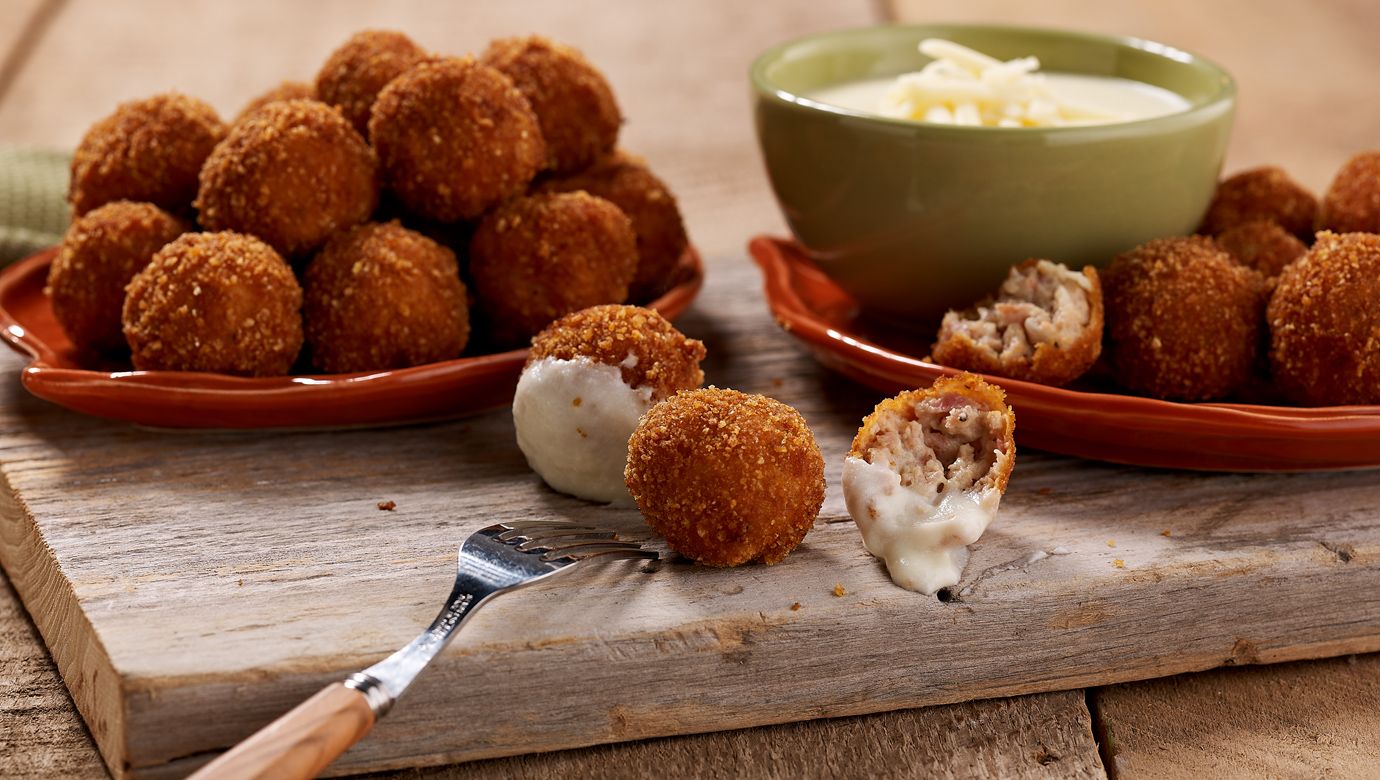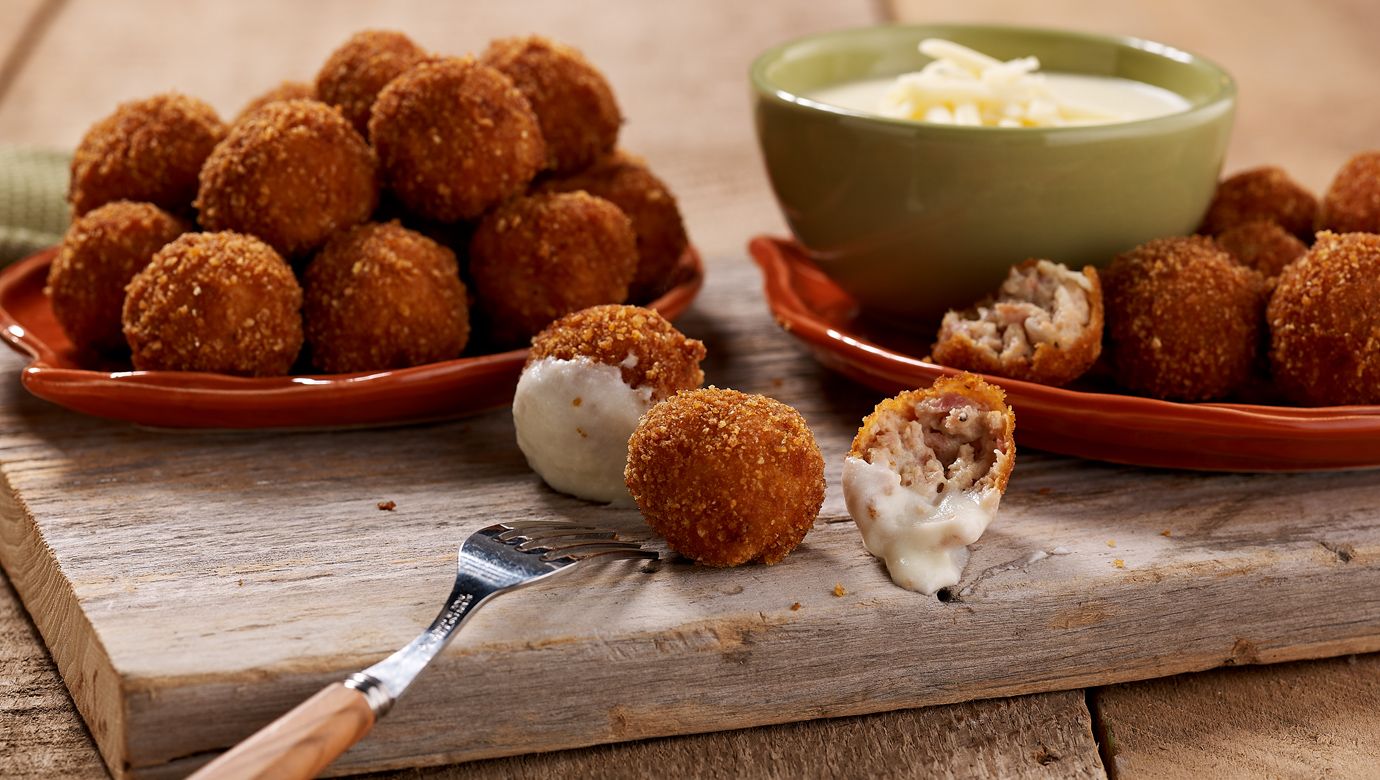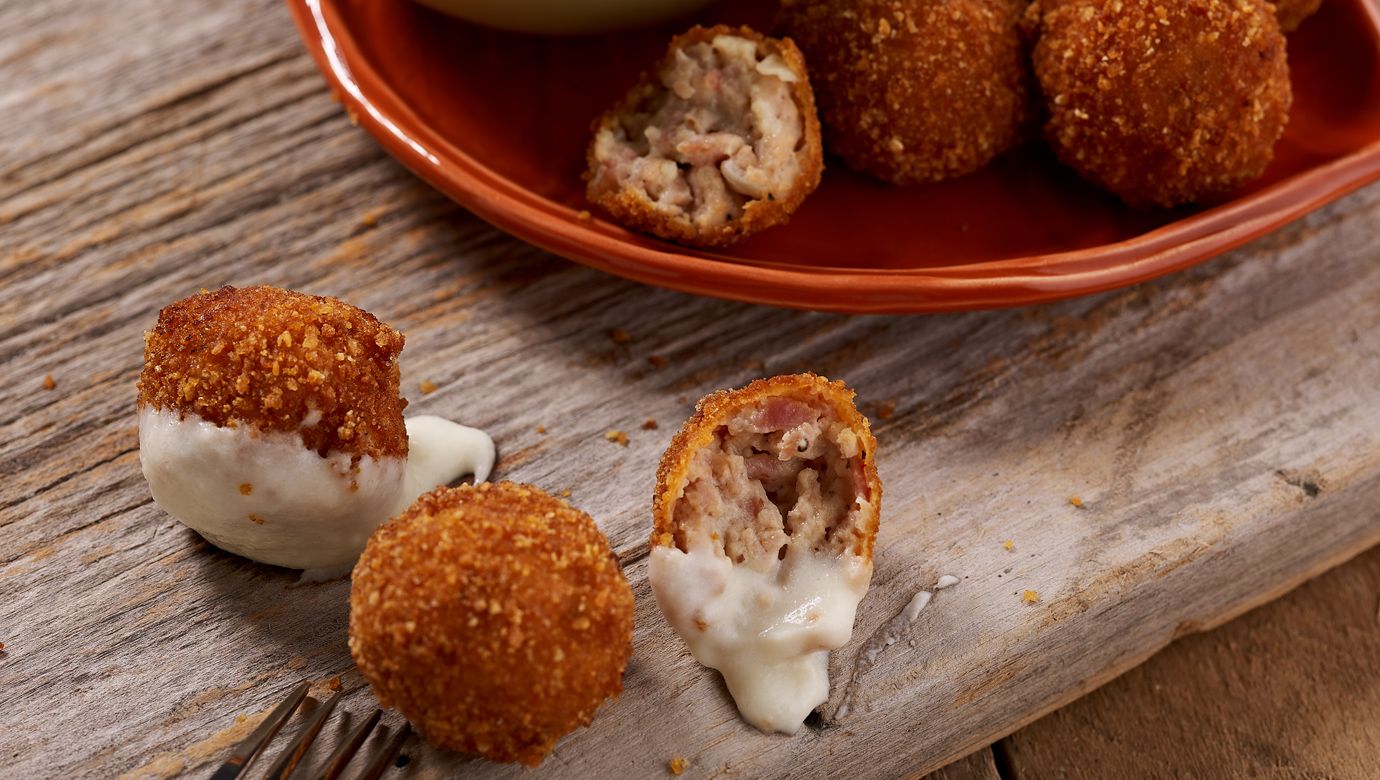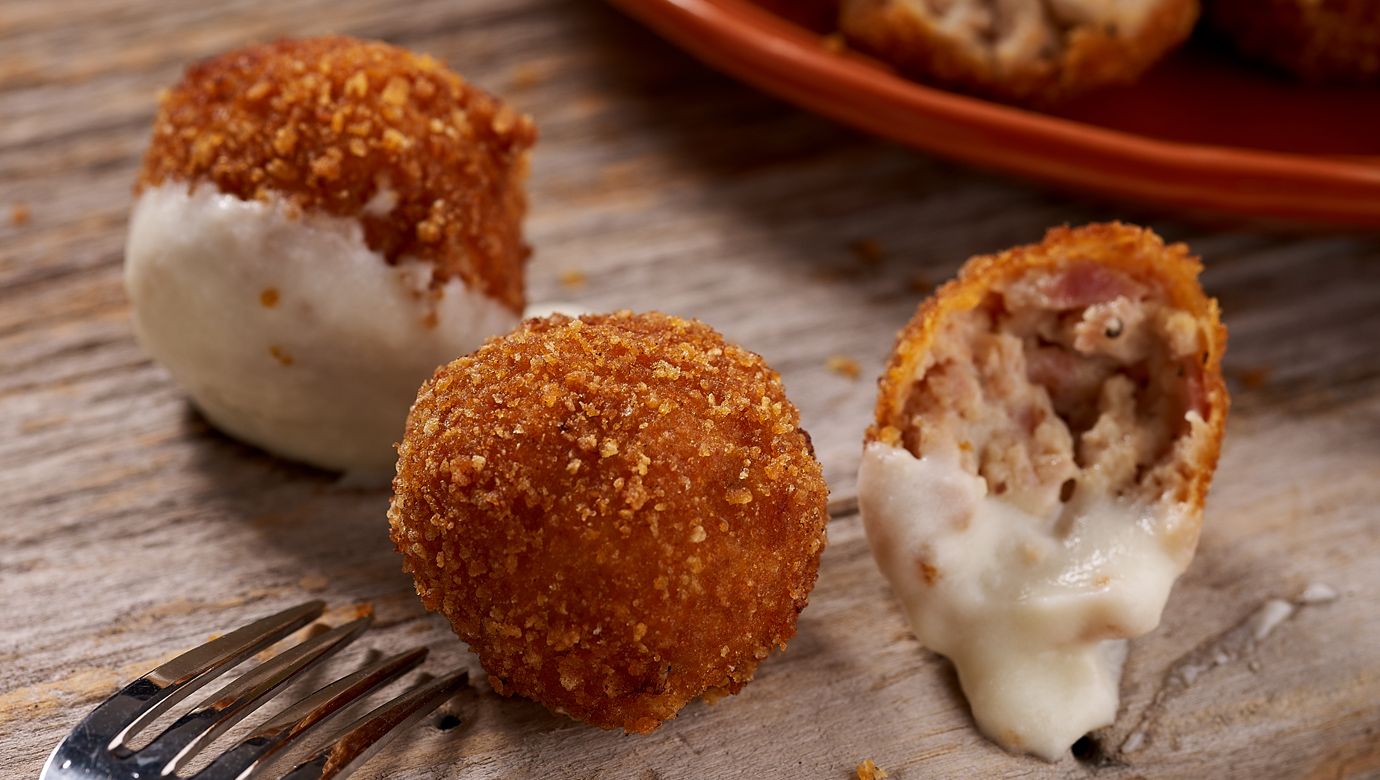 Chicken Cordon Bleu Bites
David Venable
We turned this five-star restaurant entrée into a casual, bite-sized, even-better-than-the-real-thing comfort food.
Bites
1 lb ground chicken, cooked and finely crumbled
1/4 lb thinly sliced smoked deli ham, finely chopped
3 Tbsp butter
1/3 cup minced onions
1 cup + 4 Tbsp flour, divided
1-1/4 cup milk
2 tsp Dijon mustard
2 tsp salt
1/2 tsp black pepper
Pinch of smoked paprika
3 eggs, beaten
1-1/2 cups cornflake crumbs
Oil, for frying
Directions
To prepare the bites, place the chicken and ham into a medium-size bowl. Melt the butter in a medium saucepan over medium-high heat. Add the onions and sauté until translucent. Stir in 4 Tbsp flour and cook for a minute. Add the milk, mustard, salt, pepper, and paprika. Stir and heat until the sauce begins to simmer and has thickened. Fold the sauce into the bowl with the chicken and ham. Spread the mixture out onto a baking sheet and refrigerate until cool and firm, about 30 minutes.
While mixture is cooling, make the dipping sauce. Melt the butter on medium-high heat in a medium saucepan. Add the flour and stir for about a minute. Add the milk and chicken stock and continue to stir while heating. When the sauce has almost begun to simmer and has thickened, add the cheese, salt and nutmeg. Stir until the cheese has melted and sauce is smooth. Hold on very low heat until ready to serve, stirring occasionally.
To bread and cook the bites, heat a deep fryer or Dutch oven with oil to 375°F. Take the cooled mixture by rounded tablespoonfuls and roll into balls. Place them on a clean baking sheet. In separate shallow bowls, place 1 cup flour, eggs, and crumbs. Coat the bites 4–6 at a time with flour and then dip and coat completely with egg. Finally, roll the bites in the bread crumbs, coating completely. Place the bites back onto the baking sheet. Deep-fry the bites in batches of 6–8 at a time for about 3–4 minutes, or until deep-golden brown.
Serve with the dipping sauce.
Sauce
2 Tbsp butter
2-1/2 Tbsp flour
1 cup milk
1/2 cup chicken stock
2 cups grated Gruyère or Swiss cheese
1/2 tsp salt
Pinch of nutmeg
Cook's Notes
Until all the bites come out of the fryer, keep them warm in a 225°F preheated oven.