Hello There, Dara
When you meet Dara Levy, you know immediately she has a sharp eye for style. The ruffles on the collar of her beige blouse peek out from under her sleek black leather jacket. But her style is not center stage. It's her skin. She shows it off with minimal makeup and a pixie haircut. At age 57, Dara's glowing complexion is her own best advertisement for DERMAFLASH, an electric facial exfoliation and peach fuzz-removal device created for women.
And now, DERMAFLASH is even better. Dara's DERMAFLASH 2.0 Facial Exfoliation Device with Extra Essentials debuts January 5 as the Today's Special Value®, our best find of the day (will ship on or before January 5). This upgraded model has a new design with an ergonomically improved handle, two speeds, charging light, and edge auto-eject. "I was obsessed with the results before, but I am blown away by how much better our new innovation is. It truly is a little magic wand."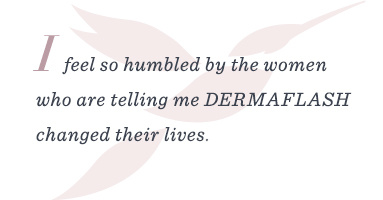 Seeing is Believing
On a recent afternoon, Dara and her team spent two hours in the QVC Studio Park atrium with four stools, four mirrors, and four DERMAFLASHES, making believers out of QVC employees. For many women who took a ten-minute turn on the stool, the peach fuzz and dead skin cells collected in wispy lines on their faces. After they brushed off the debris, they couldn't stop touching their faces. Comments like "It's so soft" and "I can't believe it" were common.
Susan Rakestraw, QVC Quality Assurance software tester, shared her experience. "At first I was skeptical. But it feels like my skin is rejuvenated. QVC beauty buyer Cassandra Elkasim was also a quick convert. "I see an instant glow... It's very gratifying to see all the debris and peach fuzz come off your face. I still don't believe how much I remove with every treatment!"
Dara's not surprised by the reactions. "Once you try this treatment, you're addicted."
Finance & Family
Dara majored in fashion merchandising in college, and then switched gears and spent 15 years in the financial world supervising a team of traders at the Chicago Mercantile Exchange. Her personal life was paying dividends, too. She met and fell in love with Jim Fieldman. They married and had two daughters, Jorie and Amanda. When his daughters were just 5 and 7, Jim got colon cancer.
Dara quit her job to care for him full time for four and a half years. He was 47 when he died. "He was my life and I was devastated." But Dara would not cave to grief. "I have always been full of gratitude. And I am grateful I had my husband for the time I had him."
Guardian Angel
Dara knows Jim is in heaven, cheering for her success. In 2009 she opened a high-end med spa in Chicago's upscale Gold Coast. Her goal was to create her own skin-care line. But her popular dermaplaning treatment at the spa inspired her to invent DERMAFLASH. "An at-home solution didn't exist, so I invented it. A razor is designed by men for men. Men have to lubricate their beards in order to remove them. DERMAFLASH is for women only and first and foremost is an exfoliating treatment, with the added benefit of removing peach fuzz. We perform DERMAFLASH on a perfectly dry canvas, which is achieved by using our PREFLASH cleanser."
In 2014, when she designed DERMAFLASH, Dara featured a hummingbird on the handle. A few months after Jim died, Dara had seen a hummingbird. And she kept seeing them. She knew they were messages from heaven. "I live in Chicago. It's not the hummingbird capital of the world." As she talks, tiny sterling-silver hummingbirds swing from her earlobes.
Today Dara is happily remarried to Richard Levy. Her now 27-year-old daughter Amanda runs a non-profit organization that builds organic gardens for schools. Twenty-five-year-old daughter Jorie is Dara's social media coordinator and also a DERMAFLASH model. You'll see her on-air with the device on January 5.
Derma Digits
Dara wants her DERMAFLASH users to have a positive experience. If a customer happens to have a question or problem, she wants to hear about it. "I want people to have our number: 1-888-821-1289." She urges calls even if customers don't have an issue. "Just call and talk about your skin. Tell us about the results. We love to hear from you!" After all, kind comments keep her going. "I feel so humbled by the women who are telling me DERMAFLASH changed their lives."