Get the Hair You Want With the Hair You Have
Maria McCool is between QVC on-air appearances for her Perfecter hair styler. Part round brush and part curling iron, this thing does it all: straighten, curl, volumize, wave, smooth, and shine.
Maria does a lot, too. In addition to developing and selling products on QVC, she's a mom of three; owner of a salon in West Chester, Pennsylvania, servicing a thousand clients a week; and hairstylist to many QVC hosts and models. While we're chatting, host Amy Stran spots Maria and can't help but stop and give her a hug. Amy's latest cut is courtesy of Maria. "I love it!" Amy enthuses, tousling her shortened locks.
It's that reaction of unbridled happiness that hooked Maria on the business. "My dolls never gave me that adoration," she laughs. Maria's dolls were her first clients. Her parents brought them to the counselor's office at the Catholic high school Maria attended when the straight-A freshman announced her plans to go to beauty school. The nuns weren't enthusiastic. Her mother, Rose, told them, "She's got to do what she loves," much to the delight of her daughter.
After graduating from beauty school, Maria traveled the world as a competitive stylist including the Hair Olympics. Yes, there's a Hair Olympics. Here are some of the parameters: seven minutes to complete a day style, 10 minutes for an evening style, and often styling an outfit for the model. At the Hair Olympics in Sydney, Australia, Maria captured the attention of big-name hair companies, and it wasn't long before she was hired as a stylist educator.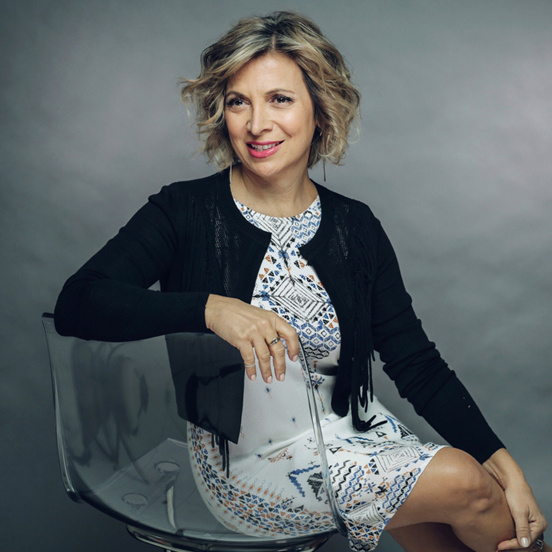 Mother & Mad Scientist
In 1989, Maria's employer offered her a partnership and Calista (meaning "beautiful") was born. Seven years later on March 6—Maria's birthday—her daughter Michaela, now 21, was born. Sons Max, 18, and Rayce, 14, followed. Maria began to balance her time between the salon and home with her children. "My number-one job is being a parent. I was fortunate. My business was completely up and running when I had kids. I was established." It was also when this barely five-foot-tall dynamo took to the kitchen—but not for cooking. "That's when I started concocting hair-care products. If I didn't have something I wanted, I would just make it."
Case in point, the Calista Deluxe Embellish Texturizing Definer with ProElement (A298023). It's been around since 2007 and the formula hasn't changed. "That one still rocks!" Maria announces. Another of her inventions that rocks is her Perfecter. For three years in a row the Perfecter has won a QVC Customer Choice® Beauty Award in the Best Hair Tool category. And heads up: the Calista Perfecter Pro Grip Heated Round Brush with Bag is the December 15 Today's Special Value® (the best value of the day).
"You can use it every day, two times a day. And if you can brush your hair, you'll be a pro."
Holiday-Ready Hair
This Christmas, Maria would like to have access to a Perfecter herself, but she's not sure it'll happen. She's going on an African safari. "Usually I can just bring my Perfecter and I'm good to go, but I don't know if the outlets will work!" She's taking her three children; her husband of a year and a half, Nick; and her ex-husband, Andy. It might strike some as an interesting combination, but not Maria. "I'm pro-parent and vacations stick with kids for the rest of their lives." The first day of their adventure is December 25. Merry Christmas, Maria!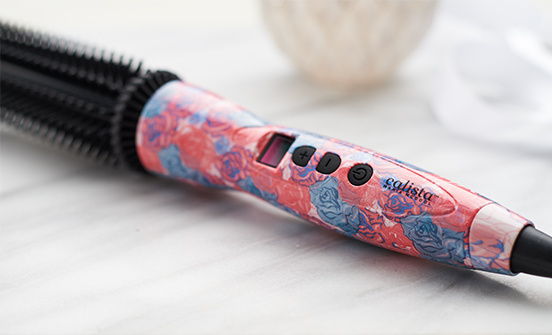 Maria and Her Perfecter Work Their Magic on Models and Hosts
*The Today's Special Value offer ends at 11:59pm PT on December 15, 2017.