Necessity is the Mother of Invention
Tara started Temp-tations by enlisting the help of her mom, Gail. First, they pulled every baking and serving vessel out of the cabinets. Then, surveying the vast assortment, Tara asked, "How can we simplify this?"
Her answer was multipurpose ovenware you can also serve with so there's less dishwashing time and more family time. Family is important to Tara.
Temp-tations is celebrating 16 years, and Tara's mom has been there for all of them. "My mom does all of the food scripting. When I am on air, every dish that's filled is her idea. Our head food stylists, David and Lisa, bring all those ideas to life. They are a great team."
Also on the team is Tara's husband of two years, Ed. "Ed does a lot! He handles all of the manufacturing and merchandising interface. He has a part in every aspect of the business from design to on-air execution, but his biggest job is putting up with me," Tara jokes. But the newlyweds work well together. "I love working with Ed. We both challenge each other yet completely respect each other's views."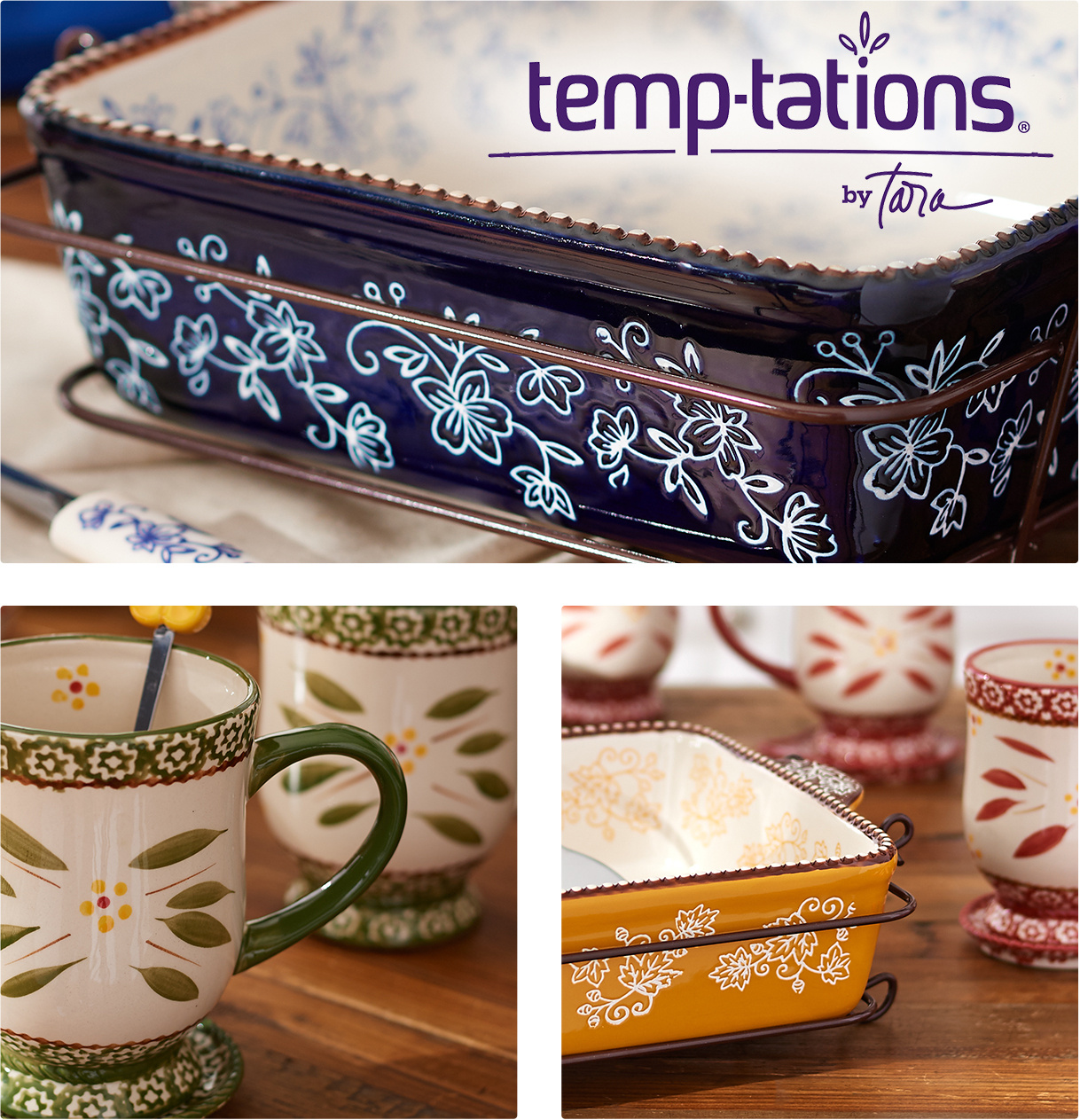 Even More Family
Tara also considers her employees part of her family. "We are very much a family and that's a culture we work hard to maintain." And let's not forget the most important family members—Temp-tations fans. Devotees will be happy to hear that there will be plenty of new items, including a cheese board set, clock, cookie jar, and more. Tara's new pieces are often inspired by her fans. "A lot of what you see is actually coming from customers' requests."
Directions
Preheat oven to 400°F.
Combine the eggs, sugar, puréed blueberries, and the pie filling in a mixing bowl. Slowly add the warmed milk, whisking constantly. Add the vanilla.
Pour the mixture into your Temp-tations 1-quart oval baker. Place the oval baker in a water bath in the preheated oven.
Bake for 60-75 minutes, or until set and a temperature of 160°F is achieved.
Remove baker from water bath and refrigerate for 8 hours to overnight.
When ready to serve, sprinkle sugar over the top of the crème brûlée and caramelize under your broiler.
Serve with whipped cream and fresh blueberries.