For two decades, QVC customers have gobbled up Junior's 3-lb Christmas Swirl Cheesecake (M56265). Alan Rosen, on-air guest and co-owner of Junior's, did some quick calculations. He's sold about a half-a-million Christmas Swirl cheesecakes—that's 852,000 pounds of cream cheese, 100,000 quarts of heavy cream, 200,000 pounds of sugar, and 150,000 teaspoons of vanilla. And here are more numbers from Alan: "This company is going to be 67. We've been on QVC for 22 years and we have a cake that's 20 years old. It's a lot of milestones."
It's no wonder the Strawberry Christmas Swirl cheesecake is the QVC Dessert of the Month. Alan says strawberry is Junior's most popular flavor and the green and red chips create quite a festive look.

Host David Venable summed up his feelings about the cheesecake on air last year. "I will tell you that the first time Alan brought this to QVC I said, 'That looks amazing. Do you buy big cans of strawberry puree?' He said, 'No David, we make this from scratch. We bring in fresh strawberries and we make the puree in the bakery.' I was like, okay, that sounds fantastic. Then I tried it for the first time and back in those days I wasn't doing happy dances, but I would have. I would have back in '97."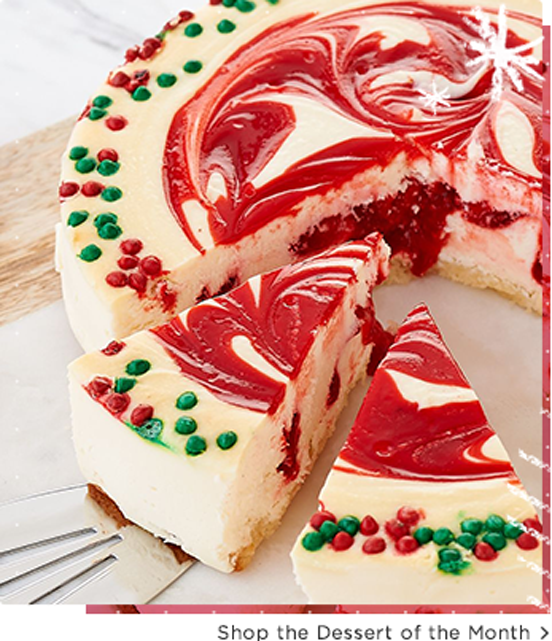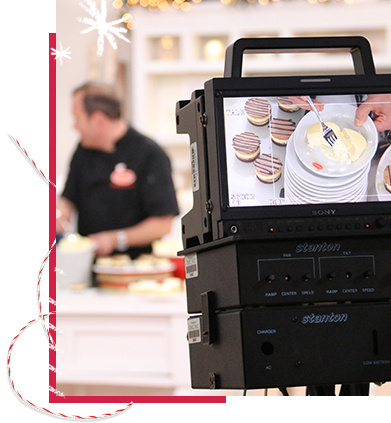 The Road to QVC
Alan's grandfather, Harry Rosen, opened Junior's in 1950. Later, Alan's father, Walter, joined the family business, and now Alan and his brother Kevin are the third generation of Rosens to carry on the Junior's legacy which does not include anyone named "Junior"! "Some say my grandfather just liked the name," Alan laughs.
Now the family runs five restaurants: one in Florida, Connecticut, and Brooklyn and two in Manhattan. They serve breakfast, lunch, and dinner, and, Alan reports, everything is good! But it's the cheesecake that put them on the map, and that reputation started with Harry's relentless search for the best cheesecake recipe. "A lot of restaurants had cheesecake, so my grandfather and his bakers would go out and taste them, and test different recipes, and taste some more, and do more testing. Finally they hit on a recipe they liked and started selling cheesecake." 
Alan gets the credit for bringing Junior's to QVC. In 1995, he heard about QVC's 50 in 50 Tour the very day it was taking place. "I packed up my car with as many cheesecakes as I could and a few brochures." Alan was selected to appear on air and promptly sold more than two thousand cheesecakes in five minutes.

Alan has three kids, all teenagers. Will they become the fourth-generation of Junior's? Alan says he won't push. "They can choose their own professions."
In the meantime, Junior's is wrapping up its busiest season of the year. Come spring, it'll be time to start the planning process. "That's when we brainstorm for next Thanksgiving and Christmas." Alan likes to switch up the flavors. "Different strokes for different folks!"
"This company is going to be 67. We've been on QVC for 22 years and we have a cake that's 20 years old. It's a lot of milestones."
— Alan Rosen