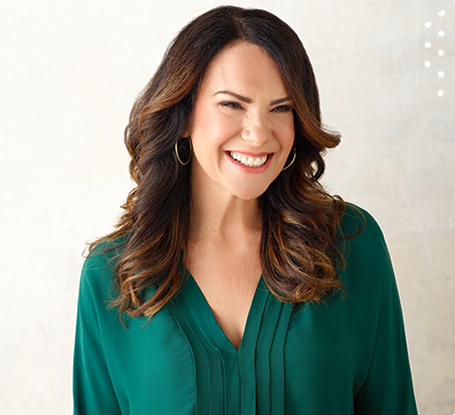 One Smart Cookie
Adina Miccio's first foray into the world of baking was at the tender age of 18. She began a low-fat muffin company while a full-time college student at Stonybrook University. Since selling her company, she's found her home—and her niche—as the exclusive QVC on-air product expert for food-service giant David's Cookies. 
"If you eat a good cookie, whether it's from a sports arena, cafeteria, or better fast food restaurant, chances are it's a David's cookie," Adina says. An integral part of David's Cookies growth for nearly 20 years, Adina has helped make David's Cookies products a constant presence in restaurants, cafeterias, and various venues across the country.

On November 1, Adina stopped into the QVC photo studio for a shoot before her presentation on In the Kitchen with David®, treats in tow. As outgoing (and stunning) in person as she is on television, she wore a green cold-shoulder top and had her chestnut hair in loose waves. The InsideQ team snacked on brownies, cookies, and scones (in the name of journalistic research, of course) and talked with Adina as she posed with some of her favorite David's Cookies offerings.  

The Nuts (and Bolts) of David's Cookies
InsideQ: Can you tell us the history of David's Cookies?
Adina: David's Cookies began at higher-end storefront locations in New York City. People stood in line for hours to buy a chocolate chunk cookie back in 1979. Then the company was bought and re-branded to put an emphasis on food service. I became an employee of David's Cookies in 1998 as the Regional Sales Manager. The goal was to get this into as many mouths as possible: cafeterias where they're going to sell hundreds of cookies per day, sports arenas where they'll sell thousands of cookies at a time. Now it's a 150 million-dollar-a-year business.
"The key to success is knowing what the customer wants. It's not about what a vendor wants to sell; it's about what our customer wants to buy."
InsideQ: Tell us about your history.
Adina: I was gaining a little weight (as most college kids do), so I started making low-fat, sugar-free muffins. I turned that business into a cookie company because, while muffins are breakfast, you can justify eating cookies any time of day! I sold my company in 1997. Then, at the New York Restaurant Show, I walked by the David's Cookies booth and met the owner of the company. We hit it off and he hired me on the spot.
InsideQ: How did you become such a successful salesperson?
Adina: The key to success is knowing what the customer wants. It's not about what a vendor wants to sell; it's about what our customer wants to buy. 
InsideQ: You have a sales background. How did you like going from that to being on TV?
Adina: On-air people are probably the most sensitive people there are! We're our own worst critics. It's not easy doing what we do.
InsideQ: How do you like working with host David Venable? (No relation to David's Cookies.)
Adina: I am a certified In the Kitchen with David® super fan! There is no one in this business I respect more than him. I think he is the best at what he does—he is just as good as it gets. To be on-air with him for seven minutes is an absolute dream come true. I told him that before I went on-air with him, and I meant it.
InsideQ: How are you liking your time so far at QVC?
Adina: My excitement to be at QVC is factual. I live it every day. It's what I've been dreaming about: to be at QVC selling David's cookies. I'm thrilled to be here!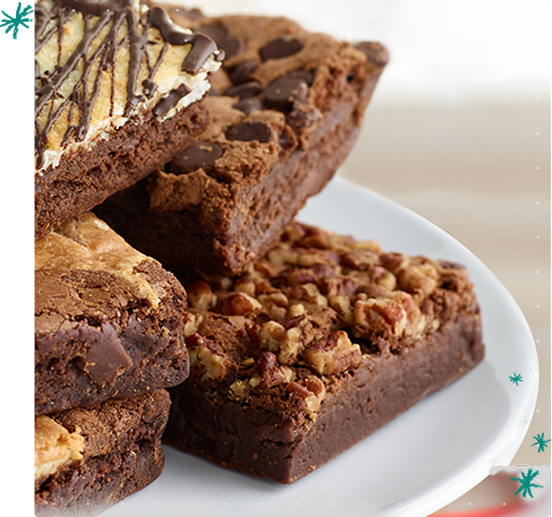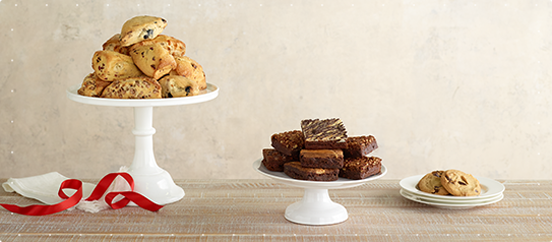 InsideQ: What else does David's Cookies have in store for us?
Adina: We're launching a pure melted-down chocolate brownie (not from a brownie mix) that starts with cocoa powder and sugar. We also have a heavy cream-and-butter scone. You can literally taste the heavy cream in it. If you're going to buy a David's cookie item, start here. My husband will tell you that the best thing we make is our crumb cake. Those will also be launching soon!