This June, Sharon Faetsch celebrates her 15-year anniversary as a QVC program host. During her time here, this self-professed sci-fi geek has managed to present a wide breadth of products, raise two kids, and even break a "virtually unbreakable" wine glass on the air. Sharon took some time between shows to talk to InsideQ about how she manages to do it all.
A Daily Juggling Act
"I think some people think we float into the studio, present, and float back out," Sharon confides. Turns out, there's a little more to it. "We have meetings with buyers and planners to preview the products we'll be rolling out. That gives us a chance to become familiar with product, to know why it's here, and why it's relevant. We also think about how to improve shows and how to try things we haven't done before. We don't want to make the shows unrecognizable, just keep things fun."
There's no hesitation when Sharon is asked about her favorite part of the work day. Her mouth curls into a mega-watt grin as she talks. "The best part is the instant the red [on-air] light goes on. I'm most comfortable when I'm chatting and engaging with the guests and customers, describing how things look, taste, or feel. I don't want anything to be a surprise when something arrives at a customer's home. I want her to be happier with it than she thought she'd be."
Sharon also enjoys the surprisingly stress-free aspect of her on-camera time. "As soon as that red light goes on, I'm in my own little bubble. I don't have to worry about the outside world, respond to emails, or answer the phone until the light goes off."
So how does she maintain a work/life balance? Sharon laughs and replies, "I don't!" Because of her scattered schedule, Sharon sees managing her personal and professional lives as a bit of an uphill climb. "I have two kids and my work schedule is never the same, save for a LOGO show on Saturdays. Other than that, nothing is really regimented in my schedule, so making plans—even for the dentist—is difficult." Sharon's solution? Stepping back and taking a breath. "It's a challenge to find the time for everything, so we take it one day at a time. Looking ahead too far is too much. It's a dance we do every night when planning for the next day."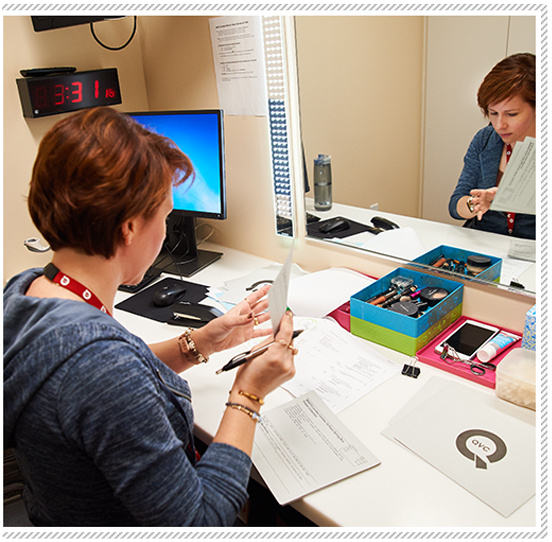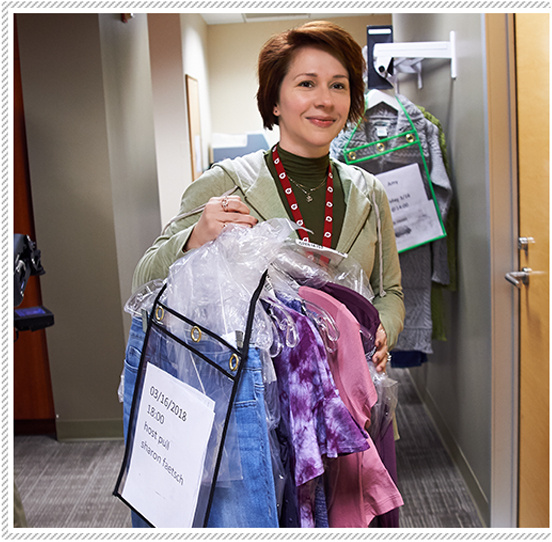 Sell Tales
When asked about her favorite products to sell, Sharon has to think about it. "I talk about food more than anything else. I do love a lot of girly sells, too, like clothing, handbags, and shoes. But I don't have one specific favorite category." She's very definite about her least-favorite category, though. "Computers and electronics freak me out. I need my own random access memory to be installed in my brain," she laughs. "I can remember cooking presentations from five years ago, but electronics never seem to stick. I'm better with the fictional technology from sci-fi movies—not so much the real thing."
Like any live show, there's always potential for things to go off the rails at QVC. Sharon remembers one particularly embarrassing moment. "Once, early in my career, I was selling virtually unbreakable wine glasses. We knocked them over repeatedly, but the 21st time we knocked them over, one of the glasses broke. It was horrifying—I think my face was beet red the rest of the show!"
Day in the Life of a Host
Follow Sharon Faetsch behind the scenes and in front of the camera.