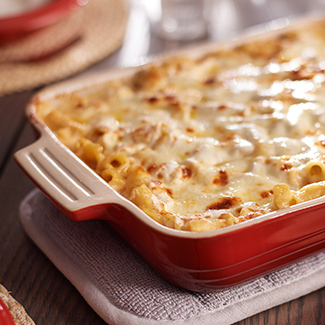 8-Cheese Mac & Cheese
David Venable
Carole Haffey, one of QVC's talented food stylists, brought us this special recipe for 8-Cheese Mac & Cheese. We just had to share it with all of you!
Prep Time: 30 Minutes
Serves: 12–14 Servings
Ingredients
1 lb campanelle pasta
2 (15-oz) jars Alfredo sauce
1 cup heavy cream
1 cup shredded Italian-blend cheese, divided
1 cup shredded sharp cheddar
1 cup shredded gruyere
1-1/2 cups shredded whole milk mozzarella, divided
1 lb fresh mozzarella, cut in 1/2" slices
Preparation
Preheat oven to 350°F.
Cook the pasta according to the package directions until al dente. Drain the pasta, rinse with cold water (until chilled), and transfer it to a large mixing bowl. Pour the Alfredo sauce over the pasta.
Divide the heavy cream between the two emptied Alfredo jars, then place the lids back on and shake the jars. This will remove the rest of the Alfredo sauce from the jars. Pour the heavy cream over the pasta and Alfredo sauce in the mixing bowl. Next, add 1/2 cup of the Italian-blend cheese, all the cheddar, all the gruyere, and 3/4 cup of the mozzarella. Stir all the ingredients together. Transfer to a deep, 13" x 9" baking dish.
Top the mac and cheese with the remaining 1/2 cup Italian-blend cheese and the remaining 3/4 cup mozzarella. Lay the slices of fresh mozzarella over the shredded cheeses.
Cover the baking dish, first with a piece of plastic wrap and then with a piece of foil. Bake for 1 hour, then remove the foil and the plastic wrap and bake for an additional 15–20 minutes, until it's bubbling all over.
If you're using a convection oven, the top will be golden brown. If you're using a conventional oven, the top will only be slightly brown. To brown it further, broil for a few minutes once it's done baking. Remove from the oven and allow to sit at room temperature for 15 minutes before serving.